The United States has seen an uptick in aggressive Russian pilots' behaviour in Syria this month, a top US military official said Thursday (March 16), two days after Russian jets collided with a US drone over the Black Sea.
Russian fighter pilots have increasingly been flying armed attack aircraft over the United States military bases in Syria in a provocative manner since March 1, said Gen. Michael "Erik" Kurilla, commander of US Central Command (CENTCOM).
"They fly over our bases with ground attack aircraft with weapons on them in an attempt to try to be provocative," Kurilla said during a congressional hearing Thursday.
The flyovers are "unsafe, unprofessional and not what we expect of a professional air force", he said.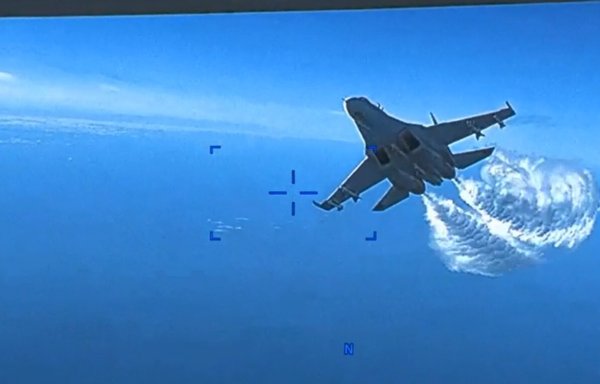 "They want to try and renegotiate the deconfliction protocols that they violate every day," he said, adding that the flyovers are not a new development but that US forces have observed "a significant spike" in the use of the tactic since March 1.
The United States has approximately 900 troops in Syria at two different bases as part of the ongoing campaign to defeat the "Islamic State of Iraq and Syria" (ISIS).
In 2015, the United States and Russia signed a "deconfliction" agreement to co-ordinate airspace over Syria and avoid mid-air incidents.
Mid-air collision
Kurilla's statement comes two days after a Russian Su-27 jet struck the propeller of an American MQ-9 Reaper drone in international space over the Black Sea, causing the drone to crash.
"Several times before the collision, the Su-27s dumped fuel on and flew in front of the MQ-9 in a reckless, environmentally unsound and unprofessional manner," US European Command (EUCOM) said in a statement Tuesday.
"This incident demonstrates a lack of competence in addition to being unsafe and unprofessional."
The MQ-9 unmanned aircraft was conducting routine operations in international airspace, according to US Air Force Gen. James B. Hecker, commander of US Air Forces Europe and Air Forces Africa.
"US and Allied aircraft will continue to operate in international airspace, and we call on the Russians to conduct themselves professionally and safely," he said, adding, "The Russians nearly caused both aircraft to crash."
"This incident follows a pattern of dangerous actions by Russian pilots while interacting with US and Allied aircraft over international airspace, including over the Black Sea," the EUCOM statement added.
"These aggressive actions by Russian aircrew are dangerous and could lead to miscalculation and unintended escalation."
A day after the incident, Gen. Mark Milley, Chairman of the US Joint Chiefs of Staff, said officials are analysing the mid-air collision, which is part of a pattern of aggressive behaviour by Russian pilots toward US and allied aircraft in other parts of the world.
"There is a pattern of behaviour recently where there is a little bit more aggressive action being conducted by the Russians. We haven't completed our analysis as to why that's happening," Milley said.
Both Milley and US Defence Secretary Lloyd Austin called their Russian counterparts this week in part to determine Moscow's intent, Al-Monitor reported Thursday.
The United States summoned the Russian ambassador to the State Department Tuesday afternoon, and the American ambassador in Moscow has also registered a "strong objection" to the incident, US State Department spokesman Ned Price told reporters.
The incident marks a clear violation of international law, Price said.
The United States uses MQ-9 Reapers for both surveillance and strikes, and has long operated over the Black Sea keeping an eye on Russian naval forces.
"It is not uncommon ... for there to be intercepts by Russian aircraft of US aircraft over the Black Sea," US National Security Council spokesman John Kirby told journalists in Washington, referring to one plane making visual or electronic contact with another.
But this case "is noteworthy because of how unsafe and unprofessional it was, indeed reckless that it was", he said.
"We don't need to have some sort of check-in with the Russians before we fly in international airspace. There's no requirement to do that, nor do we do it," he added.
Russia's Defence Ministry denied causing the drone to crash.
History of reckless provocations
Russian pilots have a long history of airspace provocations ever since Russia intervened in the Syrian civil war in 2015 on the side of President Bashar al-Assad.
In April 2020, in two separate incidents, Russian Su-35s intercepted a US Navy P-8A over the Mediterranean Sea, conducting high-speed inverted manoeuvres and coming within 7.5 metres of the US surveillance aircraft.
"The manoeuvres were unsafe and jeopardised the safety of the pilots and crew," the Navy said.
A month later, the Navy said two Russian Su-35s intercepted another Navy P-8A over the Mediterranean, in an encounter that lasted 65 minutes.
The encounter was "unsafe and unprofessional due to the Russian pilots taking close station on each wing of the P-8A simultaneously", it said.
On February 12 and 13, 2022, "three US Navy P-8A aircraft experienced unprofessional intercepts by Russian aircraft" in international airspace over the Mediterranean Sea, the Pentagon said at the time.
"While no one was hurt, interactions such as these could result in miscalculations and mistakes that lead to more dangerous outcomes," it said.