Beijing has for years harnessed the power of tech giant Huawei to gain insider information on negotiations and deals around the world.
As divisions within the Organisation of the Petroleum Exporting Countries (OPEC) oil cartel become more evident -- and with China taking a huge percentage of the cartel's oil production -- observers say the threat from Huawei is greater than ever.
Of particular concern are recent agreements China's Huawei signed with leading Saudi Arabian telecommunications operator Zain KSA and du, one of the fastest-growing telecommunications operators in the United Arab Emirates (UAE).
On the sidelines of the Mobile World Congress 2023 in Barcelona held February 27 to March 2, Huawei and Zain KSA signed a strategic co-operation Memorandum of Understanding (MoU) to build a global 5.5G pioneer network "5.5G City".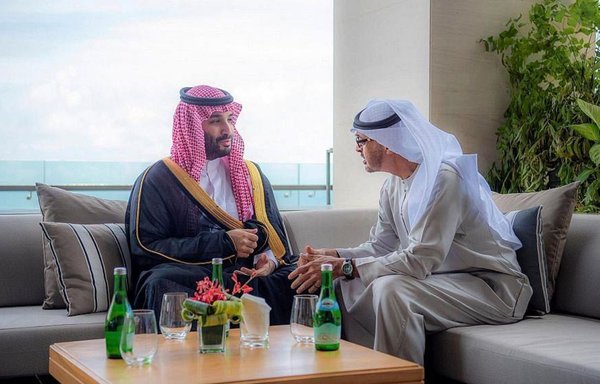 A day earlier, Huawei and du, under the Emirates Integrated Telecommunications Company, also signed an MoU on 5.5G strategic co-operation, working "closely" with the goal of "capturing a large share of the Middle East market".
Huawei has invested billions of dollars and achieved near monopolistic presence across the Middle East and North Africa (MENA), so it may seem natural for the tech giant to enhance partnership with local technology providers.
But Huawei, a seemingly benign cell phone and consumer product manufacturer, is supported heavily by the Chinese government and has deep links to the People's Liberation Army.
That fact, coupled with the recent spat between Saudi Arabia and the UAE in the context of OPEC, raises concerns about Huawei's increasing presence in the oil-producing countries.
Testing alliances
Cracks within the OPEC alliance came to light in 2021 when Saudi Arabia and the UAE clashed over oil output and pricing decisions.
In July of that year, Saudi Arabia headed negotiations with Russia -- which is part of the 13-nation OPEC+ bloc -- that culminated in an agreement to gradually increase oil output for member states.
On the surface, the agreement was a welcome change after the pandemic slump, but talks have floundered over a proposal to extend those measures until the end of 2022.
The UAE, which supports only a short-term increase, demanded better terms for a deal extension into 2022.
UAE Minister of Energy Suhail Mohamed Al Mazrouei voiced opposition to the pact, prompting a rare public dispute between the two Gulf states.
"It is unreasonable to accept further injustice and sacrifice -- we have been patient," Al Mazrouei told Sky News Arabia at the time.
Saudi Energy Minister Prince Abdulaziz bin Salman responded bitterly, suggesting the UAE was isolated within the OPEC+ bloc.
"It's the whole group versus one country, which is sad to me but this is the reality," he told Bloomberg television.
The two sides clashed again in October last year when OPEC+ decided to dramatically reduce oil production to prop up crude prices.
The public rift points to larger problems between the two friendly nations, analysts say.
"The sheer confidence of Riyadh in its agreement was such that it did not consider any scenario where it would be challenged publicly by the other OPEC states, let alone by its closest ally, Abu Dhabi," wrote Sami Hamdi, editor-in-chief of the International Interest, for Inside Arabia in July 2021.
"While the crisis that emerged from the public quarrel over oil may have simmered, the reaction of Saudi Arabia suggests more deep-rooted discontent and frustration towards its closest ally, that goes beyond OPEC," he wrote.
Emirati officials say the UAE is having an internal debate about leaving OPEC, the Wall Street Journal (WSJ) reported March 3.
Departing OPEC has been discussed for years among UAE leaders without action. But the recent disagreements between the cartel's two largest producers have rekindled the idea, which could have a drastic impact on the global oil market.
The Emiratis are "worried about a Saudi that works against their interests", said Dina Esfandiary, senior adviser for MENA at the International Crisis Group.
The Saudis, meanwhile, are concerned the UAE poses a threat to Saudi dominance in the Gulf, she said.
China thirsty for oil
China -- expected to import a record amount of crude oil in 2023 -- is poised to exploit whatever rift there is, observers say.
For the past two decades, the Gulf has consistently supplied China with roughly half of its crude oil imports from overseas, while Beijing's reliance on crude from other regions has declined.
"Seemingly aware of its vulnerabilities, China has taken the opportunity of low Russian prices to increase its commercial and strategic stockpiles of crude oil in recent months," Henry Tugendhat, an economist and specialist on China, wrote in an analysis published December 19 by the United States Institute of Peace.
"China is no fan of OPEC's production caps," he wrote. "It is an oil importer with an export economy reliant on manufacturing and has a transport sector that is ravenous for petrol."
Meanwhile, on March 5, China's outgoing Premier Li Keqiang announced the country's military spending would rise at the fastest pace in four years.
The sustained growth in defence spending despite sagging economic expectations shows that "security is now much more important for the national leadership" than before, said Alfred Muluan Wu, an associate professor at the University of Singapore's Lee Kuan Yew School of Public Policy.
"It is even, to some extent, more important than economic growth," he told AFP.
Information is key
Huawei's recently inked MoUs with the top technology providers in Saudi Arabia and the UAE could provide Beijing inside access to decision making on OPEC and other crucial information.
Information capabilities lie at the heart of China's military modernisation programme, the Brookings Institution noted in an April 2021 report.
"If modern military forces have strong information power, they have strong military power," Zheng Anqi of the China Academy of Information and Communications Technology said in 2020, according to the report.
"The foundation of an information force is the network," he said. "Without the support of ubiquitous, broadband and mobile networks, a powerful information army is just empty talk."
Citing spying concerns and security risks, Australia, Canada, New Zealand, the United Kingdom and the United States have collectively banned both Huawei and ZTE, a partially state-owned technology company, from their national networks.
"Washington has banned Huawei from supplying US government systems and strongly discouraged the use of its equipment in the private sector over fears that it would be obliged to share intelligence with the Chinese government," US Federal Communications Commission Chairwoman Jessica Rosenworcel said in a statement in November.
Germany is also getting ready to wean its telecommunications networks off their dependence on the two Chinese firms, Tech HQ reported March 7.
The technology of Chinese companies "urgently needs to be removed at least from the core area of our critical IT infrastructure", Maik Außendorf, member of parliament and digital policy expert, said according to local media.
"A lot of technology from Huawei is still installed in our critical infrastructure today. That's bad," he emphasised.
Chinese surveillance exposed
There is precedence for such concerns.
In 2021, hacking group "LightBasin", which is linked to the Chinese government, was caught burrowing into mobile telephone networks around the world, using sophisticated tools to steal call records and text messages.
In 2020, the African Union (AU) headquarters was hacked -- a crime analysts described as part of a larger pattern by Chinese networks to electronically infiltrate key communication channels.
The hacking group, nicknamed "Bronze President", was able to monitor cameras covering AU offices, parking areas, corridors and meeting rooms.
Huawei has also sold security tools that governments use for digital surveillance and censorship, and the company's technicians have provided other off the books services, the WSJ reported in 2019.
"Technicians from the Chinese powerhouse have, in at least two cases, personally helped African governments spy on their political opponents," it said.
According to data gathered by Steven Feldstein, a scholar of digital surveillance at Boise State University, Huawei has sold advanced video-surveillance and facial-recognition systems in more than two dozen countries, the WSJ reported.
Following a 2021 investigation, the Washington Post revealed it had reviewed more than 100 Huawei PowerPoint marketing presentations, many marked "confidential".
These showed Huawei "pitching how its technologies can help government authorities identify individuals by voice, monitor political individuals of interest, manage ideological re-education and labour schedules for prisoners, and help retailers track shoppers using facial recognition", the report said.
Huawei also has been linked to a face-recognition programme in the Chinese province of Xinjiang, where millions of Muslims have been forced into "re-education camps" and subjected to torture, rape and other abuses.