Russia's unprovoked invasion of Ukraine has caused many repercussions around the world, including soaring energy costs and increasing world famine, but it also indirectly strengthened the US military's ability to operate in the Indian Ocean.
The expanded ability of the US Navy to operate in the Indian Ocean has come about by the entrance of high-tech submarines from North Atlantic Treaty Organization (NATO) allies into waters normally patrolled by the US Navy, and by likely new members of NATO -- Sweden and Finland -- adding their naval arsenals to the communal defence posture.
Russia's invasion of Ukraine has strengthened of NATO, caused a dramatic increase in military spending by European countries, and brought about a renewed seriousness with which countries around the world approach the increasing threats from Russia and other rogue powers.
In late August, the United Kingdom launched Anson, the fifth version of the Astute-class submarines.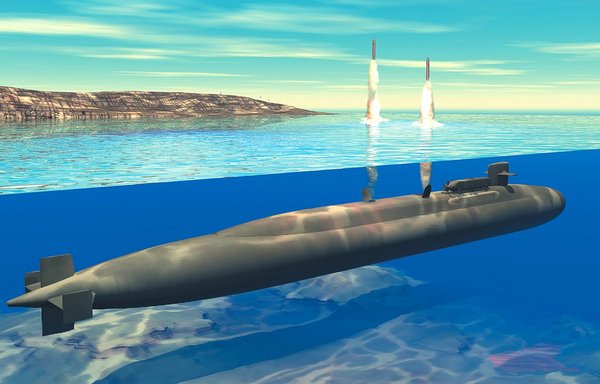 Anson is "the world's most advanced hunter-killer submarine", according to the Royal Navy.
The £1.3 billion ($1.4 billion) vessel can "gather vital intelligence, protect other Royal Navy vessels from threats above and below the waves and destroy enemy military infrastructure with pinpoint accuracy", it said.
"Armed with a combination of up to 38 Spearfish torpedoes and Tomahawk Block V cruise missiles, Anson can take out enemy ships/submarines, destroy land targets up to 1,000 miles away and launch and recover Royal Marines raiding and reconnaissance teams -- among other capabilities," according to NavalNews.com.
In June, France commissioned the first member of its new Barracuda class of nuclear submarine, Suffren.
Suffren and its sister subs, "crewed by 90 sailors ... will carry the next-generation type F21 heavyweight torpedoes, SM39 anti-ship missiles and MdCN-type naval cruise missiles. The boats will also be fully equipped for missions with NATO naval forces and special operations", according to Naval Today.
The French navy expects to receive the next Barracuda-class submarine, the Duguay-Trouin, at the end of 2022.
Expanding NATO
One of Russian President Vladimir Putin's many blunders in invading Ukraine was encouraging long-neutral Sweden and Finland to apply for NATO membership.
For decades since the Cold War, these two nations held to a policy of strategic independence, formally allying with neither NATO nor Russia. But the unprovoked Russian attack on Ukraine radically changed that calculation.
Both countries are moving through the alliance's membership process and can bring formidable military assets to the table.
If admitted to NATO, as is expected, Sweden can contribute five submarines that can patrol the Baltic Sea, enabling US submarines to patrol elsewhere, like the Indian Ocean.
Two of Sweden's vessels are Gotland-class submarines, the first diesel-powered craft capable of staying underwater for weeks, like their nuclear counterparts.
Finland has no submarines but could readily add them if it chooses.
Delivering lethal power to the Indian Ocean
For many years, the US Navy's Ohio-class submarines have traditionally operated in the Atlantic and Pacific oceans.
According to data from last year, nine Ohio-class subs patrolled the Pacific Ocean, while five patrolled the Atlantic.
However, defence sources say the developments with NATO and the deployment of allied submarines around Europe are freeing the US military to expand in other regions, particularly the Indian Ocean.
Ohio-class submarines are the largest submarines ever built by the US Navy.
"With a length of 560 feet [171 metres], a submerged displacement of 18,750 tons and a payload of 24 multiple-warhead, long-range Trident ballistic missiles, each of these vessels provides the Navy with an unparalleled combination of stealth, strategic capability and superior operating capability," according to General Dynamics, the company that built the submarines.
"The Ohio-class boats may be the most destructive weapon system created by humankind," wrote Sebastien Roblin for the National Interest in 2021.
"Each of the 170-meter-long vessels can carry twenty-four Trident II submarine-launched ballistic missiles ... which can be fired from underwater to strike at targets more than seven thousand miles [11,265km] away depending on the load," he continued.
"As a Trident II reenters the atmosphere at speeds of up to Mach 24, it splits into up to eight independent reentry vehicles, each with a 100- or 475-kiloton nuclear warhead. In short, a full salvo from an Ohio-class submarine—which can be launched in less than one minute—could unleash up to 192 nuclear warheads."