The United States on Monday (October 24) blacklisted three Syrian generals for their role in an August 2013 attack using chemical weapons on the Damascus suburb of Ghouta that killed at least 1,400 people.
In a statement announcing the new designations, US Secretary of State Antony Blinken reiterated the need for the regime of Bashar al-Assad "to fully declare and destroy its chemical weapons programme".
The Syrian regime also must provide "immediate and unfettered access for the Organisation for the Prohibition of Chemical Weapons (OPCW) personnel in accordance with its international obligations", Blinken said.
The OPCW is the world's chemical weapons watchdog, and in June 2018 member states granted it new powers to name who was responsible for chemical attacks.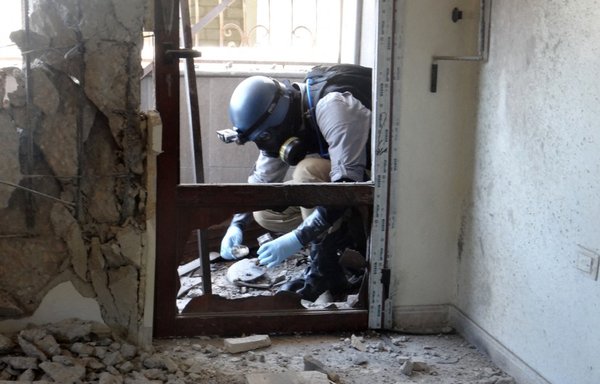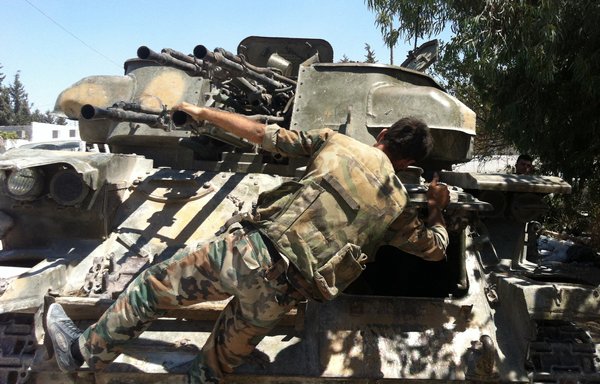 Before that vote, opposed by both Syria and its backer Russia, the OPCW only had the authority to investigate whether and where chemical weapons were used.
The new sanctions are designed to promote accountability, Blinken said.
"Of the atrocities committed by the al-Assad regime, some of which rise to the level of war crimes and crimes against humanity, few are as inhumane and abhorrent as the repeated use of chemical weapons against civilians," he said.
In August 2013, the statement said, the Syrian Artillery and Missile Directorate "launched rockets carrying the nerve agent sarin, a deadly chemical, on Ghouta, a suburb of Damascus, killing at least 1,400 people, many of them children".
'Violent repression' of civilians
Three Syrian regime military officials, named as Brig. Gen. Adnan Aboud Hilweh, Maj. Gen. Ghassan Ahmed Ghannam and Maj. Gen. Jawdat Saleebi Mawas, were involved in the deadly airstrikes, Blinken said.
The three "were involved in gross violations of human rights, namely the flagrant denial of the right to life of at least 1,400 people in Ghouta", he added.
In October 2016, two of the three men blacklisted -- Hilweh and Mawas -- were sanctioned by the European Council for having allegedly launched chemical attacks against civilians.
Hilweh, of the Syrian army's 155 Brigade and 157 Brigade and Mawas, of the Syrian Artillery and Missile Directorate, were "responsible for the violent repression against the civilian population in Syria", according to the designation.
Hilweh carried out this repression via various means including "through his responsibility for the deployment and use of missile and chemical weapons in civilian areas in 2013 and involvement in the large scale detentions", it said.
Mawas's crimes included "the use of missiles and chemical weapons by brigades under his command in highly populated civilian areas in 2013 in Ghouta".
Hilweh and Mawas also were on a list of names read out at a United Nations Security Council meeting in November 2016 by then US Ambassador Samantha Power, along with 11 other Syrian commanders and prison officials.
The 13 were accused of attacks on civilians and civilian infrastructure and acts of torture.
Ghannam is listed in a Syrian Network for Human Rights report on "the expanded and systematic use of Scud missiles by forces loyal to the Syrian government" as commander of 155 Brigade, based in southern Qalamoun.
"It contains almost 800 missiles including 200 Scud missiles, and some missiles equipped with chemical warheads," the report says, going on to detail the Syrian regime's attacks against civilians across the country.
Remembering the victims
The early morning August 21, 2013, attack on Eastern and Western Ghouta "killed hundreds of civilians, including large numbers of children", according to Human Rights Watch (HRW), which carried out an extensive investigation of the attack.
"Evidence suggests the agent was most likely Sarin or a similar weapons-grade nerve agent," HRW said in its September 2013 report.
The weapons used were a "surface-to-surface rocket system of approximately 330mm in diameter, likely Syrian-produced, and a Soviet-era 140mm surface-to-surface rocket system to deliver a nerve agent", it said.
HRW noted that the type of rockets and launchers used "strongly suggests that these are weapon systems known and documented to be only in the possession of, and used by, Syrian government armed forces".
Victims of the attacks showed symptoms consistent with exposure to nerve gas.
These included "suffocation; constricted, irregular, and infrequent breathing; involuntary muscle spasms; nausea; frothing at the mouth; fluid coming out of noses and eyes; convulsing; dizziness; blurred vision; and red and irritated eyes, and pin-point pupils", HRW said.
"The United States remembers and honours the victims and survivors of the Ghouta massacre and the victims of the many other chemical attacks that we assess the al-Assad regime has launched," Blinken said in his statement.
"We condemn in the strongest possible terms any use of chemical weapons anywhere, by anyone, under any circumstances."
"We will continue to support Syrian-led and international efforts to ensure there are consequences for the ongoing human rights violations and abuses committed in Syria," he added.
"Our support for the brave Syrians who continue to risk their lives to hold the al-Assad regime accountable will not waver, and we will pursue every measure to find justice for victims and survivors of atrocities and to promote accountability for those responsible, including the al-Assad regime and its allies."