ADEN -- The Houthis' campaign to forcibly displace the residents of four villages in southern al-Hodeidah province's Beit al-Faqih district and confiscate their land has sparked local and international condemnation.
On September 12, the Iran-backed group set out with a fleet of bulldozers and armed fighters riding in military vehicles to dislodge the residents of Tarf Yahya Sahel, al-Khodarya, al-Maarif and Bani al-Sabahi in the locality of al-Qasra.
"These lands that were usurped by the Houthi militia in the locality of al-Qasra have been their owners' only source of livelihood for decades," al-Hodeidah provincial spokesman Ali Hameed al-Ahdal told Al-Mashareq.
The militia assaulted the residents "with rifle butts and arrested more than 70 residents of these four villages to seize an area estimated at more than 10 sq km", he said.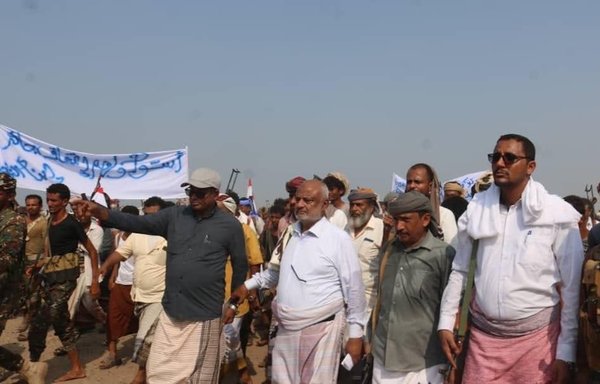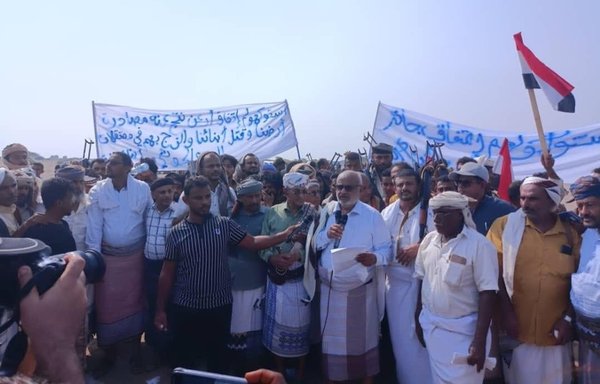 The Houthis seized the land on "the pretext that it is endowment lands in order to divide it among individuals affiliated with it", al-Ahdal said.
During their operation, Houthi elements fired live ammunition indiscriminately to intimidate anyone who tried to stand up to them and protect his land, he said.
"The Houthis went to great lengths to arrest anyone who refused to hand over the lands he owns to the militia," he added.
These actions were not confined to al-Qasra, he noted, but extended to Wadi Siham in the direction of the city of Bajel.
"Unfortunately, the Houthis are continuing to seize the lands of residents in the locality of al-Qasra in southern Beit al-Faqih district," he said.
The local authority in al-Hodeidah called on all residents of the province to stage a protest in al-Khokha on September 20 to denounce the Houthis' crimes and forced displacement of the residents of al-Qasra locality.
Widespread condemnation
The local authority in al-Hodeidah province condemned the Houthis' crimes against defenceless civilians in a statement, saying civilians in al-Qasra locality are being arrested, their lands plundered and their homes confiscated.
Minister of Information, Culture and Tourism Muammar al-Eryani denounced the Houthis' storming of al-Qasra villages. The group aims to confiscate these lands and turn the area into a military zone, he said.
Musawah Organisation for Rights and Freedoms called on the Houthis to immediately stop confiscating land and property belonging to Beit al-Faqih district residents.
The rights group said the Houthis' actions against and violations of the residents of al-Qasra are "committed with ethnic, sectarian and regional motives".
In a September 16 briefing at United Nations (UN) headquarters in New York, Stephane Dujarric, spokesman for UN Secretary-General António Guterres, expressed concern about the events in the villages of al-Qasra.
"Reports of civilian casualties, detentions and forced displacement among the residents of these villages are very disturbing, and we are taking steps to verify these disturbing reports," Dujarric said.
"We remind the Houthis that they should act in accordance with international human rights law."
Demographic change
The Houthis are seeking to bring about "demographic change to replace the people of the region with [Houthi] loyalists", political analyst Faisal Ahmed told Al-Mashareq.
Political analyst Mohammed Anaam, meanwhile, condemned the crimes committed by the Houthis against the residents of the villages of al-Qasra.
"Residents' houses were burned down, and the Houthi militias assaulted and beat up the women of these villages, leaving 18 women with various injuries," he told Al-Mashareq.
"Additionally, they prevented them from being tended to by paramedics and blocked access to the villages," he said.
"The Houthis are deeply obsessed with usurping lands and public and private property, and attempting to quickly and illegally enrich their leaders," political analyst Ahmed al-Sabahi told Al-Mashareq.
They do this by using their armed clout and the pretext of a "war against aggression", he said, and by "threatening those who oppose them with fabricated charges and wanton arbitrary arrests".
Al-Sabahi accused the Houthis of pursing a policy of land confiscation, and of appointing loyalist leaders in central and western Yemen.
They are enabling these leaders "to seize lands, real estate, property and get leadership positions, while leaving nothing other than marginal work and a few insignificant pieces of land for the residents of those areas", he said.
In their quest for dominance, al-Sabahi said, the Iran-backed Houthis are blowing up opponents' houses and seizing their houses and lands.