A sweeping security campaign in al-Hol camp in northeastern Syria has continued to clamp down on "Islamic State of Iraq and Syria" (ISIS) activity, amid renewed calls for countries to repatriate their citizens.
The sprawling desert camp in al-Hasakeh province hosts the family members of slain "Islamic State of Iraq and Syria" (ISIS) fighters, many of whom hold fast to the group's extremist ideology.
The indoctrination some children receive from their mothers has been a source of concern, with fears that a new generation of extremists is being incubated inside the camp, imbued with feelings of hostility and revenge.
These fears are reinforced by the group's continual attempts to penetrate al-Hol and recruit children, grooming them to become fighters in hopes of restoring its so-called "caliphate".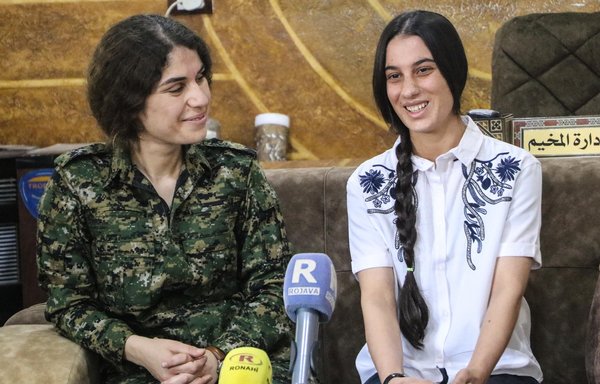 The Kurdish forces that administer al-Hol have arrested dozens linked to ISIS during an operation that began August 25 to purge the camp of terror cells.
Led by the Syrian Democratic Forces (SDF) and the Kurdish internal security forces (Asayesh), the "Humanity and Security Campaign" is the second of its kind within a year.
Since the campaign began, security forces have arrested 121 individuals they have determined are involved with ISIS, including 15 women, according to a statement by the General Administration of the Kurdish Internal Security Forces.
They also have uncovered 16 tunnels and trenches the militants have used as hiding places or escape routes out of the camp, the statement said.
According to Brig. Gen. Ali al-Hassan of the General Administration, security forces discovered that ISIS cells had been using 119 tents in the camp to train children to carry and use weapons and to disseminate terrorist ideology.
Some tents were used as "sharia courts", he said, adding that residents of the camp who oppose ISIS had been detained and tortured by the extremists.
Over the course of the security campaign, instruments of torture were found, in addition to improvised explosive devices (IEDs) and phones and laptops that belonged to the group, he said.
Indoctrination manuals
The goal of the campaign is to "put an end the danger posed by ISIS cells in the wake of a surge in killings and kidnappings by these cells inside the camp", a local source told Al-Mashareq, requesting that his name be withheld.
During the campaign, books were found that were being used to brainwash children and train them to carry out acts of violence, including murder, he said.
The Women's Protection Units (YPJ), a Kurdish all-female force, on September 13 freed an Iraqi Yazidi woman from extremist elements inside the camp.
She is the second Yazidi to be liberated since the start of the campaign, he said.
This followed news that other displaced women, who had been detained and tortured by ISIS elements, also had been rescued by the security forces.
Before the start of the operation, there had been a spate of terrorist incidents that alarmed the camp's roughly 54,000 residents, comprising about 27,000 Iraqis, 18,000 Syrians and 8,500 foreign nationals.
Residents want to go home
"We had heard about cases of child kidnapping and torture, but in this section [of the camp] there is none of that," said Salma Waddah, an Iraqi from Ninawa province who has lived in al-Hol for six years.
"We fled Iraq in search of safety as the battles between security forces and ISIS intensified," she told Al-Mashareq. "Now we feel unsafe. We don't mix with strangers, and we go out only to get food or essential items."
Waddah expressed her desire to return to Iraq.
"We are tired of life here," she said. "We want to go back to our home, cultivate our land, have our children go back to school and live in peace."
Since the beginning of this year, 44 people, including 14 women and two children, have been killed in incidents carried out by ISIS cells, who used knives and pistols with silencers.
Some of the victims were tortured, their bodies dumped in sewage channels to cover up the crimes.
There were about 13 kidnapping attempts inside the camp, and tents were set on fire while the victims slept. Humanitarian aid was destroyed, amid other attempts to create chaos, according to the Kurdish administration.
Renewed push for repatriation
Camp officials have continued to restate their message: that repatriation is the only real solution to the camp's problems.
During a recent visit to the camp, where he met with Kurdish officials, Gen. Michael "Erik" Kurilla of US Central Command (CENTCOM) stressed the need for repatriation.
"There is no military solution," he said in Amman, Jordan, on September 12. "We just encourage all countries to repatriate their citizens."
"The challenge is that about half of the camp's residents lament ISIS's demise and believe in its despicable ideology, and the other half have nowhere else to live and want to return to their home countries," he said.
Iraq began implementing a plan to repatriate its nationals on August 12, with authorities saying that as of September 9, they had repatriated 3,090 individuals from al-Hol camp, the majority of whom are elderly and children.
These returnees, who the authorities consider to be victims of ISIS, rather than terrorists, are undergoing four-month psychological treatment by a specialised support team before transfer to their former places of residence.
About 200 Iraqi families are preparing to leave al-Hol soon, as the camp's administration, in co-ordination with the Iraqi government, has begun compiling their names and personal data, in preparation for their departure.