Baghdad has stepped up its efforts to repatriate Iraqi citizens with a clean record from Kurdish-administered al-Hol camp in Syria's al-Hasakeh province, ensuring they receive anti-extremism education upon their return.
The Syrian Democratic Forces (SDF) have so far facilitated the return of hundreds of Iraqi families. The latest batch of 24 families was repatriated on March 21.
More than 450 families have been brought back to Iraq since the middle of last year, officials said. Upon their arrival, they were moved to refugee shelters as an initial step, for a security check.
The sprawling desert camp of al-Hol, situated just 13km from the border with Iraq, is home to some 60,000 refugees, nearly half of whom are children.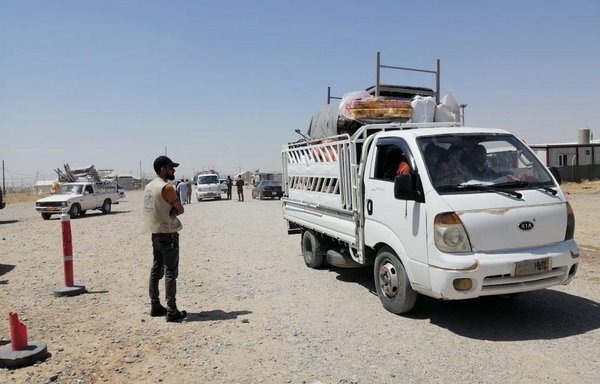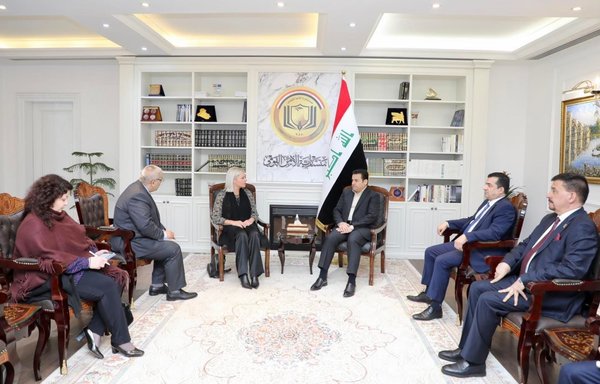 About 30,000 of the camp's inhabitants are Iraqi, most of whom are women and children. Many fled to Syria in 2014, after the "Islamic State of Iraq and Syria" (ISIS) overran Mosul.
Al-Hol camp also shelters about 11,000 family members of ISIS elements, who were brought there after the group's 2017 military defeat in Iraq and Syria and the dissolution of its self-styled "caliphate".
The repatriation decision was driven by concerns about ISIS's influence over Iraqi youth in the camps, and the potential for Iraqi citizens to be recruited by extremists, said Iraqi Deputy Immigration Minister Karim al-Nouri.
Leaving a large number of youth to possibly fall prey to ISIS's destructive ideology would have been a dangerous course of action, he told Al-Mashareq.
About 1,780 Iraqis have been repatriated over the past few months, most of them youth under 18 and women, and they are temporarily housed at al-Jadaa camp, south of Mosul, he said.
Uptick in violence
In light of reports of violence inside al-Hol, the repatriation of Iraqi families has somewhat eased the burden on the camp's Kurdish administration, which is facing difficulties in providing care and protecting residents from pro-ISIS cells.
In January, the United Nations (UN) said it had received reports of increased violence in the camp.
In 2021, it said in a statement, 90 incidents of violence were reported inside al-Hol. Syrian and Iraqi camp residents, as well as at least two aid workers, were killed during these incidents, and many others were injured.
In a March 23 report, Save the Children said that in the 12 months preceding, 74 children died in al-Hol camp, eight of whom were killed in violent incidents.
Meeting with Iraqi national security adviser Qassem al-Araji on March 17, special representative for the UN Assistance Mission for Iraq Jeanine Hennis-Plasschaert lauded Iraq's efforts to bring its citizens home from Syria.
Al-Araji urged the global community to be more involved in al-Hol issues.
Strict process
The repatriation of Iraqis from al-Hol camp is "an organised process", said Saeed al-Jayashi, a strategic affairs advisor at Iraq's National Security Advisory Council.
Throughout the process, he told Al-Mashareq, there is co-ordinated national action among all relevant sections of the government and military.
The repatriation procedure is "very strict", he added, and the government makes sure those who return are no threat to Iraq's safety and security.
The process includes vetting to make sure the returnees are Iraqi, have no outstanding security-related arrest warrants, and have no record of affiliation with ISIS or any other extremist group, al-Jayashi said.
After the background and security check is done, he said, the ministries of immigration and transportation send buses to bring the refugees to Iraq by way of the Rabia border crossing with Syria.
While returning is optional for Iraqis, the government provides the returnees with housing and necessary services once they are in the country, he noted.
Iraq co-operates with several international organisations to provide psychological and moral support to those returning from al-Hol in order to help them reintegrate into their former communities, al-Jayashi said.
On March 25, Iraq's National Security Advisory Council announced that 127 families repatriated from al-Hol camp had returned to their areas of origin in north and west Iraq.
The resettled Iraqis are free to return to normal life, after completing educational courses that focus on anti-extremism in Iraq's al-Jadaa camp.