CAIRO -- Syria's northern and eastern regions are strewn with land mines, which the "Islamic State of Syria and Iraq" (ISIS) planted in privately owned homes, fields and farm buildings and on roads while it was in control of these areas.
Though the group, which overran swathes of Iraq and Syria in 2014, was ousted from the last sliver of territory it controlled in Syria in March 2019, this deadly legacy remains, threatening civilian lives and reconstruction activity.
Local organisations have been working to clear mines from these areas and raise community awareness about the dangers they present via campaigns that advise people what to do if they encounter a land mine or suspicious object.
Northern and eastern Syria are designated as "red areas", according to Mustafa Ceylan, a member of an engineering team affiliated with the Syrian Democratic Forces (SDF) that is collaborating with a non-profit de-mining organisation.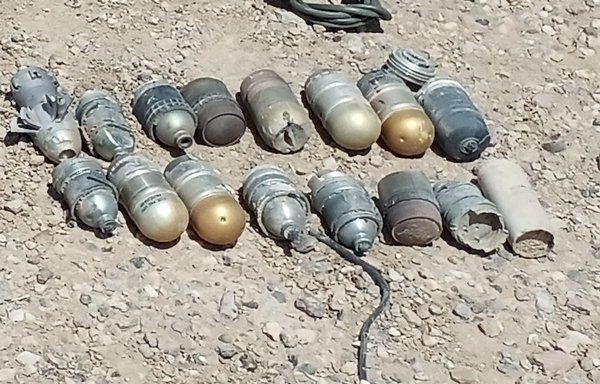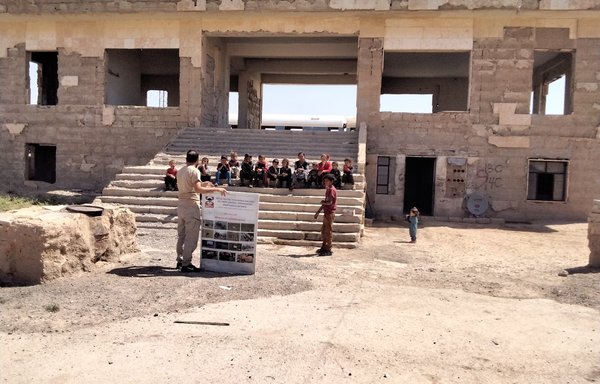 The proliferation of land mines and unexploded ordnance left over from the war against ISIS has earned these areas the designation, he told Al-Mashareq.
"ISIS planted mines randomly throughout these areas, which makes them more dangerous, as there is no map to locate and remove them," he said.
Mine removal activities
De-mining is done through field detection, comprehensive sweeps and responses to reports from citizens who encounter suspicious objects, Ceylan said.
A group of specialists trained by international experts is handling mine removal operations in several areas at the present time, he said.
Heavily mined areas in Syria have been prioritised for mine removal operations based on their population density and the extent of danger posed to the civilian population, Ceylan explained.
"All types of land mines were left behind by ISIS in Syria," he said.
"There are hand-made mines, which are very dangerous, as they do not have an insulating layer like the mines manufactured in military factories, and there are anti-vehicle mines (AVMs) and anti-tank mines," he said.
Anti-personnel mines (APMs) planted by ISIS have been known to cause severe injuries, maiming individuals that stumble upon them, he said.
Workers have cleared more than 25,000 land mines so far, Ceylan said.
He noted that some 600 individuals have lost their lives to land mines and other leftover ordnance in Syria, and more than 3,000 survivors have suffered injuries ranging from light to serious, such as the loss of a limb.
Raising awareness
Civilian deaths and injuries from land mines occur daily in northern and eastern Syria, Kurdish Red Crescent official Azad Dudeki told Al-Mashareq.
Specialist engineering teams carry out de-mining operations, while the Red Crescent team and non-profit organisations engaged in mine removal are raising community awareness about the dangers on the "widest possible scale", he said.
These organisations teach people how to deal with a foreign object if they come across one, and stress that they need to leave the area where they find it as quickly as possible, Dudeki said.
The high number of deaths and injuries from land mines in northeastern Syria is largely due to residents' dependence on agriculture and animal husbandry, said Sinan Qamishlo, who leads an SDF mine-clearing team in the city of Manbij.
This line of work exposes them to danger, he told Al-Mashareq.
But civilians have become more aware about the dangers land mines present, as well as more knowledgeable about how to deal with them, he added.
"Despite the decrease in the number of casualties, land mine explosions still occur on a daily basis," Qamishlo said.
"De-mining northern and eastern Syria, which are vast areas, requires significant time, expertise, equipment and effort, which is beyond the capabilities of the SDF and other local organisations," he said.
Some areas are considered more dangerous than others, he noted, such as southern al-Hasakeh province, and northern and eastern Deir Ezzor province, where seasonal agricultural work takes place.