BEIRUT -- Lebanon's Directorate of Civil-Military Co-operation (CIMIC) has played a pivotal role in assisting the public and helping to maintain security, particularly in remote villages and along the country's border with Syria, officials said.
Established in 2015 by Lebanon's Army Command, the directorate has implemented various programmes to aid the public and help maintain security.
These have contributed to alleviating human suffering -- including in areas that are feeling the impact of Hizbullah's presence and the Syrian conflict, in Baalbek and Akkar -- and to helping government institutions enhance their effectiveness.
In carrying out its work, CIMIC heavily relies on the skills of female personnel to provide stability, resolve conflict and understand the needs of rural areas, and is working to strengthen their role through military exercises.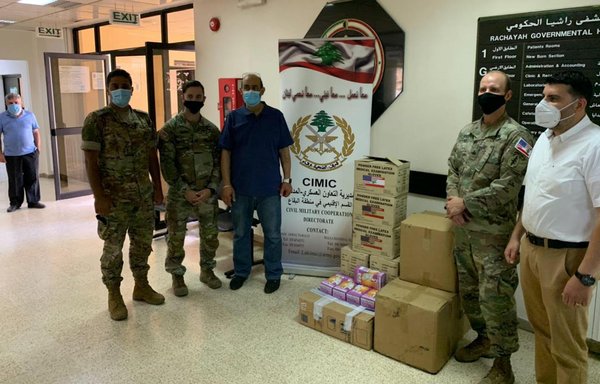 In June, female personnel took a training course on the role of women in military-civil co-operation led by a team from the Italian bilateral military mission.
Key role of women
In order to build a balanced society -- secure, stable and prosperous -- women must play a role, said a CIMIC source, who asked to remain anonymous.
Women are an essential pillar of the directorate's work, in communicating with the civilian population and identifying residents' livelihood and developmental needs, he told Al-Mashareq.
The directorate has conducted several specialised courses since 2018 involving women personnel, with various international partners.
Courses include studying and understanding resolutions such as United Nations Security Council Resolution 1325 on women, peace and security, and military-civil communication, the source said.
The Syrian conflict "imposed security, economic, cultural and demographic challenges on Lebanon", he said.
Dealing with these challenges requires a comprehensive approach, he explained, which means integrating the government, local communities and civil society to unify efforts and strengthen security and stability.
He noted that the directorate focuses on activities that alleviate the impact of the ongoing economic crisis, facilitate access to basic services, strengthen the sense of national belonging and reduce societal tension.
To date, it has carried out 240 livelihood and developmental projects in areas such as solar energy, electricity and water.
It also has worked to repair schools and equip medical clinics in border areas, help small farmers improve their production and distribute food rations and stationery, he said.
Key partner for maintaining security
CIMIC has contributed to security and stability in border communities hosting Syrian refugees, a Lebanese army source told Al-Mashareq.
The army faces the ongoing challenge of addressing smuggling to and from Syria by land and sea, as well as the "economic crises and constitutional deadlines", he said, speaking on condition on anonymity.
Without the continued US assistance to the Lebanese army, including through the military co-operation agreement signed between the two governments on May 20, facing these challenges would be impossible, the source said.
Hizbullah has a long and well-documented history of producing and trafficking illegal drugs from its heartland in Lebanon.
In recent years, it has moved the nexus of its narcotics operation inside Syria after coming under increasing pressure in Lebanon, largely as a result of its association with Iran, which is facing an economic crisis.
The work of the directorate and the army is important to maintaining stability, military expert Naji Malaeb said.
Security remains compromised by the large number of illegal border crossings operated by Hizbullah and the Syrian 4th Division, Malaeb said.
He noted that women are crucial to the directorate's work, and have proven their rigour and their abilities in the judiciary and security sectors.