ADEN -- The Yemen International Forum concluded Sunday (June 19) in the Swedish capital, Stockholm, with a host of proposals and solutions for the problems, obstacles and challenges that are impeding peace in Yemen.
The three-day event, co-hosted by Sanaa Centre for Strategic Studies and Sweden's Folke Bernadotte Academy, drew more than 200 participants representing Yemenis from across the political spectrum.
United Nations (UN) special envoy to Yemen Hans Grundberg and Swedish Foreign Minister Ann Linde were in attendance, with ambassadors of several UN Security Council permanent members and Gulf Co-operation Council (GCC) representatives.
The forum sought to boost constructive dialogue and enable participants to exchange ideas, discuss general policies and make actionable recommendations on economic and security challenges and efforts to establish peace.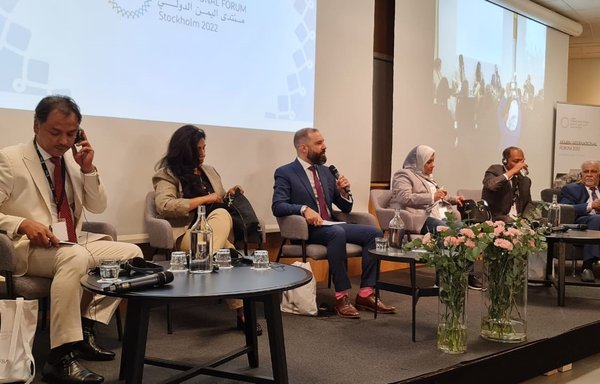 In Friday's opening session, Grundberg noted that Yemen has had a long history of dynamic political debate.
Political discussion "must return to the negotiating table and to Yemen", he said, urging delegates to seriously engage in and resume "the political process and the discussions on the future of Yemen".
The UN-brokered truce that went into effect in April between the legitimate government and the Iran-backed Houthis "is fragile and far from being perfect", he said. "However, it still holds, and this has surprised many."
He stressed the need to protect and strengthen such gains.
The two-month extension of the truce, effective June 2, has given hope that a permanent ceasefire could be reached, though ongoing breaches by the Houthis, with backing from Iran, have cast a shadow on such hopes.
Words, not bullets
In his closing speech, Sanaa Centre for Strategic Studies chief Farea al-Muslimi said the centre tried to make the event "a platform for all voices, especially those that were silenced and marginalised as the conflict became tenser".
He noted that while "final and definitive solutions" are not expected at this time, "we presented an initial and serious attempt for a Yemeni-led comprehensive dialogue".
Centre director Maged al-Madhaji told Al-Mashareq the forum gave the representatives of all parties an opportunity to engage in Yemeni political discussions.
"The forum sought to present useful ideas for addressing the Yemen war by providing perspectives for resolving the contentious issues and dealing with the post-war phase," he added.
The forum offered all participants a chance "to engage in open and serious debates to benefit from the current truce", the centre's deputy director Osama Rouhani said.
It was a step towards the next round of peace negotiations, he said, and provided "a chance for Yemenis to engage in dialogue and exchange words rather than bullets".
"The situation in Yemen isn't perfect," he said. "We're faced with two choices: either to try to find points of consensus that would benefit peace or surrender to the status quo and proceed with war."
"Therefore, we're pushing towards attempts to find peace, and towards making the space for dialogue and debate open so we can reach peace," he said.
"The scene today is bleak, but if we can consolidate the terms of the truce, this will be a success."
Inclusion of marginalised groups
"Women, youth and civil society organisations have had an active role in the forum in presenting perspectives for ending the conflict," University of Saba political scientist Huzam al-Deeb told Al-Mashareq.
"The importance of this forum lies in listening to the voices of different categories and reaching approaches accepted by the majority of participants to be a basis for negotiations to establish peace in Yemen," he said.
But he cautioned that "the Houthis' behaviour and methodology move towards war rather than peace, and therefore some believe that recapturing some of the strategic areas that Houthis control will force them to give in to peace".
In the closing session, Swedish envoy to Yemen Peter Semneby said his country is prepared to host a new round of Yemen talks.
"Sweden is ready when Yemenis are ready," he said, noting that his country has hosted such meetings in the past. "We welcome you to come back to this city to discuss the future of your country."