MUSCAT -- Recent US sanctions on a global oil broker network supporting Iran are unveiling the Islamic Republic's continued attempts to illegally sell its oil and the related risks for regional and global enablers.
The US Treasury Department last month announced sanctions on Omani businessman Mahmood Rashid Amur al-Habsi, five entities controlled by him and one oil vessel.
Al-Habsi partnered with senior officials of the Islamic Revolutionary Guard Corps Quds Force (IRGC-QF) and used several companies to facilitate shipments of Iranian oil to foreign customers, including buyers in East Asia, according to a Treasury statement last month.
Al-Habsi also "tampered with the automated identification systems that are onboard vessels, forged shipping documents, and paid bribes, circumventing restrictions related to Iran", it added.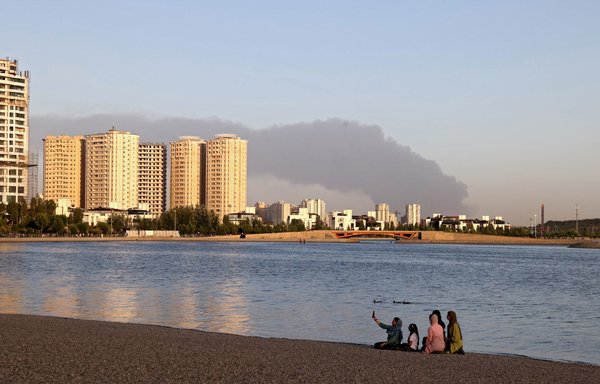 "The IRGC-QF is using revenues from its Iranian petroleum sales to fund its malign activities at the expense of the Iranian people," said Director of the Office of Foreign Assets Control Andrea Gacki.
"These sales rely on key foreign intermediaries to obscure the IRGC-QF's involvement, and Treasury will continue to disrupt and expose anyone supporting these efforts."
The sanctions froze any US assets of those blacklisted and generally barred Americans from dealing with them.
'Not beneficial' to Iranians
"This is not the first time that tankers smuggling Iranian oil have had sanctions imposed on them or have been intercepted," economist Mahmoud al-Sulaimi said.
"In January, Indonesian security forces seized an Iranian ship suspected of transferring smuggled oil to another ship while [both ships were] anchored off the Indonesian coast, after it was noticed that the automatic identification system transponders of both ships were turned off and their hulls were covered to conceal their identity," he said.
"China's role in helping Iran to sell its oil cannot be ignored here, as it receives 856,000 barrels of oil per day out of a total of 2.2 million barrels from Iran, which amounts to about 42%."
"China is investing in the development of the Azadegan oil field in southwest Iran -- the largest in the country -- occupying an area of 1,500 sq. km," he added.
Iran's continued smuggling has led US officials to consider cracking down on Iranian oil sales to China, with potential consequences for the regional shipping industry, the Wall Street Journal reported in July.
"There is not much left to sanction in Iran's economy. Iran's oil sales to China is the prize," a US official told the newspaper.
Under the potential plan, the United States would take aim at Iran's oil sales to China by targeting shipping networks that help export an estimated one million barrels per day, officials said.
OPEC data show that Iran has raised its daily oil production starting in March, increasing it from 2.2 million barrels to 2.45 million barrels a day.
Iran is forced to make major concessions to secure illegal oil deals by selling each barrel at $4 below global price, al-Sulaimi said.
The Iranian government also pays large sums of money to intermediaries and brokers, and none of this is beneficial to the Iranian public, he added.
Rejecting Iranian smuggling
Meanwhile, al-Habsi's smuggling demonstrates that shipping and oil industry parties could be affected by their associations to Iranian illicit oil trades and has drawn anger in his native Oman.
"The Omani government or people were not a party to any illegal smuggling of Iranian oil," said Oman-based international relations researcher Ali bin al-Hussein.
"I reject Iran's behaviour in smuggling oil. It is of not much benefit. Iran is a country rich in resources, and it is in its interest to establish balanced relations with other countries," he said.
"Iran has been deprived of producing 1.8 million barrels of oil since April 2018 because of the sanctions imposed on it, which means that it has lost more than $100 billion," al-Hussein said.
Iran also has tens of billions of dollars of its money frozen in a number of international banks, he said, adding, "It would behoove Iranians to look for a way to deal transparently with the international community."
"The international community knows that Iran will not stop smuggling oil," said marine navigation expert Nasser bin Abdul Salam.
"The Iranian government needs funds to meet the needs of its people, especially in light of the coronavirus crisis," he said.
Even though such actions violate maritime safety laws and sometimes put ships at risk of disasters, Iranian vessels prevent tracking by disabling tracking devices on oil tankers and by turning off transponders, which makes it difficult to ascertain the sailing routes and duration, he said.