BAGHDAD -- The "Islamic State of Iraq and Syria" (ISIS) claimed responsibility early Tuesday (July 20) for a suicide bombing that ripped through a busy market in Baghdad ahead of Eid al-Adha, killing at least 36 people, medical sources said.
Some 60 people also were wounded in the Sadr City blast, medics said.
ISIS claimed the attack in a message posted to its Telegram channel.
In one of the worst attacks in Baghdad in recent years, body parts of victims lay scattered across the previously bustling Woheilat market that had been crowded with shoppers buying food ahead of Eid al-Adha, according to an AFP photographer.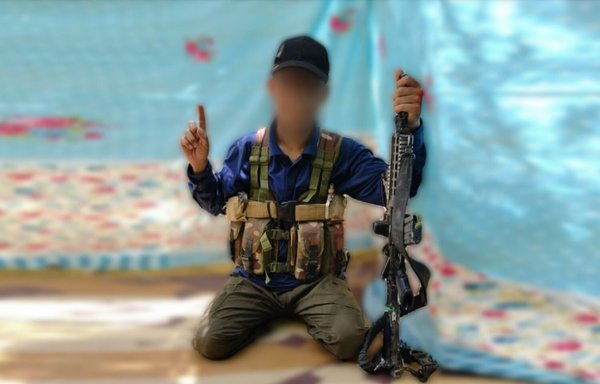 Eight women and seven children were among the dead, medical sources said.
In an early Tuesday statement, children's agency UNICEF confirmed that children were killed and injured in the attack.
"This horrific attack right before Eid Al-Adha is a terrible reminder of the violence Iraqi children continue to face," it said.
Screaming in terror
Video footage shared on social media after the blast showed bloodied victims and people screaming in terror. The blast was so strong it ripped the roofs off some market stalls.
"A terror attack using a locally made improvised explosive device (IED) in Woheilat Market in Sadr City, in east Baghdad, left several victims dead and others injured," Iraq's interior ministry said in a statement.
Baghdad Operations Command said it had launched an investigation into the blast, and police and forensic teams late Monday were searching through the smoking wreckage for clues.
Prime Minister Mustafa Kadhemi convened an emergency meeting with his heads of military and security agencies.
In January, ISIS claimed responsibility for a rare twin suicide bombing that killed 32 people, also at a crowded market in Baghdad. That blast, in central Baghdad's al-Tayaran Square, was the city's deadliest attack in three years.
Iraq declared ISIS defeated at the end of 2017 after a fierce three-year campaign. Yet the group's sleeper cells have continued to operate in desert and mountain areas, typically targeting security forces or state infrastructure.
Furious response
Iraqi President Barham Saleh condemned the "heinous crime of unprecedented cruelty on the eve of Eid", writing on Twitter that the perpetrators "do not allow people to rejoice, even for a moment".
"I'm saddened by the heinous attack in Sadr City on the eve of Eid al-Adha tonight," Masrour Barzani, prime minister of Iraq's Kurdish region, said on Twitter.
"This is a sobering reminder of the continued threat terrorism poses to all of Iraq and its peoples, and the need for closer co-ordination," he said, expressing solidarity with all the victims.
Monday's bloody attack sparked a furious response from Iraqis on social media.
"Every Eid, there's a tragedy in Baghdad," one Twitter user wrote. "It's impossible to celebrate like the rest of humanity."
"This cannot be normalised again," another Twitter user wrote. "We cannot be numb to our own people dying, whether due to faults in security or in health and safety regulations. The terrorist attack in Sadr City has made this a solemn Eid."