ADEN -- The reluctance of the Iran-backed Houthis to allow United Nations (UN) inspectors onboard a decaying floating storage tanker off Yemen's western coast shows they are using the situation as a political bargaining chip, a Yemeni official said.
The deserted floating storage and offloading facility (FSO) Safer -- which contains 1.1 million barrels of crude oil -- has been described as a "floating bomb" as its hull has been corroding and its barrels are thought to have been steadily releasing flammable gasses over the past five years.
The 45-year-old tanker has been in dire condition since as early as 2015, according to Deputy Minister of Justice Faisal al-Majeedi.
"There are several reports confirming it would be dangerous and destructive if it leaked its oil cargo into the sea or exploded," he said.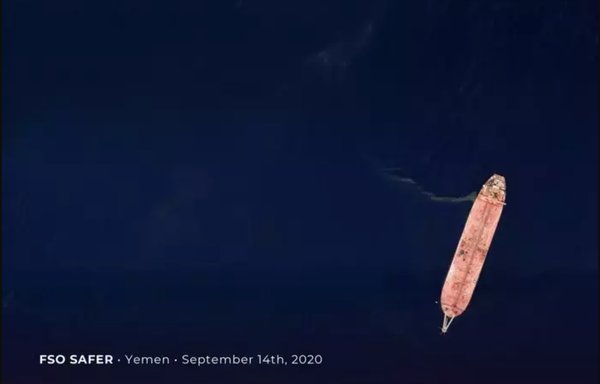 The consequences would be devastating not only to Yemen, but to regional countries too, including Saudi Arabia and all the way to the Suez Canal and Djibouti, he said.
"Reports show that in case of a leak, Yemeni fishermen and the maritime ecosystem will suffer the most as it will affect 90 species of fish and will destroy coral reefs," he said.
"If the vessel explodes, its negative effects will be worse than those of the Beirut port blast," al-Majeedi warned.
Repeated calls for access
The UN Security Council on June 3 renewed its calls on the Houthis to allow inspectors to visit the corroding tanker "without further delay".
The 15-member council held a special meeting on FSO Safer at the request of Britain after the Houthis said June 1 that an agreement to allow the UN mission access had "reached a dead end" following several days of talks.
Members urged the Houthis to "facilitate unconditional and safe access for UN experts to conduct a comprehensive and impartial assessment and initial repair mission without further delay", a statement said.
UN inspectors were initially meant to assess the tanker last year, but the mission has been repeatedly delayed over disagreements with the Iran-backed militia.
The Houthis are calling for immediate inspection and maintenance of the tanker, but the United Nations said there must be an impartial assessment before maintenance work can safely commence.
The UN Office for the Co-ordination of Humanitarian Affairs (OCHA) told the council meeting that the UN team "remains ready to deploy".
"The UN will keep that team on standby for as long as we have donor funding to do so," said Reena Ghelani, OCHA's director of operations and advocacy.
"Some of those funds, however, will start running out soon, so we hope things will start moving much, much faster."
'Ticking time bomb'
The Houthis are using the FSO Safer as a "ticking time bomb to threaten regional countries and the world", al-Majeedi said.
"The Yemeni Minister of Water and Environment has said that maintenance work is no longer useful and the vessel must be taken to another location and unloaded," he said.
"However, the Houthis will not accept that because they are using the situation to extort the world," he said, adding that the Houthis want to be paid for the 1.1 million barrels of oil onboard and want to use that money "to fund their war and enrich some of their leaders, which is unacceptable".
"The Houthis are reluctant to implement a solution because they do not want to lose an international bargaining chip in their hands that can help them make political gains," he said.
International environmental NGO Greenpeace warned June 3 that the tanker "is rusting at anchor and could break or explode at any moment".
"It's not if, it's when," said Greenpeace spokesman Ahmed al-Droubi.
Greenpeace said that as well as corrosion to the rusting ship, essential work to manage explosive gases in its storage tanks has been neglected.
"The risks of devastation are increasing with every passing day of inaction," said Jennifer Morgan, executive director of Greenpeace International.
"The UN must act now to avoid what could be the region's biggest oil disaster this century," she said. "The solutions are available, the expertise and technologies to help are known."
"It's time to step up and prevent further catastrophe for the people of Yemen, with potential impacts on millions of others in surrounding areas," she added.