Commercial truck drivers in Iraq say that as they go about their business, they face extortion attempts and delays as the result of a patchwork of checkpoints Iran-backed militias have set up along main thoroughfares.
As they pass through territories the militias control, a driver told Al-Mashareq on condition of anonymity, the militias compel them to pay bribes at the checkpoints.
If they refuse, he said, the militias do not allow them passage for hours, sometimes even days, with the delays leading to goods rotting on trucks and heavy financial losses.
"We have identity cards, and all our documents are legal and valid, yet we are stopped and extorted to pay the militias what they demand in order to pass through," the driver said -- sometimes at multiple checkpoints.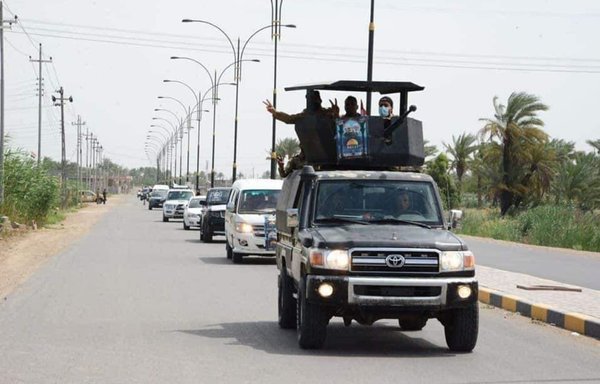 The tolls demanded by the militias are illegal and random and vary based on the cargo, with militiamen occasionally demanding as much as $500 per truck.
Truck drivers feel pressure to pay, in order to ensure the smooth and unimpeded delivery of their goods.
'Major artery' of militia funding
Extortion is a "major artery" of funding for the militias and is indispensable to them, said strategy analyst Alaa al-Nashou.
Money flows in from forced tributes without much effort on the militias' part, he explained, noting that militiamen need only demonstrate their ability to harm drivers in order to force them to pay.
Many merchants and owners of shipping and import companies have complained about the extortion, he said.
Since the expulsion of the "Islamic State of Iraq and Syria" (ISIS) from Iraq in 2017, militias have been setting up checkpoints on roads busy with commercial transport activity that stretch across the country.
Checkpoints in Diyala, Anbar, Kirkuk, Ninawa and Salaheddine are dominated by groups affiliated with the Islamic Revolutionary Guard Corps (IRGC), including Asaib Ahl al-Haq, Kataib Hizbullah, Harakat al-Nujaba and Sayed al-Shuhada.
According to some estimates, al-Nashou said, the militias bring in 20 billion IQD ($13.6 million) per month through extortion at checkpoints.
It is not only truck drivers who are victims of such practices, he added, but also merchants, commercial real estate and small enterprise owners, contractors and various social groups.
Militiamen reportedly collect bribes in return for protection from the violent acts perpetrated by the militias themselves, he said, imposing tributes ranging from $1,000 to $3,000 a month on restaurant and shop owners.
In December, a series of attacks targeted stores selling alcoholic beverages in Baghdad. Storeowners said they had refused to pay tribute to the IRGC-aligned militias and accused them of being behind the bombings.
'Intimidating the public'
IRGC-aligned militias intimidate civilians and force them to pay tributes, then use that money to fund their activities, said political writer Abdul Karim al-Wazzan.
They also reap enormous profit from smuggling operations and the acquisition of oil fields, wells and other national resources in Iraq, he said.
The government is making efforts to curb the militias' hegemony and has taken some positive steps, he said, including imposing the rule of law at border crossings.
But he called for "more robust and resolute measures to dry up the militias' sources of funding, especially those accrued from extortion activities".
Extortion damages Iraq's security and economy, al-Wazzan said, and enables these groups to continue to threaten the country's stability and sovereignty.
It is a major factor behind the deterioration of the economy, he added, noting that the collection of tributes leads to inflation in the price of goods and scarcity in markets.
This discourages investors and leads to higher unemployment rates, he said.