ADEN -- Sources in medical facilities in Sanaa Tuesday (April 27) confirmed that the 12 physicians and 17 nurses and medical workers who were abducted by the Houthis in mid-April for refusing to treat their soldiers on the frontlines remain missing.
The medics were abducted from al-Jamhouri and al-Sabeen hospitals and from government-run health centres in Houthi-controlled areas for "refusing to follow the orders of the Houthi minister of health", local media reported.
During the second week of April, Houthi health minister Taha al-Mutawakkil ordered medical workers to form field teams and report to the front to treat fighters in Marib, al-Jawf, al-Dhale, Hajjah and on the Red Sea coast.
Healthcare professionals said those who refused to follow his order were taken against their will. They are still being held captive, and their whereabouts are unknown.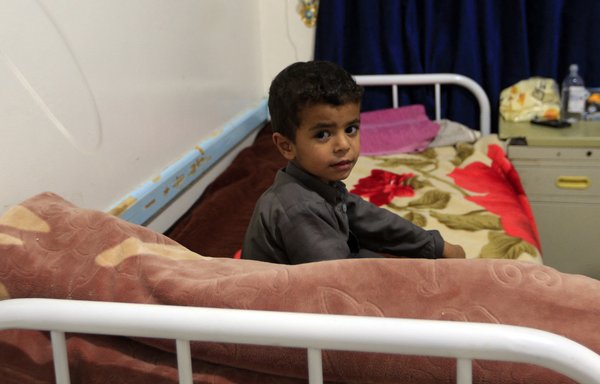 According to Yemen's Deputy Health Minister Abdul-Raqeeb al-Haidari, the health ministry is working with international organisations to secure the release of medical workers who are still being held.
The abductions come amid the global coronavirus pandemic, at a time when the ongoing war has left Yemen's medical sector in a state of near-collapse.
Only 51% of the country's medical facilities are operational, according to the United Nations, and over 20 million Yemenis are in need of health assistance.
Gang-like actions
Yemeni physicians have condemned the abductions, which they say reflect the Houthis' gang-like actions, their recklessness and their disrespect for professionals, academics and politicians.
The Houthis are "a gang that has hijacked all the state's resources and is harnessing them for its futile war", al-Haidari said, noting that they treat professionals, academics and others "in a humiliating and irresponsible manner".
The abductions "will compound the distress of the health sector amid the deteriorating health situation and outbreak of the coronavirus", he added.
The group has "no right to abduct doctors and nurses who refuse to go to the fronts", said Dr. Anhar Faisal.
"It is unlawful to force healthcare workers to work in unsafe conditions, but the Houthis couldn't care less about laws or regulations," she said. "All that matters to them is to achieve what they want."
"This will further degrade conditions in the health sector and increase the number of COVID-19 infections and deaths, and could compel doctors to flee Houthi-controlled areas for fear of meeting the same fate," she added.
"The Houthis have violated every regulation and are repurposing government sector employees, including hospital employees, to serve their agenda, which serves Iran's agenda," said political columnist Khaled Ahmed.
The militia has replaced directors of public hospitals with their own supporters, he added, and now it is forcing doctors to go to the front and treat its wounded fighters.
Individuals working for global health organisations are aware of the dangers looming in understaffed hospitals and health centres in Houthi-controlled areas and realise these centres are on the verge of collapse, he said.