More than 50 medics have lost their lives as the global novel coronavirus (COVID-19) pandemic ravages Yemen, according to the Syndicate of Yemeni Doctors and Pharmacists.
Medical personnel and health workers have been hampered in their response to the health crisis by an already failing health sector and a lack of medical equipment, including personal protection equipment (PPE), the syndicate said.
The syndicate's provincial branches have reported the deaths of more than 50 healthcare personnel, including doctors, laboratory workers, nurses and pharmacists, syndicate head Dr. Abdul Qawi al-Shamiri told Al-Mashareq.
They have fallen ill as they treated patients in hospitals and isolation centres.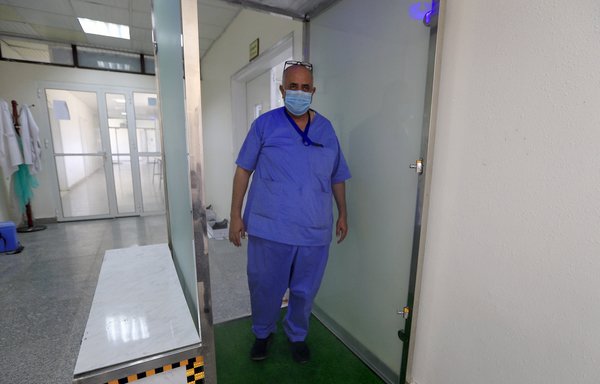 Coronavirus has spread rapidly in Yemen, he said, as a result of a general lack of awareness about the disease and a failure to adhere to health guidelines.
The overall state of Yemen's health sector has contributed to its acceleration.
"The war destroyed the health sector and it is now operating at less than 50% efficiency," al-Shamiri said, noting that the health sector was ailing even before the current conflict began.
"Yemen has a distinguished medical cadre," he added. "The problem in the health sector lies with the institutions and the equipment that enable the cadre to fulfill their duty towards patients."
"Yemeni doctors examine 20 patients [per day] at the very least, and the average is 50 patients or more," he said. "In contrast, the rate is five to seven patients per doctor in other countries."
"This increases the burden on doctors and makes them very vulnerable to infection," he said.
He called on UN agencies helping countries tackle the pandemic "to intensify... and accelerate the provision of relief to Yemen, the health sector and health personnel with the equipment and supplies needed to fight the coronavirus".
Medics need support
"Yemen is losing at least one doctor every day" in the line of duty, said Dr. Eshraq al-Sebai, spokeswoman for Yemen's supreme emergency committee for combatting coronavirus.
"Yemen has lost many of its best doctors and specialised consultants, in addition to many distinguished nursing staff members, who died while fighting the outbreak and trying to save patients," she told Al-Mashareq.
"It will take Yemen at least 10 years to replace this large number of medical personnel," al-Sebai said.
She expressed concern about the number of medical personnel who are acquiring infections from patients due to the lack of PPE, noting that this has a knock-on effect, as there are fewer medics to care for patients.
Front-line medical personnel also should be given financial incentives, especially those who work in isolation centres, she said, to "raise their morale in the face of this pandemic".
The World Health Organisation must step up the training of Yemeni cadres "to deal with the worst scenarios of the outbreak of this pandemic, that even the health systems of developed countries have not been able to contain", she said.
Immense sacrifices
Assistant Deputy Minister of Public Health and Population Abdul-Raqeeb al-Haidari also noted the need to incentivise medical personnel -- especially those who work in isolation centres.
"Some medical personnel have been working in the isolation centres day and night over the past period without leaving, in order to protect their families and not transmit the infection to them," he told Al-Mashareq.
"Dozens of doctors and medical personnel were infected with [COVID-19] while carrying out their duty and died, and some are still undergoing treatment in isolation centres, while some have recovered," he said.
"The reason is the lack of PPE," he added.
A number of medical supply shipments have arrived at Aden and Seiyun airports, he said, pointing out that medical personnel will be better off once the PPE is distributed to them.
Meanwhile, in parts of Yemen outside government control, the Iran-backed Houthis (Ansarallah) are obstructing relief operations and lying about the gravity of the COVID-19 outbreak, al-Haidari said.
"The Houthis are eschewing the matter, and preventing the delivery of doctors' salaries in the areas under their control under false pretexts," he added.