A new European military mission is aimed at ensuring safe navigation through the Strait of Hormuz, a vital shipping lane, experts told Al-Mashareq.
The European Maritime Awareness in the Strait of Hormuz (EMASOH) was established earlier this year by Germany, the Netherlands, Belgium, Portugal, Greece, France, Italy and Denmark.
It aims to protect freedom of navigation, provide co-ordination between regional partners and contribute to de-escalation in the strategic waterway.
In August, Danish ambassador Julie Elisabeth Pruzan-Jørgensen was appointed as EMASOH's senior civilian representative.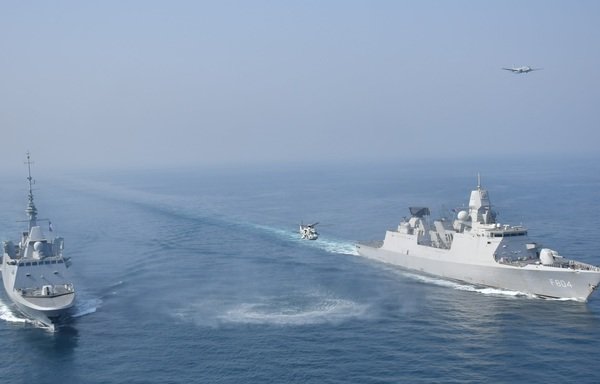 Pruzan-Jørgensen has diplomatic experience "that enables her to work with regional countries to alleviate the effects of any tension that may arise as a result of a conflict", political researcher Abdul Nabi Bakkar told Al-Mashareq.
The European mission plays an important role in diffusing tension in the region, he said, and its monitoring can provide neutral evidence and reporting on the security situation.
But "the scope of its military presence will not be limited to the conduct of surveillance if tension escalates at any time", he said.
The choice of the UAE's Abu Dhabi as the mission's headquarters underscores Europe's emphasis on security in the Arabian Gulf, Bakkar said.
Global energy supplies
"The Strait of Hormuz is a key maritime route that is essential for the passage of global energy supplies, especially oil and gas," retired Emirati army officer Abdullah al-Ameri told Al-Mashareq.
This means that if there is any disruption of navigation or security threat, the global economy will be impacted, he said.
"It is within this framework that European countries are taking part in the maritime monitoring mission in the Strait of Hormuz, alongside forces belonging to the international coalition against terrorism," he said.
Preventing illegal smuggling
The call for maritime security is "an international demand, as evident from the broad European participation in the mission", al-Sharq Centre for Regional and Strategic Studies researcher Fathi al-Sayed told Al-Mashareq.
"Most of the countries participating in the mission have a military presence in the Strait of Hormuz, the Arabian Sea and the Gulf region," he said, where they carry out surveillance and intervention activities and deter attacks and threats.
They also prevent piracy and illegal smuggling, he added, pointing out that in many cases the money generated from these illicit activities goes to fund terrorist groups or to IRGC-affiliated groups in the region.