If you had asked Israeli businessman Yehonatan Ben Hamozeg earlier this year where he would be pitching his palm tree saving technology in October, there was no chance he would have said the UAE.
But after a US-backed normalisation agreement between the UAE and Israel, the soft-spoken, grey-haired entrepreneur found himself doing just that in a Dubai hotel last week.
Ben Hamozeg is the founder and chief executive of Agrint, a company that uses seismic sensors to detect insects that eat -- and destroy -- palm trees from the inside.
He was one of the 13 business leaders who joined a four-day trip to the UAE organised by Jerusalem Venture Partners (JVP), a venture capitalist firm.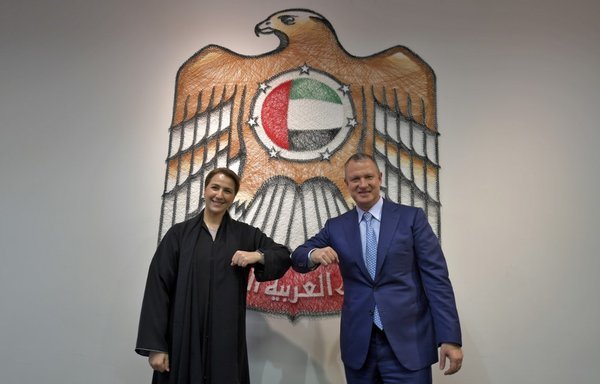 Before normalisation, there had been discreet links between the Gulf nation and Israel's flourishing high-tech sector.
But after the US-brokered deal, those links have come to the surface and are poised to expand.
"We are learning, we are opening our eyes, friendships and personal ties are being formed," said JVP founder Erel Margalit, who led the Israeli delegation.
He insisted the UAE's potential for Israel's economy is vast, both in terms of direct partnerships in the financial, tech and food sectors, but also as a portal to other Arab markets.
"Israel can now work with the region rather than being closed to it. For us, it is a huge opportunity," he said. "We want to use this breakthrough to start a new chapter in the region."
'Out of the shadows'
The delegation, which included 13 CEOs, arrived in Dubai by private jet and was welcomed with kosher food and Hebrew signs.
The group mixed openly with Emirati business leaders and government officials at a posh hotel in Dubai's financial district and across the city.
Mohamad Mandeel, chief operating officer of Abu Dhabi's Royal Strategic Partners, cited a high-protein chickpea powder made by Israeli firm InnovoPro to illustrate the potential for regional co-operation.
Israeli firms, he said, could make strong partners because they understand the Middle East, including the quest for food security in an often challenging agricultural environment.
They could also be a bridge to peace between the nations.
"I always believe that the economy will drive politics," he said. "So you move the economy and things will come after positively."
The Abraham Accords, signed September 15th between Israel and the UAE and Bahrain, reflect a changing dynamic in the region, where countries now recognise the need for regional co-operation to counter Iranian influence.
While Bahrain and the UAE are not natural allies of Israel, they share a common enmity towards Iran, which lies across a narrow strait from Bahrain and the UAE's glitzy cities of Dubai and Abu Dhabi.
Iran has denounced the peace agreements.
Friends first, business after
While Margalit's delegation was seeking business partners, he stressed that private sector deals were a proven method of solidifying peace among nations.
En route to Dubai, he told the delegation: "You are Israel's true emissaries."
"I respect the politicians for leading a process and making a peace deal," he said. "Now we need to bring the content."
InnovoPro chief executive Taly Nechushtan, whose product had caught the attention of the Emirati Mandeel, said her powder, which can be used to make foods including ice cream and vegan burgers, was attractive in a world "looking for alternatives".
Opening a UAE plant could provide the domestic market for a sustainable protein, but also the opportunity to become a regional "production portal", she said.
While Nechushtan's whirlwind visit was packed with meetings, she said it was premature to talk about deals.
"We came here to make friends; business will follow," she said. "We are not worried."