The US said Thursday (October 29th) that it had sold Iranian oil seized on its way to Venezuela for more than $40 million.
It also announced the filing of a complaint to forfeit two shipments of Iranian missiles that the US Navy seized in transit from Iran's Islamic Revolutionary Guard Corps (IRGC) to militant groups in Yemen.
"The two forfeiture complaints allege sophisticated schemes by the IRGC to secretly ship weapons to Yemen and fuel to Venezuela, countries that pose grave threats to the security and stability of their respective regions," said John Demers, Assistant Attorney General for National Security.
"It is with great satisfaction that I can announce that our intentions are to take the funds successfully forfeited from the fuel sales and provide them to the US Victims of State Sponsored Terrorism Fund after the conclusion of the case," he said.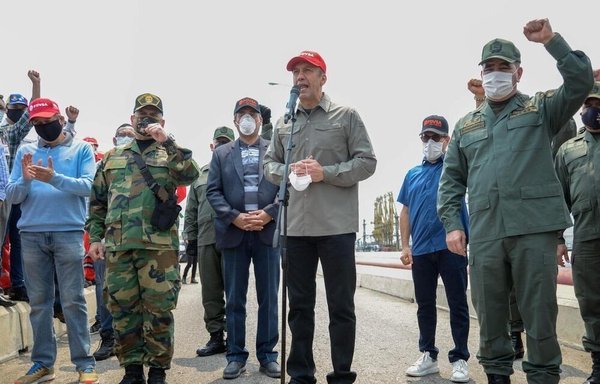 The US Justice Department on August 14th announced the successful disruption of a multimillion dollar fuel shipment that the IRGC was sending to Venezuela.
The US has designated the IRGC as a foreign terrorist organisation.
Approximately 1.1 million barrels of petroleum were confiscated from four vessels en route between the two countries, which are both under US sanctions, the Justice Department said.
"We estimate that in excess of $40 million will be recouped by the US related to the sale of petroleum from those four vessels," Michael Sherwin, the acting US attorney for the District of Columbia, told reporters by telephone Thursday.
He said a "great portion" of it would be contributed to the US fund for victims of state-sponsored terrorism, AFP reported.
US courts have ordered Iran's clerical regime to pay damages over attacks, most recently in July when a judge told Tehran to pay $879.1 million over a 1996 bombing in Saudi Arabia that killed 19 US airmen.
Iran denies responsibility and states it has no intention of paying.
Iran oil sales 'major source of terrorism funding'
The US is within its rights to seize Iran's oil shipments to Venezuela or other countries that are under sanctions, as proceeds from these sales fund the IRGC, international law professor Wael al-Sharimi told Al-Mashareq.
The revenue from Iranian oil shipments represents, directly or indirectly, a major source of funding for terrorism in the Middle East, he said.
The revenue from illegal oil sales goes to finance affiliates of the IRGC in a number of countries, he said, noting that these proxy groups have been working to implement Iran's malign agenda in the region.
Iran should be forced to return the funds it has previously received for oil shipments, if such funds were indeed collected, he said.
It also should be forced to return the revenues from shipments it claims to have sent as aid to a number of governments and other groups, because it really sent them to support its expansionist policies, he added.
By seizing such shipments, the US could seriously hinder Iran's efforts to further its agenda in any part of the world, be it in South America or the Middle East, al-Sharimi said.
US courts have awarded more than $43 billion to the victims of Iran-sponsored terrorism, which Iran has thus far not paid.
Under the Justice for Victims of Iranian Terrorism Act (US House Resolution 3457), Iran will be denied US sanctions relief until it pays these funds.
Iranian affairs expert Fathi al-Sayed of the Middle East Centre for Regional and Strategic Studies, told Al-Mashareq the legislation permits the US "to dispose of the proceeds of seized and legally prohibited items for the benefit of those harmed by the IRGC and its terrorism in the Middle East and the world".
Given the Iranian regime's failure to pay the court-ordered compensation, seizing Iranian oil shipments is warranted, he said.
Weakening IRGC affiliates
By disrupting oil shipments, the US will weaken the IRGC and its affiliates, said Sheyar Turko, an Iranian affairs specialist who focuses on IRGC funding.
These factions need to be funded on a monthly basis; they need money to pay the salaries of their fighters, fund monthly logistical support and cover other expenses in Iraq, Syria, Lebanon and Yemen, he told Al-Mashareq.
Without money, IRGC affiliates would be crippled and their influence would diminish, as they rely primarily on the money they receive to operate, he said.
Contrary to the IRGC's propaganda, Turko said, the main reason militants join IRGC affiliates is money, not ideology or a desire to protect holy shrines.
Currently, many IRGC affiliates are divided from within, especially in Syria, he said, which is mainly due to the financial hardship they are facing and the problems arising from that.