A second UN plane bringing Yemeni patients who had been sent to Jordan to receive medical treatment back home landed in Sanaa on Monday (October 5th).
Five patients and their companions arrived at Sanaa airport on the Monday flight, said Dr. Motahar al-Darwish, who heads the medical committee in charge of the air bridge in Sanaa.
Nine patients and their families arrived on an earlier flight, on Sunday, he said, and "five more will return once their medical procedures have been completed".
The flights are part of the medical humanitarian air bridge launched in February, which is being co-ordinated by the World Health Organisation and the UN Office for the Co-ordination of Humanitarian Affairs (OCHA).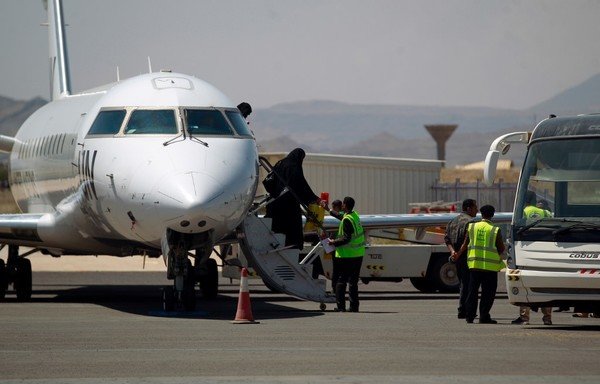 The aim was to transport critically ill patients and their companions from Sanaa airport, which has been closed to commercial flights for four years because of the war.
The patients were suffering from various chronic conditions for which they could not receive treatment inside Yemen, and were unfit to travel by land to government-run airports in Aden and Seiyun.
The WHO in Yemen, UN humanitarian co-ordinator for Yemen Lise Grande and UN special envoy to Yemen Martin Griffiths welcomed the return of patients.
"We are grateful for all those who co-operated in this medical air bridge," Griffiths said.
Yemen's Deputy Minister of Human Rights Nabil Abdul Hafeez told Al-Mashareq the air bridge is an output of the Stockholm Agreement with the Iran-backed Houthis (Ansarallah), who are in control of Sanaa following a 2014 coup.
"The government does not object to the re-opening of Sanaa airport, as per certain restrictions so the Houthis do not exploit it in getting arms and smuggling Iranian experts," he said.
Deputy Health Minister Abdul Raqib al-Haidari noted that half of the health facilities in Houthi-controlled areas are out of service, and the other half need to be rehabilitated in order to provide the minimum level of services to citizens.
"The health sector has been systematically destroyed by the Houthis," he said, which has forced many to travel abroad for treatment.