The UN said Friday (August 7th) it was desperately trying to get food, aid and medical equipment to Beirut following Tuesday's devastating explosion at the Beirut port.
The blast killed more than 150 people, wounded more than 5,000 and left an estimated 300,000 homeless.
The monstrous blast also upended a planned lockdown and sent thousands streaming into overflowing hospitals, already struggling to cope with the COVID-19 coronavirus pandemic.
Lebanon recorded 255 coronavirus cases Thursday -- its highest single-day infection tally.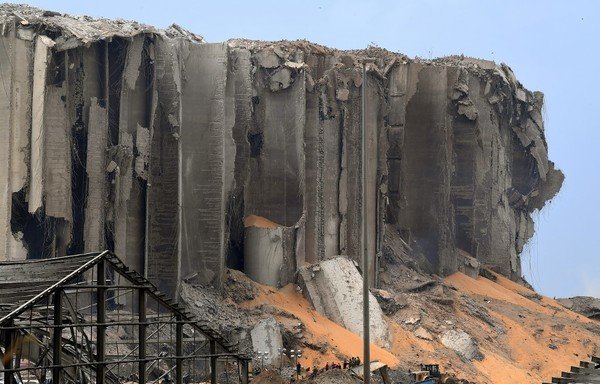 Tuesday's blast meant many people forgot about their face masks as they crammed into vehicles, sometimes riding with strangers, en route to hospitals which were also damaged by the explosion.
The blast forced authorities to suspend a lockdown that was supposed to last until August 10th.
The World Health Organisation (WHO), meanwhile, said it lost several containers of essential medical supplies in the blast, with personal protective equipment (PPE) completely burnt.
The WHO said hospitals were overwhelmed with injured patients, with three hospitals now deemed non-functional, putting 400 beds out of use, and a further two hospitals partially damaged, putting a further 100 beds beyond use.
It called for $15 million to cover immediate emergency trauma and humanitarian health needs.
Food, medical aid on the way
The US said Friday it would send an immediate $15 million worth of food and medicine to help Lebanon after the port blast.
The aid, to be transported through the US military, amounts to three months' worth of food for 50,000 people and three months' worth of medicine for 60,000 people, the US Agency for International Development (USAID) said.
The US military on Thursday delivered a first batch of food, water and medical supplies to Lebanon.
A C-17 military plane from al-Udeid airbase in Qatar delivered 11 pallets of aid, with two more shipments of food and water coming in the next 24 hours, US Central Command (CENTCOM) said in a statement.
"The US is actively engaged in delivering food, water and medical supplies to the Lebanese Armed Forces to meet the critical needs of the Lebanese people," CENTCOM commander Gen. Frank McKenzie was quoted as saying.
Many Lebanese are angry at the country's leadership that is widely viewed as corrupt and incompetent, and some fear international aid may be diverted from those needing it most.
"We are well aware of some of the concerns with whom the aid would go to and ensuring that the aid gets to the people of Lebanon that need it most," Pentagon spokesman Jonathan Hoffman said.
Further assistance will be co-ordinated with the Lebanese army, the US Embassy in Lebanon and USAID, CENTCOM said.
The European Union announced Thursday that it had released 33 million euros ($39 million) to finance emergency aid for Lebanon and mobilised material resources, including an Italian hospital ship, to help relief efforts in Beirut.
A donor conference is also planned to mobilise additional funding for reconstruction after an assessment of what is required, said a EU source.
'Huge' amount of aid needed
The UN's World Food Programme (WFP) warned that as economically ravaged Lebanon imports 85% of its food, the flow could be severely damaged.
"WFP is concerned that the explosion and the damage to the port will exacerbate an already grim food security situation," said the agency's spokeswoman Elisabeth Byrs.
The severe damage to Lebanon's largest port "could limit the flow of food supplies into the country and push food prices beyond the reach of many", she said.
Byrs said the WFP would be allocating 5,000 food parcels to affected families, which contain enough food to feed a family of five for a month.
It is also planning to import wheat flour and grains for bakeries and mills to help protect against food shortages.
UNICEF, the UN children's agency, said preliminary numbers suggested that up to 100,000 children's homes had been damaged or destroyed and they were now displaced.
"We have initial reports of over 120 public and private schools that have sustained damage," serving approximately 55,000 children, said UNICEF spokeswoman Marixie Mercado.
The agency has launched a funding appeal for an initial $8.25 million.
"The needs are immediate and huge," Mercado said.