Lebanese officials have welcomed the US government's donation of $13.3 million to combat the spread of the novel coronavirus (COVID-19) pandemic, saying the amount of money needed to deal with the outbreak is "enormous".
US Ambassador to Lebanon Dorothy Shea announced the new assistance at an April 22nd press conference at the American University of Beirut (AUB).
"This assistance includes $5.3 million in international disaster assistance from the US Agency for International Development (USAID) for activities to help the most vulnerable Lebanese," she said in prepared remarks.
"Specifically, this assistance will support private healthcare facilities to properly manage patient care, ensure continuity of essential health services, enhance communication and community outreach."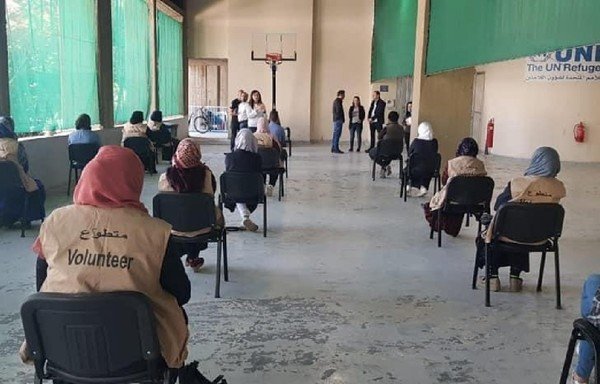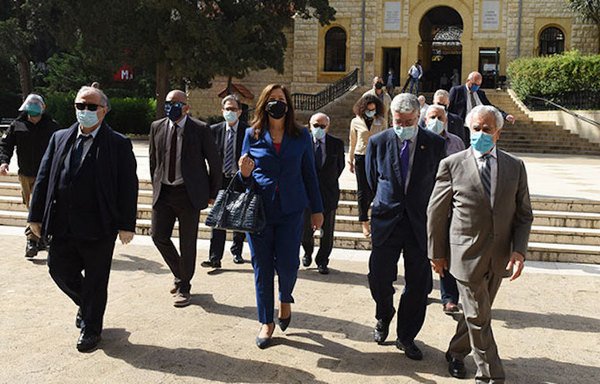 "It will also increase access of vulnerable communities to water, sanitation and hygiene," she said.
The aid also includes $8 million allocated to the UN High Commissioner for Refugees (UNHCR) to support refugee and host communities in Lebanon.
"The US government is helping to impact people's lives, by helping people on an individual and a societal basis to confront this pandemic," Shea said. "We have also been drawing on additional resources from Washington, tailoring that assistance with our trusted partners in Lebanon to help meet emerging needs."
AUB President Fadlo Khuri welcomed the US government's "generous support for the plague of COVID-19, a plague that is striking people across the world and disproportionately affecting and indeed killing vulnerable peoples".
"We believe that this generous investment by the US government will serve to protect more lives and possibly even save more lives than would be possible without this assistance," he said.
Needs are 'enormous'
The US assistance provided to Lebanon to fight the coronavirus "is welcome", said Pierre Bou Assi, a member of parliament's Public Health, Labour and Social Affairs Committee.
The way the assistance is allocated is "in line with Lebanon's policy on foreign support, which stipulates that any support for refugees must be matched by support for host communities", he told Al-Mashareq.
The ministries of public health and social affairs will co-ordinate and manage the US donation, he said.
"The ministry of social affairs has social centres located throughout Lebanon, including 12 dispensaries classified as primary health care centres," he said.
"This requires that raising awareness, monitoring and testing activities covered by the assistance be conducted in co-ordination with the ministry of public health for best results," he added.
The amount of money needed to contain and deal with the repercussions of the coronavirus pandemic is "enormous", said Dr. Sharaf Abu Sharaf, head of the Lebanese Doctors Syndicate.
"We view all the financial assistance Lebanon receives, foremost among them the US assistance, as crucial to acquiring the basic materials needed to fight the coronavirus," he told Al-Mashareq.
"The range of medical and hospital needs and preventive measures is huge, amid a difficult economic situation," he said.
The US assistance will "complement the efforts of the municipalities with which we are co-operating to stem the spread of the virus through a team consisting of a doctor, a nurse and a pharmacist", Abu Sharaf said.
US largest donor to UNHCR
The US government "is the largest donor to UNHCR in the world and the largest donor in response the UNHCR's specific appeal aimed at fighting COVID-19", said UNHCR public information officer Lisa Abou Khaled.
"This donation is crucial," she told Al-Mashareq. "The US and the humanitarian community are standing in solidarity with host countries and communities and supporting national response plans."
"We recognise that this epidemic affects everyone, particularly refugees and the poorest and marginalised citizens in the host countries."
Many poor Lebanese and refugees "live at or below the poverty line, and the economic consequences of the coronavirus crisis will likely push many [more] into poverty", she said.
"As an immediate measure, UNHCR is providing emergency cash assistance to 11,500 refugee families -- in addition to the 34,500 families that are benefitting from UNHCR's regular monthly cash assistance programme -- to help them meet their basic needs during this period," Abou Khaled said.
"In-kind support is also devised with partner organisations for the most vulnerable groups, regardless of nationality," she said.
Donor support enables UNHCR to partner with many local non-governmental organisations on the coronavirus response, she said.
"Thanks to this support, UNHCR and its partners have been able to reach refugees and inform them about the virus, [including] how it is transmitted, its symptoms, how to access help and how to self-isolate," she said.
UNHCR and its partners "have also been able to conduct [awareness] sessions on improving hygiene and to distribute soap and detergents in about 5,500 informal camps and collective shelters, to more than 300,000 refugees so far", Abou Khaled said.