Yemeni passports issued by the Iran-backed Houthis (Ansarallah) without government authority have been creating problems for Yemenis seeking to travel, officials and analysts said.
According to Ibrahim al-Jahmi, attaché for expatriate affairs at the Yemeni Embassy in Cairo, a number of Iranian and Lebanese nationals have been found to be carrying irregularly issued Yemeni passports.
The Yemeni government has since invalidated passports issued in Houthi-controlled areas, he said February 1st, and they are being revoked.
After seizing power in a 2014 coup, the Houthis began tampering with the Department of Immigration, Nationality and Passports, Yemeni officials said.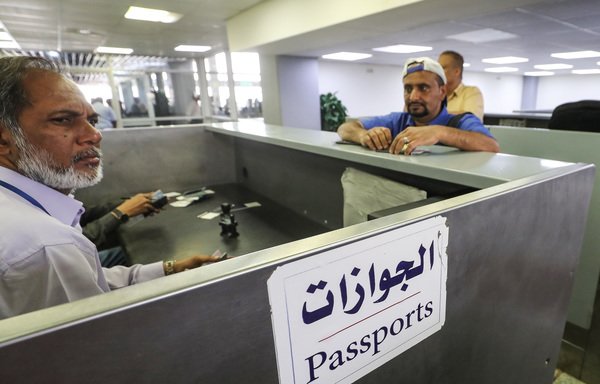 In mid-April of last year, the legitimate government invalidated passports issued by the department's Sanaa branch, as well as those issued at branches in other Houthi-controlled provinces.
Now Yemenis residing in Houthi-controlled areas can only travel abroad through airports in areas controlled by the legitimate government -- and only with passports issued in those areas.
Passports sold for 'enormous' fees
The Houthis issued passports "to Iranian and Lebanese military figures, including officers, military experts, missile experts and trainers, to facilitate their entry into Yemen", political analyst Waddah al-Jalil told Al-Mashareq.
"The Houthis very badly exploited everything they could exploit in state institutions," he said, noting that their corruption did not stop there.
They also "exploited diplomatic passports for financial gain, selling them for enormous sums of money to those wishing to travel to Europe and Western countries to seek asylum or residence", he said.
"A while back, the Egyptian authorities seized a number of diplomatic passports issued in Sanaa that were being smuggled and sold," al-Jalil said.
This crime "prompted the adoption of extraordinary measures against the holders of diplomatic passports in Egypt's airports", he added.
The Houthis also seek to use forged passports "in the conduct of intelligence work, and to facilitate the movement of their security experts, who carry out terrorist activities aimed at undermining security in the liberated areas", he said.
Hizbullah advisors enter Yemen
"The Houthis set up an airbridge between Tehran and Sanaa with two direct flights a day after they overthrew the government in the September 2014 coup," said Deputy Minister of Human Rights Nabil Abdul Hafeez.
They brought in hundreds of Iranian and Lebanese Hizbullah military advisors via this airbridge, he told Al-Mashareq, noting that "this stopped after the launch of Operation Resolute Storm on March 26th, 2015".
Travel restrictions were enforced, and the Yemeni government and Arab coalition closed Sanaa airport, as the Houthis had engaged in "corrupt practices with passports" and had exploited the airport when they were in control, he said.
The Yemeni government made a mistake by detaching the Sanaa passport office from the Central Authority and leaving it to the Houthis, said political analyst Adel al-Shujaa, who serves on the General People's Congress general committee.
"The legitimate government could have linked the Sanaa passport office to it through the central linking unit and then monitored its issuance [of passports]," he told Al-Mashareq.
Instead, the Houthis began issuing passports on their own, he said, noting that this "poses a serious threat now and in the future".
"Had the Sanaa-issued passports been linked centrally, Houthi-issued passports would have been identifiable through their serial numbers, and it would have been easy to track them and establish the identity of their holders," he added.
Exacerbating patients' suffering
Invalidating passports issued in Houthi-controlled areas also has had an adverse impact on patients who need to travel abroad for treatment, said economist Abdul Aziz Thabet, noting that there are many people in need.
There has been a "deterioration of health services in those provinces", he told Al-Mashareq, pointing out that according to the Supreme Medical Committee, more than 33,000 patients need to travel abroad for treatment.
"It used to take people, especially the sick, two to three days to reach an airport in a legitimate government-controlled area, such as Aden or Seiyun, in order to fly out with a Sanaa-issued passport," he told Al-Mashareq.
"After the passports were invalidated, those who needed to travel first had to travel to government-controlled areas to have a passport issued," he said.
This process could take "a full month to get done and at an enormous cost", he said.
The cost and delay of obtaining a passport unfortunately opened the door for manipulation, and the buying and selling of Sanaa-issued passports, he said.