Egyptian security forces on Sunday (February 9th) prevailed in their efforts to repel a deadly attack on a North Sinai checkpoint, the armed forces said.
"At 5 p.m. Sunday, armed forces personnel managed to foil a terrorist attack on a security checkpoint in North Sinai," military spokesman Tamer al-Refaie said.
"Thanks to the vigilance of the soldiers, the personnel manning the checkpoint repelled the terrorists, clashed with them and killed 10 of them," he said in a statement.
They also destroyed a four-wheel drive vehicle used by the attackers, he said.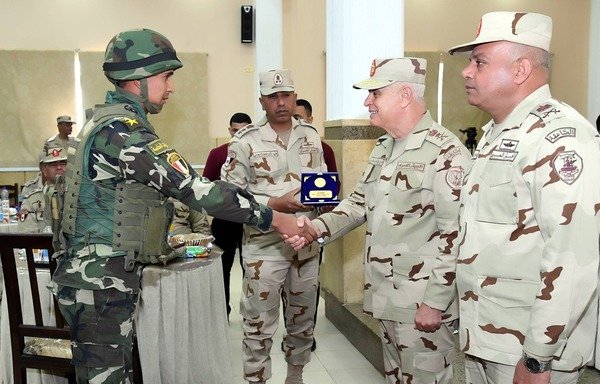 Seven members of the security forces were killed or wounded in the shootout.
The casualties were of various ranks, including two officers, according to a brief statement posted to the military's Facebook page, AFP reported.
In the aftermath of the attack, "the armed forces and police confirm they will proceed with their efforts to uproot terrorism", al-Refaie said.
North Sinai security
A day before the incident, Chief of Staff of the Armed Forces Lt. Gen. Mohamed Farid visited North Sinai, where he inspected a number of checkpoints and security facilities along the main thoroughfares.
"He also followed up on the progress of military operations and security measures from the permanent operations centre in al-Arish," al-Refaie said.
The centre has been "carrying out its mission" by implementing security plans designed to eliminate terrorism and tighten security control in Sinai, he added.
Egyptian army and police forces have been vigilant in securing all strategic locations in North Sinai, said Maj. Gen. Nagi Shahud, an advisor to Nasser Military Academy.
"High-level co-ordination between the army and police in intelligence sharing is the decisive factor in foiling terrorist operations and conducting pre-emptive attacks to confront the terrorist plots," he said.
By carrying out acts of terrorism, he added, extremist groups are undermining the stability and security of the state and the safety of Egyptian citizens.
Egyptian forces "will not stop until they have eliminated terrorism once and for all in Sinai", he said. "But this is a long battle and has multiple dimensions."
"This is what the state is doing right now, by fighting terrorism through security measures and other intellectual measures against takfiri ideology," he noted.
Strong public support
Residents of North Sinai and other Egyptian provinces have proven in recent years that they stand shoulder-to-shoulder with the Egyptian forces in their efforts to stamp out groups such as the "Islamic State of Iraq and Syria" (ISIS).
They support the efforts and sacrifices made by the army and police forces in this regard, observers told Al-Mashareq.
Extremist groups are "vehemently trying to wreak havoc and destruction everywhere", Egypt's Dar al-Iftaa Fatwa Observatory said in a statement.
But Egyptian military personnel are "strongly and courageously" confronting the criminal activity of the extremists, and are putting their lives on the line "for our beloved Egypt", the Fatwa Observatory statement said.
"The Egyptian people are looking with utmost appreciation and pride at the valuable sacrifices and blood which the army and policemen are offering by performing their national duty of eliminating terrorist groups," it said.
As a result of their efforts, Sinai will be rid of the "terrorist hideouts and gangs and their remnants so Egypt may enjoy security and stability", it added.