Egypt's interior ministry on Wednesday (January 22nd) announced it had foiled a plot to conduct terror attacks across the country, and had arrested "at least" six militants, some of whom were connected with the Hasm movement.
Hasm emerged in Egypt in 2016, claiming deadly attacks on army and police personnel, religious figures and state resources. In 2018, the US designated the movement, formally known as Harakat Sawaid Misr, as a terror group.
In its Wednesday statement, the ministry said fugitive elements outside the country had tasked Hasm elements inside Egypt "with planning and preparing for the execution of a series of terrorist operations and attacks".
The intended targets were officials, key facilities and various places of worship, and the attacks were to have been carried out on the anniversary of the January 25th revolution, the ministry said.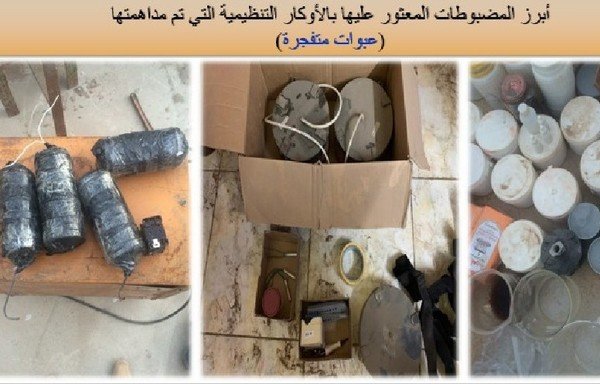 In preparation for the attacks, it said, Hasm elements had been "procuring the financial support they needed to prepare and provide the necessary tools that would be used in executing the plan".
The group had devised "several methods for smuggling funds" from outside the country to Hasm elements inside Egypt, the ministry said, via "commercial companies used as fronts for the group's activities".
"Investigations also have led to the identification and arrest of a number of Hasm elements who are involved in this plan, including the perpetrators of a previous terrorist operation in Toukh, Qalyubiya province," it said.
The militants arrested in connection with the thwarted terror plot had weapons and ammunition in their possession, the ministry said.
The ministry also said it was able to locate and seize several caches of weapons and explosives that were being assembled in order to carry out the plot.
The group's arms stash included 20 automatic rifles, birdshot guns, a sniper rifle, rocket-propelled grenades (RPGs) and launchers, as well as improvised explosive devices (IEDs) and materials used in making explosives, it said.
Terror recruitment network disrupted
Hasm had created online platforms and social media pages in order to attract and recruit militant elements for specific tasks, the ministry said.
Online activity was then funneled into closed groups on the Telegram app, "where each would play specific roles in instigating chaos, blocking roads, disrupting public transportation and carrying out acts of sabotage", it said.
"Investigation and enquiry efforts have led to the identification of the online groups that were tasked with recruitment," the ministry statement said.
"We were able to arrest a number of them," it added.
Former assistant interior minister and counter-terrorism expert Maj. Gen. Mohammed Sadek said the arrest of the Hasm cell deals a pre-emptive blow to the group's plots to target civilians and state facilities and undermine stability.
He told Al-Mashareq he credited the Egyptian forces for their successful conclusion to a "months-long investigation and co-ordination efforts between the different agencies".