Lack of access to the power grid is one of the most serious seasonal challenges Syrian refugees living in informal camps across Lebanon face during the winter.
This lack of power has forced many refugees to resort to primitive means of heating, lighting and cooking, which puts their safety at risk.
The use of firewood and fuel oil for heating and cooking, and of candles for lighting, has sparked fires in tents that have in some cases spread to entire camps in recent years, costing residents their homes and even their lives.
Syrian refugee and mother of four Jouria Mohsen lives in a tent in an informal camp near Bar Elias in Lebanon's Bekaa Valley with her husband and children.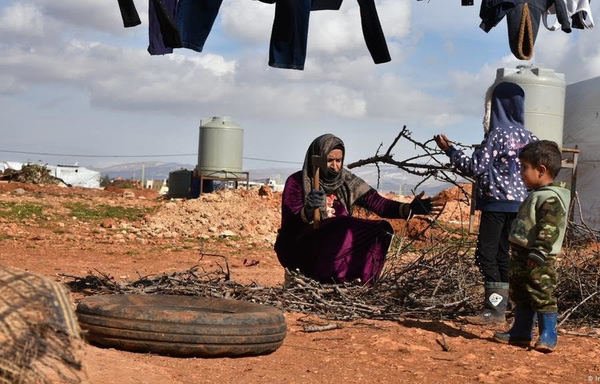 Due to the lack of a regular power supply "we are resorting to primitive means to get by in our daily life", she told Al-Mashareq.
"We rely mainly on firewood for winter heating and to prepare hot meals," she said. "And because power is only available from a privately owned generator at a price we cannot afford, we often light candles or gas lanterns for lighting."
Though Mohsen said she is fully aware that this practice is risky, her children need light so they can study, stay warm and eat cooked meals.
"So I live with apprehension about the danger, as many tents have caught fire from lit candles or fuel oil leaks that occurred while tent occupants refueled their heaters," she said.
In addition to the risk of fire, "all of these methods are harmful to my children's health, since they are inhaling wood-smoke and the smoke from fuel oil", she said. "But we are forced to use them under these harsh conditions."
Push for clean energy
In October, the UN High Commissioner for Refugees (UNHCR) launched a four-year Global Strategy for Sustainable Energy, which promotes the transition to clean, renewable energy at refugee camps and hosting sites.
At the December World Refugee Forum, UNHCR High Commissioner Filippo Grandi called on countries to sign up for the "clean energy" challenge to ensure refugee camps have access to environmentally friendly power sources by 2030.
Having access to safe and clean energy is one of the biggest challenges facing Syrians living in refugee camps in Lebanon, and in the Bekaa Valley in particular, said Beyond Association president Joseph Awad.
The refugee camps in Lebanon are informal and temporary, he said, and therefore no infrastructure is allowed to be built for the purpose of extending the power grid to these camps to supply them with electricity, he told Al-Mashareq.
"Consequently, electricity cannot be drawn legally, and this has forced camp residents, including Syrian refugees and the owners of lands on which the camps were built, to install electrical wiring in an arbitrary manner," he said.
"This is often the main cause of the fires that occur in Syrian refugee camps."
Because of the lack of a regular and constant power supply, he said, many camp residents have been forced to use candles for lighting, and this is another major cause of fire, along with the use of fire for cooking and heating.
Outbreaks of fire
The use of alternative means of energy "has led to fire outbreaks in a number of Bekaa Valley camps in the past years that have killed and injured a number of refugees and burned tents to the ground", Awad said.
The absence of large fire extinguishers inside the camps and the close proximity of the tents to each other "are two major reasons why the fires spread and cannot be extinguished easily", he noted.
"Electricity is an urgent need, not only for lighting, but also for heating, especially during the cold winter months, and for cooking," Awad said.
The provision of safe and clean electricity "would alleviate these challenges" until such a time as the Syrian refugee population is able to return home, he added.
Meanwhile, he said, the Beyond Association does what it can to educate the population, with "awareness campaigns directed at parents, adolescents and children on how to avoid causing fires and what to do in the event one occurs".
"Should financial resources become available, the camps can be equipped with large fire extinguishers, and residents trained on how to use them properly," he said, adding that electrical wiring inside the camps also can be inspected.
"UNHCR has no clean energy project for Syrian refugee camps in Lebanon, because there are no official camps, and the refugees are living in host communities," said UNHCR Lebanon public information officer Lisa Abu Khaled.
But the UN Development Programme (UNDP) "is implementing projects that generate renewable energy that is available to all, for street lighting and providing electricity to water stations", she noted.