In its rush to expand its physical footprint and influence in Syria, Iran's Islamic Revolutionary Guard Corps (IRGC) has been carrying out hasty building and reconstruction work using unsafe materials and practices, activists said.
Much of this work is overseen by Jihad al-Bina, a Hizbullah-run, Iran-funded foundation that has branches in the Damascus area and parts of Deir Ezzor.
"Jihad al-Bina is portraying itself in the media as a charitable and service organisation that is supporting the people of Syria," Damascus-area activist Mohammed al-Beik told Diyaruna.
But the IRGC-linked foundation is being used to expand the Iranian regime's influence and footprint in Syria and profit from the conflict, he said, noting that the IRGC also seeks to profit from the reconstruction work.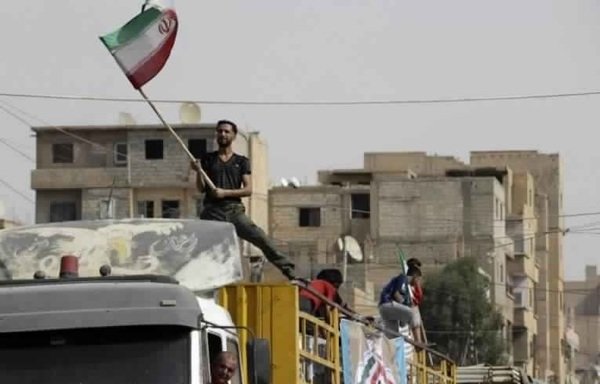 Its use of unsafe construction materials and practices also places the Syrian people in danger, al-Beik said, noting that the reinforcing steel (rebar) and cement it uses do not meet the accepted safety standards.
"There is virtually no oversight over the construction process," he said. "Specialised engineers and inspectors affiliated with the Syrian government have no role, and are totally prohibited from interfering with the work carried out by the foundation."
According to engineers he spoke with, al-Beik said, the rapid pace of construction is likely to result in unsafe structures.
For example, the engineers told him, a typical building requires at least six months for excavation and laying the foundation before construction can start, while Jihad al-Bina builders are erecting several floors in less time than that.
"These builders purchase iron (rebar) that is pulled from buildings that collapsed during the war," he said, which is passed off as new rebar at standard prices, when the actual cost is less than 25% of the recorded price.
'Acting like it is in Iran'
Jihad al-Bina "is acting in various areas of Deir Ezzor and Albu Kamal as though it is on Iranian territory", Deir Ezzor activist Jamil al-Abed told Diyaruna.
The foundation and its affiliates have seized control of a number of cities, towns and villages, he said, and have "totally prohibited civilians from returning to them unless they agree to work as part of the IRGC's militias in the region".
Some towns where Jihad al-Bina has carried out reconstruction work have been turned into "headquarters of the IRGC's militias and housing for elements of various nationalities, including Iranians, Iraqis, Lebanese and Afghans", he said.
Through these actions, the IRGC seeks "to tighten its control over the region, especially in areas close to the border with Iraq, in order to secure roads and crossings" and bring about demographic change, al-Abed said.
IRGC affiliates also have been "preventing the distribution of food aid to civilians in the area, and restricting the distribution function to institutions affiliated with them", he added.
Hiding behind Jihad al-Bina
"Most of Jihad al-Bina's officials are Lebanese Hizbullah members who were selected to work under this cover to allow [Hizbullah] to move freely under a non-military cover to transport weapons, ammunition and rockets from Lebanon to Syria and from Iraq to Syria," said Syrian lawyer Bashir al-Bassam.
The IRGC uses Hizbullah due to its extensive experience with this type of work in Lebanon, he told Diyaruna, where Jihad al-Bina also served as a front, allowing Hizbullah to move freely and deploy militarily in numerous areas.
"Hizbullah's control of the foundation's management allows it to transport weapons to the area freely under the guise of humanitarian aid and conduct recruitment in the area," al-Bassam said.
Youth are recruited as fighters under the cloak of the foundation, he added, which entices them to join by exploiting their financial difficulties and then sends them to fight in the ranks of IRGC-affiliated militias.