Jihad al-Bina, a foundation run by Lebanon's Hizbullah with direct funding from Iran, has been making deep inroads into Syrian society, particularly in the eastern province of Deir Ezzor, which borders Iraq, a local activist said.
The foundation has opened branches in several parts of Deir Ezzor, including the border town of Albu Kamal, and is making "soft inroads" to win residents over by providing in-kind and cash assistance, local media activist Jamil al-Abed said.
These areas are witnessing "notable activity" by Jihad al-Bina, which is providing relief and food aid as well as monthly cash assistance to residents as part of its strategy to increase its influence in the region, he told Diyaruna.
This area has fallen almost entirely under the control of Iran's Islamic Revolutionary Guard Corps (IRGC), after clashes with Syrian regime-affiliated militias culminated in the dissolution of National Defence Forces (NDF) militias.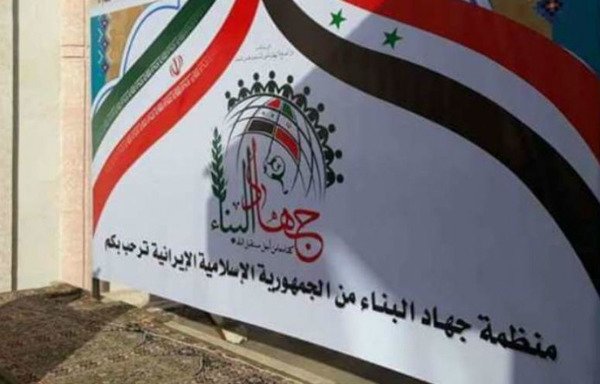 Jihad al-Bina is currently distributing winter clothes, wool blankets and fuel oil used for heating, he said, taking advantage of the difficult financial conditions residents face and their urgent need for these essential items.
The foundation has opened a free hospital in Deir Ezzor city's central al-Qusour district, and a large medical centre in Albu Kamal, he said.
This is not an altruistic move, however, as the foundation has prohibited all other relief and educational organisations from operating in the region, he added.
"In this way it is trying to monopolize the credit for anything that can be done for the region," he noted.
Iranian influence
Many villages and towns in rural Deir Ezzor, including Hatla and Marrat, have accepted the doctrine of Wilayat al-Faqih (Guardian of the Jurist) to ensure aid continues to flow to them, al-Abed said.
This requires that they pledge allegiance to al-Wali al-Faqih -- Iran's Supreme Leader Ali Khamenei -- who is the top and sole authority over the IRGC.
To encourage similar allegiance among a broad swath of the Syrian population, the doctrine is being actively disseminated through various religious, social and educational institutions, Syrian lawyer Bashir al-Bassam told Diyaruna.
In addition to its social contributions, the foundation has been repairing homes damaged in the fighting and has been purchasing destroyed homes with the intent of rebuilding them and using them to house IRGC-affiliated militias.
This would include both Syrian and foreign militias, such as Lebanon's Hizbullah, the Afghan Fatemiyoun Brigade and Iraq's al-Nujaba movement, al-Abed said.
All this is part of a deliberate process of demographic change implemented by the IRGC in Syria, to ensure the security and expansion of its interests, he said.