Health services in parts of Yemen controlled by the Iran-backed Houthis (Ansarallah) have been severely weakened as a result of the ongoing suspension of public sector salaries, experts told Al-Mashareq.
Recent flash flooding coupled with poor maintenance of waste management systems and lack of access to clean water for drinking or irrigation has accelerated the spread of cholera, they said.
Between January and early July, there were more than 460,000 suspected cases of cholera, including approximately 200,000 children. In the whole of 2018, by comparison, there were 380,000 total suspected cases.
So far this year, 705 deaths have been recorded from suspected cases of cholera, versus 75 deaths in the same period last year.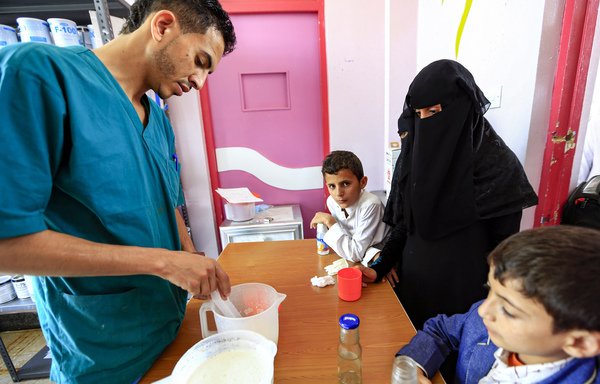 In a June 30th report, the UN children's fund (UNICEF) warned of the deterioration of basic services due to the suspension of public sector salaries.
"As the conflict in Yemen enters its fifth year, the salaries of more than 1.25 million government employees, including doctors, social workers and other public sector workers, have been suspended for more than two and a half years," UNICEF said.
The suspension of salaries has led to the closure or reduction in hours of health facilities, water and sanitation facilities, schools and other basic social services, the report said.
Just 51% of all health facilities are still fully operational, and even those suffer from a severe shortage of medicine, equipment and staff, it added.
The maternal mortality rate rose sharply during the war, from five deaths per day in 2013 to 12 deaths in 2018, the report said, noting that "when a mother dies, this greatly increases the risk of her children dying".
An infant whose mother has died is at higher risk of death either directly because of malnutrition or indirectly through increased exposure to infection.
Salary suspensions trigger collapse
The collapse of the health and education sectors was triggered by the suspension of salaries, the direct and indirect impact of which has compounded people's suffering, said Deputy Minister of Human Rights Nabil Abdul-Hafeez.
In terms of direct impact, the extended suspension of salaries has left people unable to afford medical care and basic school needs, he told Al-Mashareq.
"The indirect impact is reflected in the poor performance of workers in the health and education sectors," he said, as the productivity rate in these two sectors is at less than half of what it used to be when the workers were paid.
Abdul-Hafeez pointed out that the Houthis, who are backed by Iran, have "evaded paying salaries to employees in the areas under their control".
Public sector employees are only receiving half their salary about every four months, he said, noting that the Houthis "use pressure and coercive methods to force health and education staff to work".
This has had "a direct adverse impact on the performance of workers in these sectors", he said, and on the health sector in particular.
The UAE provided support that was meant to be used to pay each teacher $50 per month to continue working, he said.
Some only received $2 per month, however, while 800,000 others were not paid "because the Houthis dispersed the money to supporters whom they appointed in place of the original teachers".
"The Houthis are deliberately increasing the suffering of Yemenis through using hunger, ignorance and disease as tools to subjugate, humiliate and bring the masses to their knees," Abdul-Hafeez said.
Health sector in steep decline
"Some employees traveled to Aden to receive their salaries but were arrested upon their return to Sanaa," Abdul-Hafeez said, while others were arrested in their homes.
The Houthis accuse those who receive their salaries from the legitimate government in Aden "of being mercenaries and traitors", he said.
The suspension of salaries has contributed to wider economic stagnation, with businesses such as restaurants and shops seeing decline in their revenue, political analyst Waddah al-Jalil told Al-Mashareq.
"The suspension of salaries also forced many families of [public] employees to move back to their villages because they are unable to pay rent," he said.
Many have been forced to look for alternative sources of income, he added.
Health services have deteriorated notably, al-Jalil said, "as numerous medical staff members have left the country to look for job opportunities elsewhere".
The public hospitals that remain open have been the target of corruption, looting and attacks carried out by the Houthis, he said.
The deterioration of the health sector has led to a decline in public health and has "undermined the medical sector's ability to control diseases and epidemics, leading to high mortality rates", he added.