As it seeks to assert and maintain its influence in the region, the Iranian regime is attempting to leverage both diplomacy and the threat of force, Iranian affairs experts told Al-Mashareq.
Amid public calls for peaceful dialogue with Gulf countries, they said, hardliners in the Iranian regime continue to pursue the enrichment of uranium beyond agreed-upon levels.
Iran's May 8th announcement that it would increase enriched uranium and heavy water production as part of its decision to stop some commitments made under the 2015 nuclear deal reveals internal tensions among its leadership.
Earlier this month, Iran said it would surpass the agreed 300-kilogramme reserve of enriched uranium on June 27th because it no longer felt bound by the 2015 deal which the US unilaterally pulled out of in May 2018, AFP reported.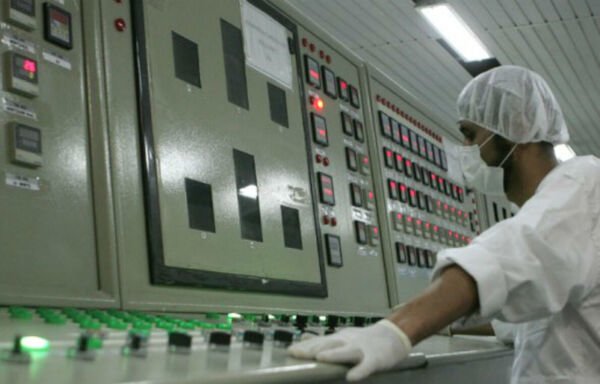 But on the day, a diplomatic source in Vienna said Iran would not exceed the uranium stockpile limit agreed under a nuclear deal with world powers at that time, suggesting there might be a "political reason" for this.
An Iranian official who also spoke on condition of anonymity later said the limit had not yet been breached for "technical" reasons.
Vienna is home to the UN's nuclear watchdog, the International Atomic Energy Agency (IAEA), which is responsible for monitoring whether Iran is sticking to the terms of the nuclear deal.
Tehran also has threatened to start enriching uranium above the agreed purification level of 3.67% starting from July 7th.
Internal differences
"The differences of opinion among Iranian politicians regarding the nuclear issue stem from the existence of two prominent camps," Iranian affairs researcher Sheyar Turko told Al-Mashareq.
One camp is calling for dialogue as a way of reaching a solution, he said.
This camp includes Iranian President Hassan Rouhani and a number of diplomats close to him, as well as Foreign Minister Mohammad Javad Zarif, he said.
The other is the hardline religious contingent represented by Iran's supreme leader Ali Khamenei and his apparatus, led by the Islamic Revolutionary Guard Corps (IRGC), veteran officers and hardline clerics.
Iran's announcement that it intends to increase its stockpile of enriched uranium indicates that "the hardline camp has the upper hand", Turko said.
This is because those who hold more hardline views direct Iran's domestic and foreign policy, using the power and influence derived from the authority of Wilayat al-Faqih (Guardianship of the Jurist), he said.
This calls for allegiance to al-Wali al-Faqih -- Khamenei -- and "requires everyone to obey him and not disobey his orders", he said.
The variance in views among the Iranian leadership reveals the level of influence wielded by figures in the country's external operations units, said international law expert Khairuddin Abdel-Metaal, who lectures at Egypt's Assiut University.
These figures have attempted to use their influence to "win over Gulf states and steer them away from the political track [they are pursuing] with the US", he told Al-Mashareq.
Iran seeks to appear as if it is interested in dialogue and negotiations with Saudi Arabia, he said, "while its real objective is to buy time through negotiations to escape or circumvent sanctions".
Its insistence on enriching uranium above the agreed-upon level "clearly indicates that it intends to use the surplus for non-peaceful and internationally prohibited purposes", he added.
Threat to regional stability
The Iranian nuclear project is "the most serious threat to the stability and security of the Middle East and the world", said al-Sharq Centre for Regional and Strategic Studies researcher Fathi al-Sayed, who specialises in Iranian affairs.
Iran has test-fired nuclear-capable ballistic missiles at least 10 times since July 2015, despite a UN Security Council resolution, approved along with the nuclear accord, which explicitly calls on Iran to refrain from such activity.
Iran seeks to circumvent the resolution by claiming that it is developing its nuclear programme for peaceful purposes only, al-Sayed told Al-Mashareq.
Suspicions continue to swirl that it is enriching uranium "for non-peaceful purposes, contrary to what the Iranian media is trying to publicise", he said.
"Official and semi-governmental newspapers state from time to time that Iran has the right to use enriched uranium for any purpose it wants, be it military or civilian," al-Sayed noted.