Some Syrian refugees residing in camps in Lebanon have been volunteering their time and energy to help the UN High Commissioner for Refugees (UNHCR) facilitate the provision of services to the refugee communities.
These volunteers act as a liaison between the refugee communities and the UNHCR, bringing the needs of individual families to the attention of the UNHCR, and helping the families to ensure their various needs are met.
They also provide information about available services.
The programme "aims to recruit volunteers from the refugee community to serve as a link" between the UNHCR and the refugee community, UNHCR external relations officer Khaled Kabbara told Al-Mashareq.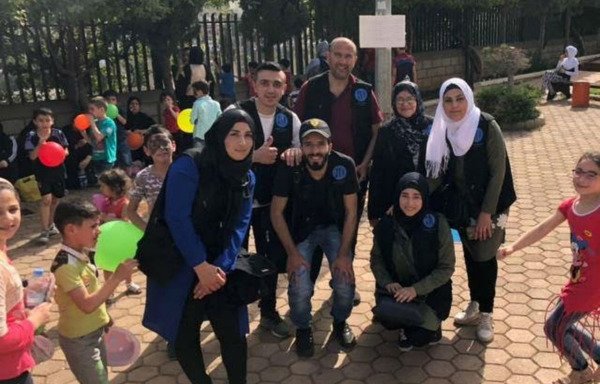 "The volunteer network includes 665 volunteers, the majority of whom are refugees," he told Al-Mashareq, noting that 60% of these volunteers are women.
"Volunteers play a key role in communicating all information related to available UNHCR services and assistance," he said.
In addition to bringing any problems the refugees are facing to the attention of the UNHCR, these volunteers are able to recommend services such as medical care or child protection to those who might need them, Kabbara said.
Communicating with refugees
For the past four years, 29-year-old Rahab Omar al-Khalid, a Syrian refugee, has volunteered as a liaison between the UNHCR and refugees in all regions of northern Lebanon, assessing their situation and needs.
"My task is to serve as a link between refugees from my country and the UNHCR," she told Al-Mashareq, with a particular focus on people with disabilities, the elderly and those who require help of various kinds.
Al-Khalid visits refugees in their homes and meets with them at length, informing them of assistance that is available to them through the UN and other organisations and answering any questions they may have.
She also organises activities for children, and helps to ensure the disabled and the elderly are well integrated into the community. And when official delegations and organisations visit, she serves as a community representative and spokeswoman.
Al-Khalid said she has set up a Facebook page that now has a following of 52,000 to help her disseminate the constant flow of information.
"It posts topics of interest to them and answers their questions," she said.
She also created a WhatsApp group that includes a number of families from her hometown of Baba Amr in Syria's Homs province.
The UNHCR "supported me with a variety of training programmes that allowed me to volunteer for several organisations", she said.
Volunteers serve as a bridge
Mohannad al-Fattal, a 30-year-old refugee from Homs who is studying business administration, joined the UNHCR volunteer programme in 2017.
"My goal is to help displaced Syrians get access to the services provided by the UNHCR," he told Al-Mashareq.
Al-Fattal said he decided to volunteer after seeing Syrian families in need of assistance "fall victim to fraud and scams and pay large sums of money for surgery, not knowing that UNHCR covers surgery".
"I looked for a way to serve as liaison between them and UNHCR to convey their needs," he said, and received training on the rules of conduct for volunteers and how to conduct meetings and home visits with the refugee population.
Like other volunteers, al-Fattal organises meetings to bring information related to UNHCR services and other matters of interest to the attention of the Syrian refugee population.
He also visits some families in their homes to provide them with information specific to their situations, and meets with persons with special needs.
"My role is also to provide information to UNHCR on the general state of affairs of the refugees and the most pressing problems they are facing," he said. "I am a bridge between UNHCR and the refugee community."
"The programme increased my love for humanitarian and community work, and created a desire in me to have a big role in the reconstruction of Syria when I return, which can only happen if we all work together as one," al-Fattal said.