As more refugees return to their areas of origin in Syria, local civil society organisations and the UNHCR are working to assist and provide these families with humanitarian aid and support.
Close to 170,000 Syrian refugees have returned to Syria from Lebanon, according to Lebanese authorities.
UNHCR currently has offices in the provinces of Damascus, Homs, Hama, Sweida, Daraa, Aleppo, al-Hasakeh, al-Raqa and Deir Ezzor, where UNHCR and partner organisations meet with the returnees to assess their urgent needs, said UNHCR public information officer in Damascus Mysa Khalaf.
UNHCR works with 31 non-governmental organisations (NGOs) across Syria -- through a network of 97 social centres, 20 industrial centres, 95 mobile units and 2,638 volunteers -- to support efforts to improve conditions within Syria and remove obstacles impeding the refugees' return, Khalaf said.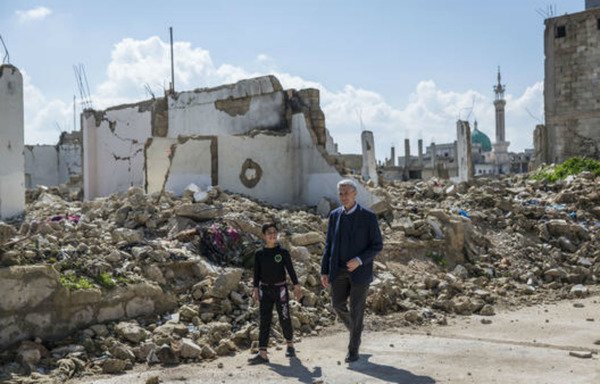 Support includes non-food items, shelter, winter materials and livelihood items, she said.
"It is important to remove all the material, legal and financial obstacles impeding a dignified, safe and voluntary return," she added.
'Great national duty'
Most local civil society and charitable organisations have started providing the support and facilities needed for returning refugees, a civil society source who asked to remain anonymous for security reasons told Al-Mashareq.
These services will help families overcome challenges until they are fully resettled, he said.
Syrian civil society organisations are "aware of the great national duty that falls on them to help with the reunification of Syrian families that were forced to leave their villages and towns to areas inside Syria or to neighbouring countries", he said.
Several organisations heeded the call of the Ministry of Social Affairs a few months ago to provide relief to refugees arriving from eastern al-Ghouta through safe humanitarian corridors, he said.
They collected new and used clothes and shoes, personal hygiene items and food, and distributed them to "people who had lost virtually everything and were staying out in the open", he added.
As talks intensified about a return of refugees from across the border, "we increased our efforts so we could be up to the task", he said, adding that they also provide medical and psychosocial care to the returnees.
"We have found ourselves amid throngs of refugees returning from Lebanon to Damascus and its surrounding areas, and we have been working to provide them with everything they need at the many shelters [set up for this purpose]," he said.
On March 24th, a number of Syrian civil society organisations held a meeting to discuss unifying their efforts and developing a roadmap, the source said.
"More than 200 volunteers were divided into teams that are ready to move to the sites and centres sheltering returnees in the areas surrounding Damascus, and three medical posts were set up," he said.
Instilling Syrian identity in children
"A great deal of work awaits us as our people return from Lebanon, Jordan and Turkey," said Amira Qassim, a volunteer working with a number of humanitarian organisations in Damascus who preferred to use a pseudonym for safety reasons.
While the number of returnees is currently still modest, "we expect to deal with a massive number of them" in the future, she told Al-Mashareq.
"In the meantime, I am working as a volunteer with several civil society organisations, caring for returnees living in shelters in the areas around Damascus," she said.
"I contribute to everything related to children, particularly providing social and psychosocial support to them because most of them were born outside Syria," she added.
"We have to integrate them into their society of origin and provide them with a safe environment", she explained.
"We are facing a very difficult task in instilling the spirit of Syrian identity in the children, while we work diligently to ease the suffering of those who lost their homes," she said.