Many Syrian refugees in Lebanon long to return to their homeland.
Although some have been in Lebanon for over seven years, however, many are hesitant to return at this time as they do not believe conditions are safe enough.
Khodr Mohammed Yassin, of Syria's Eastern Ghouta, lives with his family in an informal refugee camp in Bar Elias in Lebanon's Bekaa Valley.
"None of us wants to stay in Lebanon," the 45-year-old father told Al-Mashareq.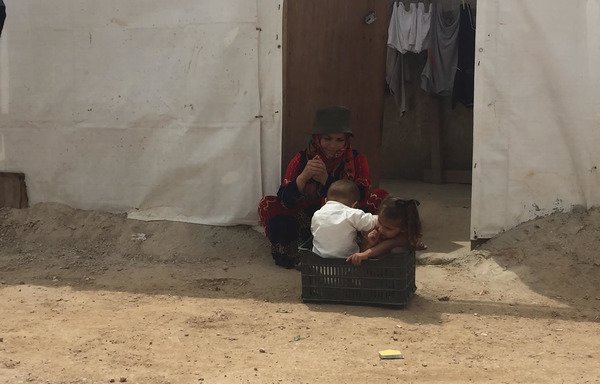 "I want to return with my family, my wife and my six children, but I lost everything I own there," he said.
"I left my house in a hurry when our neighbourhood came under horrific shelling, and did not bring with me any documentation that proves my ownership of the house," Yassin said.
Additionally, he said, a return to Syria today "is not safe for men my age because the regime, which had said there would be no mandatory conscription, is now requiring those who return to join the ranks of its army", he said.
"I do not want that, because I have already served my duty."
'I long to return'
"I long to return to my land and my modest home in al-Qusayr countryside, but this is currently not possible because the regime has yet to allow a return to the area," Syrian refugee Ibrahim Burhan told Al-Mashareq.
"I am waiting for the right and safe circumstances to go back with my family and many children and grandchildren, to regain our stolen dignity and live a normal life," he said. "We have had enough of living in tents under harsh conditions."
"I am seriously thinking of returning soon, even though I have lost everything I have," said Aisha al-Khalil, a refugee from Aleppo.
"I am communicating with those who have returned to Aleppo to ascertain whether living conditions would be suitable for me to accompany my father back there," she told Al-Mashareq.
In a survey conducted by the UN High Commissioner for Refugees (UNHCR), the desire of Syrian refugees to return to their homeland "came through very clearly", said UNHCR public information officer Lisa Abu Khaled.
"The survey showed that 86% of Syrian refugees in Lebanon want to return to Syria," she told Al-Mashareq, providing this is voluntary, safe and dignified.
"UNHCR is actively working to ensure a successful and sustainable return of Syrian refugees to their country, as this is part of our mission," she said.
"We are interviewing them, respecting their decision and not making the decision to return on their behalf," she added.
Lingering fears
Some Syrians have opted to return to their homeland now, in convoys organised by the Directorate of Public Security or on their own initiative, Abu Khaled said.
"Our role is to help them by ensuring they have all the necessary documents, and we try to visit them as soon as possible after their return," she said.
"In the case of those who still see obstacles in the way of their return, we are working with all the relevant authorities in Lebanon and Syria to remove those obstacles to make them feel confident enough to proceed," she said.
More than 83% of the Syrian refugees want to return "eventually", Minister of Education and Higher Education Akram Chhayeb told Al-Mashareq.
But only 5% of them want to return this year, he said, pointing to lingering fears among the refugee population about the Syrian regime's detention and forcible disappearance of thousands since the outbreak of the revolution.
A political settlement in Syria will clear the way for the implementation of the safe return policy that has been endorsed by the Lebanese government, he said.
"No one can predict the number of refugees who would return under the currently prevailing circumstances in Syria, as the conditions necessary for a safe return do not yet exist," Chhayeb said.