More than a third of school-age Syrian refugee children in Lebanon have difficulty accessing formal education due to cost and a shortage of space in Lebanese public schools.
Syrian children "have difficulty accessing formal public education in Lebanon because public schools cannot accommodate more than 250,000 students", said Khaled Raad, of the government's Arsal refugees co-ordination committee.
There are around 400,000 school-age Syrian refugee children in Lebanon, "which means that we have more than 150,000 students who do not have access to formal education", he told Al-Mashareq.
In Arsal alone, there are 10,000 Syrian students, less than half of whom attend public schools, he said.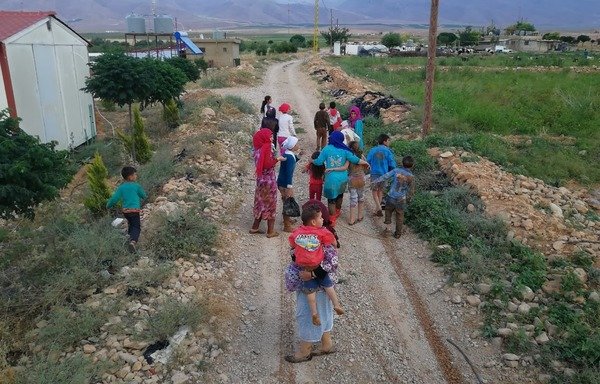 "This compelled us to open Syrian schools where a number of Syrian intellectuals volunteer to teach students the Lebanese curriculum so that they do not remain on the streets," said Raad.
"We teach them the basics of science, mathematics, Arabic, French and English," he said, noting however that they are facing problems accessing funding.
"The organisations and associations that used to provide us with financial support stopped doing so five months ago without any justification," Raad said.
Obstacles to student enrollment
Many of the school-age Syrian refugee children who have not enrolled in school are working in agriculture, panhandling, selling flowers or are involved in some other kind of work, Beyond Association executive director Maria Assi told Al-Mashareq.
"There are not enough seats for all of them in public schools, so the number of those enrolled in afternoon sessions of formal education does not exceed 300,000," she said.
According to Assi, Syrian students living in camps face numerous challenges, including the cost of transportation to school and the discrepancy between the Lebanese and Syrian curricula, especially with regard to foreign language education.
Beyond Association is involved in activities to support children from the ages of four to 14 and raise their awareness of their rights that are guaranteed by international conventions to which the Lebanese government is a signatory, she said.
The association also provides psychological and social support, as well as recreational, educational and literacy activities, including teaching foreign languages.
UN supports Syrian refugee students
The UN Refugee Agency (UNHCR) estimates that 384,609 Syrian refugee children between the ages of six and 14, reside in Lebanon, a UNICEF official in Lebanon who asked to remain anonymous told Al-Mashareq.
Of those, "only 216,403 students are pursuing formal education in Lebanon", she said, while the rest -- or 42% of the total number of Syrian students in Lebanon -- are not enrolled in school.
According to a Ministry of Education and Higher Education report, the number of Syrian students enrolled in public schools for the academic year 2018-2019 totals 172,520 students, while 43,883 Syrian students are enrolled in private schools.
The ministry "pledged to ensure access to education to the maximum number of refugee children qualified for formal and non-formal education", according to UNICEF.
The report showed that 18,189 students between the ages of 10 to 14 who had never been to school are taking literacy and basic math classes, while 11,888 students are enrolled in the intensive accelerated learning programme.
Another 6,295 Syrian youth between the ages of 15 to 24 are benefiting from the basic literacy and math programme for youth, which aims to support them with literacy and life skills courses.
Other programmes implemented by UNICEF include an Early Childhood Education Programme for children between the ages of three and five, to prepare them to enter kindergarten, with 30,716 children benefiting from the programme.