Yazan Ahmad Mustafa, a 13-year-old Syrian refugee, is looking forward to attending a regular school for the first time in his life.
Seven months ago, Yazan, whose family fled their village in rural Aleppo and now resides in the Mount Lebanon town of Aley, enrolled in basic literacy courses at the nearby Keyfoun community centre.
"I have never been to a school in my life, but today I am determined to enroll in school after I master the literacy courses," Yazan told Al-Mashareq.
To this end, "I am pursuing with great interest all the literacy, science and math courses offered to me by the centre", he said.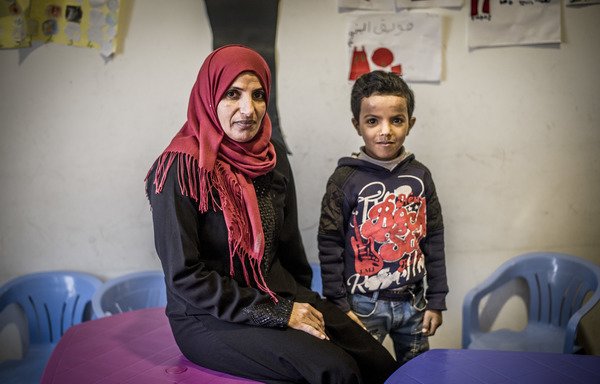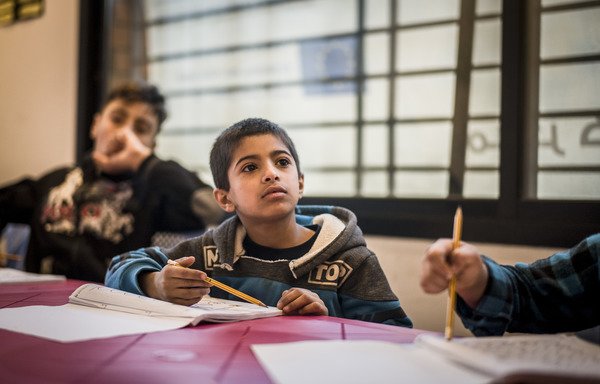 Because of his family's circumstances, Yazan has not been able to attend school, he said, "but when I learned of the existence of a literacy centre in Keyfoun, I decided to enroll in it to build my future and fortify myself with knowledge".
Yazan said he cannot help being envious of his friends who attend school and know how to read and write properly.
"They tell me what they are learning, and that stirred my curiosity to learn and read science books myself on Mars and the planets," he said.
'Very happy to learn'
Ghassan Mumtaz al-Saleh, 10, of Quneitra province in southern Syria is also attending literacy courses at the Keyfoun community centre.
"I am good in mathematics and I want to excel in it because I dream of becoming a pilot," he told Al-Mashareq, adding that the centre "allowed me to know the value of school, but I had never attended one before".
Learning the Arabic and English alphabet and numbers "is very important to me, because it will help me register in a regular school later to complete my education, as I know now how important education is to my future", he added.
Ahmed Hammoud, 13, is also going to the centre to learn to read and write, after a five-year absence from school.
"I used to go to a school in my village near Idlib, but I stopped when we were displaced," he said. "I am learning to read and write again, and I can say that after five months, I am slightly better at it without making many mistakes, which is good."
Ahmed said he works three hours a day in an auto shop for a weekly wage of about 15,000 Lebanese pounds ($10).
"I am very happy to learn, because what I learn at the centre will put me on the path towards a regular education," he said.
'Back to the Future'
Ghassan's mother Fatima told Al-Mashareq she hopes each of her five children will complete their education, and that "we, as parents, can fulfill our obligation towards them".
"All my children love learning, but we could not provide it, because of our financial situation and our forced displacement to Lebanon," she said.
"The opening of the literacy centre and launch of the 'Back to the Future' programme enabled me to enroll four of my children, and today they are learning to read and write," she said.
This project is funded by the EU Regional Trust Fund in response to the Syrian Crisis (the Madad Fund) and is implemented by AVSI, War Child Holland, Terre des Hommes Italy (TDH-IT) and Terre des Hommes Netherlands.
Yazen's father, Ahmad Mustafa, told Al-Mashareq the programme is a godsend that has enabled three of his five children to learn.
"I had not been able to register them in school since we were displaced to Lebanon in 2012, because I am the only breadwinner for my family," he said.
"I discovered when I enrolled Yazan in the programme how eager he is to learn. He reviews at home what he learned and talks with his brothers in English," he said. "So I am encouraging him and his sister Razan to continue to learn, because I want them to have a future founded on education."
'Education Cannot Wait'
"The centre receives children who have not been fortunate enough to register for the afternoon session at public schools and children who have never attended school," said teacher and programme volunteer Khouloud Khaddaj.
"We offer morning session literacy classes to early childhood students age 4 and 5, and afternoon session literacy and English classes for students between the ages of 8 and 14," she told Al-Mashareq.
"A number of children attend Arabic, English and math classes Monday through Thursday of every week as part of the Education Cannot Wait programme," she said, noting that the centre "receives 150 students per week".
"The total number of students benefiting from the project at the Mount Lebanon centres located in the towns of Keyfoun, Qoubeih, Khanshara and Jbeil exceeds 900 Syrian students a week", she added.
The Back to the Future project is implemented in Mount Lebanon, the Bekaa Valley and the South, said TDH-IT project director Nika Farnworth.
TDH-IT also provides support for the rehabilitation of public schools and psycho-social support to Syrian and Lebanese students, she told Al-Mashareq.
Volunteers from the participating organisations "hold meetings with parents to encourage them to educate their children", she said, adding that the organisation also seeks ways to integrate the refugee and host communities.