Egypt's armed forces on Saturday (February 2nd) announced they had dismantled a "highly dangerous terror cell" in the country's Western Desert in co-operation with police forces.
"Eight members of a highly dangerous terror cell were killed," army spokesman Col. Tamer al-Refaie said in a statement.
"Several others were arrested, three four-wheel drive vehicles were destroyed, and a hideout where weapons, ammunition and subsistence supplies were stored was destroyed," he added.
The army spokesman said the operation was launched in co-ordination with the Interior Ministry's National Security Agency, based on confirmed intelligence about the presence of a terror cell in the Western Desert.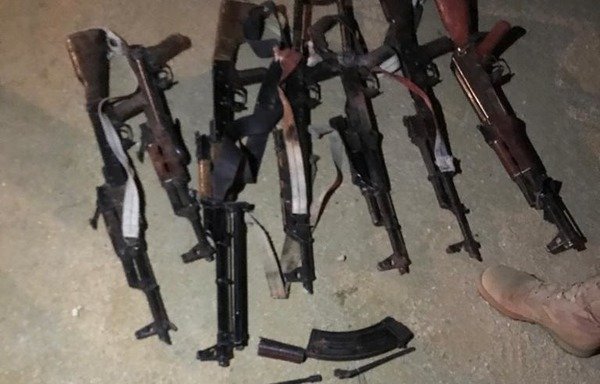 "The cell was planning hostile operations aimed at undermining the country's stability and security," he said.
"After locating the cell members, the air force targeted their terrorist hotspot, while the counter-terrorism forces combed the area," he added.
Successful North Sinai operations
Recent operations in North Sinai, where the Egyptian forces have been battling the "Islamic State of Iraq and Syria" (ISIS) also have seen some success.
Egyptian forces killed several extremist elements, including two senior leaders, during an operation in North Sinai, the army spokesman said January 27th.
And police on January 16th broke up a terror cell in the North Sinai provincial capital of al-Arish, which had been planning a series of terror attacks targeting vital facilities and senior figures, the Interior Ministry said.
Police killed five cell members, and seized three machine guns, an improvised explosive device (IED) and an explosives vest found in the cell's possession.
"Pre-emptive operations carried out by the armed forces in co-operation with the Interior Ministry have greatly helped thwart terrorist attacks targeting civilians and vital facilities," said Egyptian MP Khaled Khalafallah, who serves on the parliamentary national defence and security committee.
"These operations involve the use of counter-terrorism techniques in collecting intelligence on cells and moving to strike them before they carry out other terrorist operations," he said.
"Much progress has been made in the National Security Agency's efforts to collect and analyse information on terrorist operations, and carry out high-level pre-emptive strikes across the country," he added.
The objective of these counter-terrorism operations is "to contain terrorist activities and dry up the sources of terrorist financing", Khalafallah said.