Lebanon's Hizbullah has been concealing the number of its fighters who have fallen in Syria since 2012 out of fear of growing recriminations, activists said.
"Many of the families who lost a son in the Syrian war while fighting in the party's ranks keep quiet about it, as instructed by the party's security officials," said Salah Mansour, using a pseudonym out of concern for his safety.
Hizbullah has made it clear this news needs to be kept out of circulation, said Mansour, who is related to a senior Hizbullah official and had been close to the party's leadership in the Bekaa Valley before splitting from the group.
Most of the families in question are impoverished or do not have extensive tribal connections, he told Diyaruna, which means such news can be contained within their limited circles.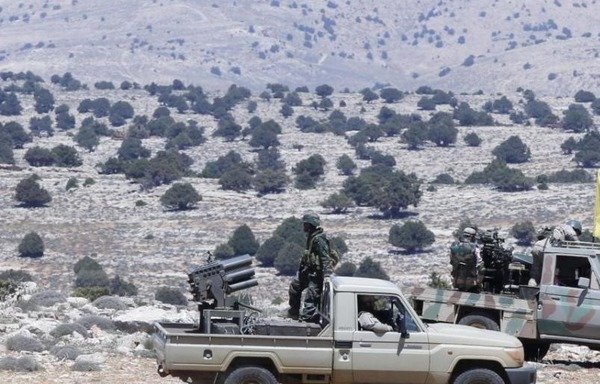 Funeral ceremonies for those killed in Syria differ according to the social status of the slain fighter, he said: These are carried out quickly and with discretion, in the case of a low-ranking fighter, or involve mass public gatherings, when the deceased is a first-tier officer or the son of a high-profile family or tribe.
Slow to report fatalities
The militia "does not disclose the death of its elements all at once, but rather over long intervals and in small batches, even in cases when a large number of fighters are killed in one military operation", Mansour said.
This is because Hizbullah seeks to avoid the appearance of weakness, he said, adding that the militia began concealing deaths as discontent widened within its popular base over the rise in the number of fighters killed in Syria.
Hizbullah recruited hundreds of fighters into its ranks who are not members of its base and are "rather more like mercenaries who joined the fighting in Syria for the monthly salary", Mansour said.
Because of this designation, he explained, Hizbullah will not recognize these fighters as "martyrs" if they die in Syria, or even that they fought in its ranks.
Most of these fighters are sent to Syria quietly, he said, with their parents and close associates only informed that "they signed a contract to work in another country or another Lebanese region, or in trade or construction in Syria".
Mansour said Hizbullah has even been deploying its fighters at funerals to guard against spontaneous angry reactions on the part of family members.
"At least 3,000 fighters have been killed in Syria over the past seven years, while the militia has admitted to only half, or a little more than half that number," he said.
Hizbullah's media blackout
Many Hizbullah fighters were killed in battles the militia thrust itself into in Qalamoun, Homs and Hama, especially in the early years of the war, said Yasser al-Turkmani, a Free Syrian Army (FSA) officer in southern Syria.
"Soon after, the militia's media machine and that of Iran's Islamic Revolutionary Guard Corps (IRGC) began blacking out news of the fighting," he told Diyaruna, even though Hizbullah still maintained a heavy presence on the ground in Syria.
"Those involved in the fighting know full well the magnitude of the human losses, however, because they witnessed them firsthand in the areas that saw an exchange of control between [Hizbullah and the FSA]," he said.
"Dozens of Hizbullah elements and officers were buried where they were killed in the areas controlled by the FSA," said al-Turkmani, adding that these burial sites were uncovered later, when the Syrian army captured those areas.
"Monitoring Hizbullah's official social media accounts and the websites and newspapers that serve as its mouthpiece reveals how the militia announces the death of its elements," Syrian journalist Mohammed al-Abdullah told Diyaruna.
During the first three years, the names of slain fighters were published quickly and extensively, because the militia's officials believed the situation would soon calm down and the fighting would not last long, he said.
"However, when the war entered its fourth year, the [published] names of the dead began to dwindle, even though a large number of elements were being killed," he added.
The location is rarely mentioned, he noted, with phrases like "martyred while performing his jihad duty" used without specifying the place and time of death.
"Discontent is evident on many social media accounts belonging to [Hizbullah] and its supporters over the high number of casualties that continue to pile up in Syria," he said, adding that heated debates flare up regularly online.