As Syria's war drags on, for eight years now without a clear resolution in sight, refugees and their host communities, including those in Lebanon, are increasingly weary of the situation and the accompanying economic burdens.
Addressing this state of fatigue and exploring steps towards building resilience for both refugees and their hosts was the theme of American University of Beirut's AUB4Refugees initiative, held in Beirut on November 27th and 28th.
The forum was organised and hosted by the Issam Fares Institute for Public Policy and International Affairs at AUB.
Participants discussed ways to build resilient livelihoods and future prospects for the safe and voluntary return of Syrian refugees, among other topics.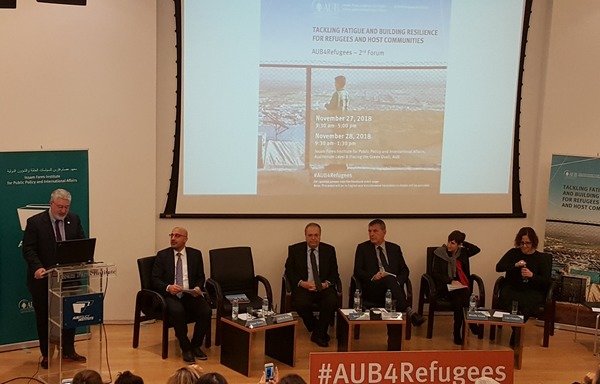 The UN and international community support Lebanon's stability and remain committed to helping it address the challenges posed by the refugee influx, said UN Resident and Humanitarian Co-ordinator in Lebanon Philippe Lazzarini.
He described the "growing fatigue" of Lebanese society in the wake of the crisis.
"It is a miracle that Lebanon has borne this heavy a burden, brought on by the economic and social challenges stemming from its hosting of 1.5 million refugees," he said.
Lebanon has struggled with high unemployment, he said, noting that one third of Lebanese are now classified as poor, while the majority of refugees live below the poverty line.
At the same time, he said, Lebanese public institutions are unable to provide services.
Surveys have shown that tension is rising between the refugees and their hosts, with whom they are competing for jobs and services, he said.
While the refugees' future is ultimately in their own homeland, he said, for some, the process of return is likely to take a long time.
'Fatigue is beginning to set in'
Lazzarini pointed to the UN's role in supporting education, noting to al-Mashareq that more than 220,000 Syrian students have been absorbed into Lebanese schools, and to its provision of water to refugee clusters in the poorest parts of Lebanon.
UN High Commissioner for Refugees (UNHCR) Lebanon representative Mireille Girard commended Lebanon's ability to withstand the ongoing pressure on employment and public institutions.
However, "fatigue is beginning to set in in host communities, and most Syrian refugees are expressing a wish to return", she said.
Thousands have begun to return to Syria with the help of Lebanon's General Directorate of General Security, she added, noting that this process will be "gradual, and will take a long time to complete".
Girard said an assessment conducted by the UNHCR showed that 88% of refugees borrow money to secure their basic needs, and have been forced into ever cheaper accommodation as their ability to pay rent diminishes.
Two-thirds of the Syrian refugees live below the poverty line, subsisting on a daily income of between $3 and $4, she added.
Meanwhile, competition between the refugees and Lebanese nationals for public resources and services has heightened the tension between them, she said.
To address these concerns, Girard called for new funding streams to be established to support the refugees and host communities, along with a change in the way programmes designed to deal with them are planned and developed.
'No excuse to send refugees back'
Lebanon is not a signatory of the 1951 Refugee Convention, and thus does not grant Syrians refugee status, Issam Fares Institute for Public Policy and International Affairs director Tarek Mitri told Al-Mashareq.
But Lebanon abides by the principle of not returning people to places where they could come into harm, he said, and therefore "cannot use fatigue and its inability to bear their burden as an excuse to send the refugees back".
Academic institutions can play an important role in accurately presenting the facts about the refugees' situation, Mitri said, as they have "no interest in exaggerating or distorting the facts as some in Lebanon are doing".
"Academic institutions, through the studies and research they conduct that uncover the facts, help policy makers in developing their plans and programmes by providing them with accurate information and analysis," he said.
This "takes into account human rights, which also contributes to raising awareness among the Lebanese about the reality of the situation", he added.
He warned against spreading misinformation about the number of refugees and the negative consequences of their presence on host communities, saying this heightens the tension between the refugees and their host communities.