In her two-bedroom apartment in Irbid, about 85 kilometres north of Amman, Syrian refugee Um Mohammed cooks to make a living for her family of six.
She had fled to Jordan when conflict encroached on her town.
"I wanted to do something that can remind me of my hometown Homs," she told Al Mashareq. "The living conditions we are going through as refugees are making us forget who we once were. I did not want to forget."
Um Mohammed started her home-based catering business to help her husband provide for their family and cover their children's tuition fees.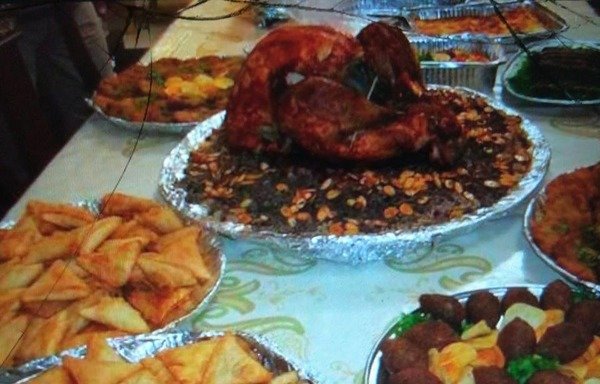 She, like many Syrian refugee women in Jordan, used her cooking skills to start a business.
She named her business "Zaman Ya Sham", in homage to the past when she would sit by her mother and make kibbeh in all its forms -- baked, fried and raw.
It is now her best-selling dish, but she sometimes fills it with potato instead of minced meat to cut costs.
To many Syrian refugee women, grocery shopping in Syria was much cheaper, which sometimes forces them to change some of the ingredients in their recipes to make some profit.
"Syria is known for its agriculture," Um Mohammed said. "Items such as some vegetables and fruits used to be available in our home backyards. But here, it is all dry," she said, pointing to the arid area surrounding her house.
Um Mohammed started by catering to university students through the circle of her children's friends.
"Irbid is a university town, so I thought students can be my best clients as many of them live alone and prefer to eat a home-cooked meal," she said.
Tough competition
Um Mohammed markets her business through a Facebook page she created, where she posts pictures of her Syrian dishes.
"Competition is high as many Syrian refugee women have started similar catering projects," she said, but people are always looking for quality and commitment in serving on time.
Among her acquaintances and friends, she is also known for her tabbouleh, all kinds of fatteh and shehbarak.
Many social media accounts have been created for Syrian women catering in Jordan.
The popularity of Syrian cuisine among Jordanians has boosted these businesses, as many used to cross the border to enjoy a good culinary experience in Syria.
But many Syrian cooks express their need for a sponsor, as setting up a home-owned catering business involves challenges such as lack of kitchen equipment and appliances, limited space, and the cost of hiring kitchen assistants.
Um Mohammed herself has faced some challenges keeping up with the competition due to the lack of a sponsor, and has had to cut back on the number of orders she can fulfill per month, she said.
'Right to work and live'
A cooking programme run by the Families Development Association (FDA) in Amman brings Jordanian and Syrian refugee women together as they teach each other how to cook and exchange recipes.
Manal Harb, FDA head cook, said she initially feared for losing her job when Syrian refugees started arriving in Jordan. But after working with them for a while, she changed her mind, she told Al-Mashareq.
"They also have the right to work and live," she said.
"The FDA is a non-governmental organisation that was established in 1999 to empower women through counselling, training and career services," said Noor Ananbeh, FDA programme co-ordinator.
The FDA's cooking training programme, carried out through the Izdihar Social and Economic Enhancement programme, "has transformed the lives of 800 beneficiaries, as 75% of them were able to join the workforce", she told Al-Mashareq.
The organisation also is running a similar cooking programme with SOS where Syrians and Jordanians are sharing expertise and cooking recipes, she said.
Feeling empowered
Despite the difficulty of having experienced war, some Syrian women expressed how tough conditions have helped them find purpose in their lives.
Back home, they never thought they could work or generate an income.
"I feel empowered," said Um Mohammed. "At least there is something I look forward to every day."
Small businesses have helped integrate Syrians in Jordanian society, as the sharing of food fosters conversation and good experiences.
"I come from a city where food and family dinners are a pillar of life," said Um Mohammed.
"We wanted to prove that we Syrians are not just victims of war," she said.
"We have a culture and our food is one way to show the world who we are," she added.