In a new report, UNESCO commends Lebanon for developing inclusive educational policies towards Syrian refugees, but calls for further efforts in this regard, backed by increased international support.
The Global Education Monitoring Report 2019 was launched November 26th in Beirut by UNESCO Regional Bureau for Education in the Arab States and the Lebanese Ministry of Education and Higher Education.
It is titled, "Migration, Displacement and Education: Building Bridges, Not Walls".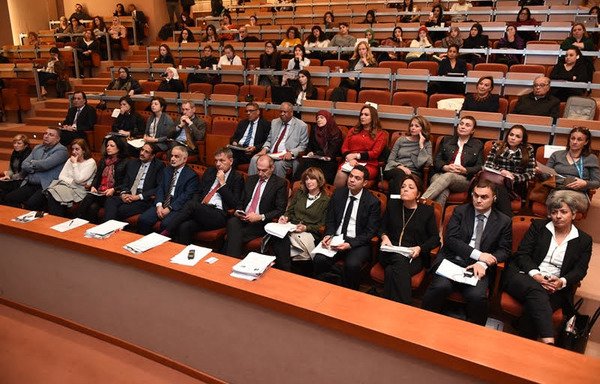 Representatives from regional education ministries joined those from UN agencies and international and local organisations that facilitate Syrian refugee education for the launch.
Despite progress, "there is still a need to step up national efforts to achieve a qualitative leap towards implementing an inclusive education system that applies to all refugees", said Manos Antoninis, who oversaw the report.
Education should include children of all age groups, education levels and nationalities, he said.
The report shows the size and characteristics of different types of migration and displacement and their impact on education systems, he said, based on analysis of the policies adopted around the world towards refugees and migrants.
It highlights the successful elements of the policies and those that can be improved upon, he added, and praises some countries, particularly Lebanon, for developing inclusive educational policies towards Syrian refugees.
The report also calls for increased international support to help countries implement inclusive education systems that exclude none.
It calls for the protection of the right of migrants and displaced persons to education, for their enrollment in national education systems, and for appropriate plans to be developed to meet their educational needs.
Education in emergency situations
Lebanon's Ministry of Education formed a committee in 2009, before the outbreak of the Syrian war, to provide education to Lebanese children in emergency situations, said Ministry of Education director general Fadi Yarak.
"The committee was formed at the time in co-operation with international organisations and in co-ordination with the Lebanese government," he told Al-Mashareq.
"With the eruption of the Syrian crisis and influx of thousands of Syrian families into Lebanon, Lebanon began, and continues today, to provide education to Syrian students in co-operation with our partners," he said.
These include the UN High Commissioner for Refugees (UNHCR), the UN children's fund (UNICEF), UNESCO, donor countries, and international and civil society organisations, he added.
The Lebanese model of providing education to Syrian students "is cited at international conferences on the subject of providing education for all", he said.
"We have more than 210,000 Syrian students enrolled in formal education, and there are more than 300 public schools open for afternoon sessions," Yarak said.
"What Lebanon offers in terms of educating refugee students is unmatched in any other country hosting Syrian refugees," he added.
The ministry "takes into account the various needs of refugees at all stages of displacement, especially those who are out of school or illiterate, by adopting programmes and curricula tailored for them", Yarak said.
These include accelerated and informal education programmes.
Educating Syrian refugee students
"The integration of refugee and displaced children into the educational systems is essential to improving the living conditions of these social segments," said Hamed al-Hammami, director of the UNESCO office in Beirut.
Education plays an important role in the development of societies and the establishment of peace, security and stability, he told Al-Mashareq.
"We know that in situations of conflict, war and massive waves of displacement, education systems can be destabilised," he said.
This must be addressed by having solid contingency plans in place, he added, in order to provide education opportunities to all.
"To this end, UNESCO has taken upon itself to provide education opportunities to Syrian refugee students in Lebanon who are in secondary education," he said, and is so far sponsoring the education of more than 4,000 Syrian students.
"We are working to have more of them benefit from the opportunity," he added.
Since its April 2016 launch, the HOPES project (Higher and Further Education Opportunities and Perspectives for Syrians) has worked to provide education to Syrian refugee students, said HOPES education project manager Rania Helou.
"Through the HOPES project, we provide opportunities to Syrian refugee students in Lebanon and neighbouring countries to overcome the challenges of education and to pursue higher education," she told Al-Mashareq.
The project also provides educational counseling, she said.
Helou said she hopes the project will extend beyond November 2019, when it is slated to conclude, "so that we may continue to implement the recommendations of the [Global Education Monitoring] report in view of the large number of students who are out of school".