Jordanians and Syrians alike celebrated the reopening of the Nassib-Jaber border crossing last month, although some traders expressed concern over the hike in transit fees imposed by Syrian authorities.
Jordan on October 15th reopened its main border crossing with Syria, a key Middle East trade route, after a more than three-year closure.
The crossing reopens a direct land route between Syria and Jordan, but also a passage via its southern neighbour to Iraq to the east, and the Gulf to the south.
The abandoned supermarkets, cafes and rest stops that line up the international highway between Jordan and Syria, are slowly going back into business as Jordanians and Syrians have been flocking back and forth ever since the reopening of the borders.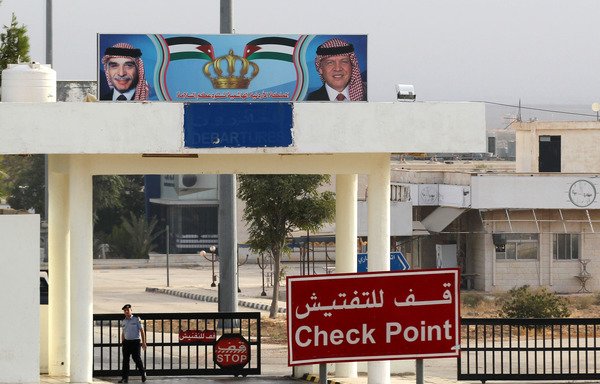 Travel agencies in Jordan are advertising daily trips to Syria, most notably Damascus and the southern Daraa province, after a years-long interruption.
A Jordanian travel agency recently posted on Facebook that it was organising daily trips to the Syrian capital by "safe and air-conditioned" bus, AFP reported.
"Who among us does not miss the good old days in Syria?" it said.
Jordanian business owners 'optimistic'
Mohammad, who used to own a clothing shop in the Jordanian border city of Ramtha's downtown area, had been waiting anxiously for the border crossing to reopen.
"We want to go back to business again," he told Al-Mashareq, noting that Ramtha's downtown area is known as "the Syrian souk" due to the many shops and traders that sell Syrian products.
"My shop used to always be packed," he said. "I used to bring clothes from Syria and come back on the same day."
But the closing of the border crossing derailed Mohammed's business, forcing him to resort to selling Chinese products, which are heavily taxed by Jordanian customs.
Mohammad, like many other shop owners and traders in Ramtha, is optimistic that the reopening of the border crossing will bring local businesses back to life.
The Jaber crossing, as it is known in Jordan, is a "major economic artery between Jordan, Syria and other Arab countries", said Abdel Salam Thiabat, the head of Ramtha's Chamber of Commerce.
Its strategic importance lies in that it is the only outlet that connects Syria to foreign markets, he told Al-Mashareq.
Reopening the border "will nourish the Jordanian economy and industry", he said, as the past years have strangled trade-reliant communities along both sides of the border, causing many businesses to close.
Transit fees cause concern
Mohammad Hyasat, a Jordanian merchant, said the closing of overland trade through Syria had severely affected the export of goods.
Reopening the border will revitalise business again, he told Al-Mashareq.
"It used to take us weeks to export products through Jordan's Aqaba port, let alone the extra transportation costs," he said, adding that overland trade is three times cheaper.
But Hyasat expressed disappointment with the transit fees collected over the past two weeks by the Syrian government from convoys coming from Jordan.
Syrian officials hope the revived trade route on Syria's southern border would swell state coffers with much-needed cash.
Before the conflict, the Nassib-Jaber crossing raked in $2 million in customs fees, AFP reported.
Last month, Syria's Prime Minister Imad Khamis said fees at Nassib for a four-tonne truck had been increased from $10 to $62.
"Before closing the borders, Jordanians were exempted from paying [transit fees]," Hyasat said. "We want our trade with Syria to resume where it had stopped."