Six women out of 86 who ran in Lebanon's recent elections won seats in parliament, among them television presenter Paula Yacoubian.
Yacoubian, who ran as an independent candidate, won a seat in Beirut as part of the civil society list Kullouna Watani (We are all my nation).
The May 6th elections saw every party put forth female candidates except Hizbullah, an omission Yacoubian described as "degrading and sad" during a recent interview with Al-Mashareq about the election results and her new role.
Al-Mashareq: What is your reading of the recent parliamentary elections?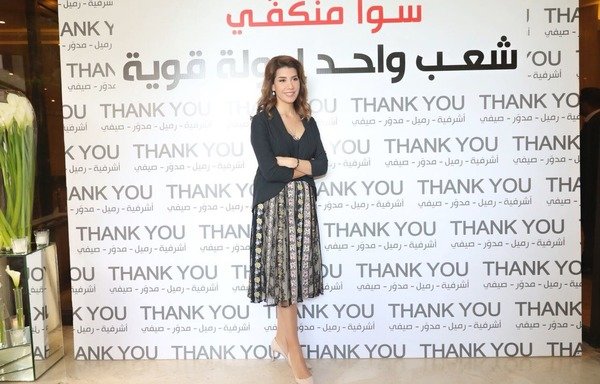 Paula Yacoubian: These elections were the most difficult in the history of Lebanon, because they were conducted according to a new electoral law. Despite [some challenges], we had a very good showing with the Kullouna Watani electoral lists.
We consider what we achieved a monumental accomplishment. Yet we see the need to change this law, from which we learned a lot, especially with regard to what to do in the next elections.
Al-Mashareq: What is the importance of the election of women from outside the tradition of political heredity?
Yacoubian: We were used to having female representation in parliament come either through heredity or personal connections, and this also applies to the current parliament.
However, I can say that we, the Kullouna Watani list, were the only group to nominate this number of women. We ran in the elections with nine lists and 66 male and female candidates throughout Lebanon, and bear in mind that 30% of our candidates are women.
We proved how important proper gender representation is for Kullouna Watani, and that this is more important than any other consideration, while in contrast, traditional parties ignored this issue and treated it as unimportant.
Al-Mashareq: How do you view Hizbullah's decision to not put forward any female candidates?
Yacoubian: What happened is disgraceful. I do not understand how and why women were prohibited from running and exercising this right of theirs. I cannot imagine why any group or political party would ban half of its community from running in the elections.
Al-Mashareq: Do you think Lebanon has achieved a just representation of women through the recent elections?
Yacoubian: We are still among the worst countries in terms of women's representation, and the evidence is the election of only six women out of a total of 128 MPs.
Al-Mashareq: You are one of them.
Yacubian: True, but I achieved my success not because I was a woman, but because I am a well-known 25-year veteran journalist.
I have had many successes in my career and reaped in the elections what I had sown. If I were a man, I would have received more votes.
Al-Mashareq: Do you think there is a need to institute a quota for women to ensure they reach parliament?
Yacoubian: These elections confirmed Lebanon's need for a women's quota in order for women to have actual representation in the Council of Representatives.
The quota is a necessity to rectify a historical error committed against women, the residual effects and associated mindset of which prevail to this day.
Women will not reach parliament without a quota until our patriarchal society gets accustomed to electing women and they become a natural part of the political arena, at which time the quota can be abolished.
I support the gender quota for one or two parliamentary election cycles, because women still need support.
Al-Mashareq: What are the key challenges you could face in parliament?
Yacoubian: Undoubtedly the challenges are many, but I will succeed in tackling them because I know what I will focus on.
I will stand up for just causes and for the people and their health and their rights. I will face all the challenges and I will produce achievements because I have a very large team on my side. It consists of my electoral list and the Kullouna Watani alliance. Everyone is ready and eager to work as a team.
Al-Mashareq: What are the main issues you will be working on?
Yacoubian: While women's affairs will be my priority, I will work to unite the Lebanese, because sectarian tension will not lead to building a country.
My work and the pressure that I will exert will focus on the environment and pollution. I will also strive to sit on the media and human rights committees.