Yemen's Houthis (Ansarallah) have been tearing down or painting over advertisements that display pictures of women in Sanaa's fashion and cosmetics shops as part of a morality campaign that began April 10th.
Wielding cans of spray paint, members of the Iran-backed militia concealed images of women's faces and bodies displayed at the shops, and also covered up mannequins displaying women's clothing.
The campaign was launched under direct orders from Sanaa's Houthi-appointed administrative director, Hamoud Abbad, on the grounds that the images violate public morals and "delay victory on the fronts", according to local media.
The Houthis issued a circular threatening shop owners whose displays include images of women, the Mareb Press website reported, demanding that the pictures be removed or the "seductive parts" of them covered.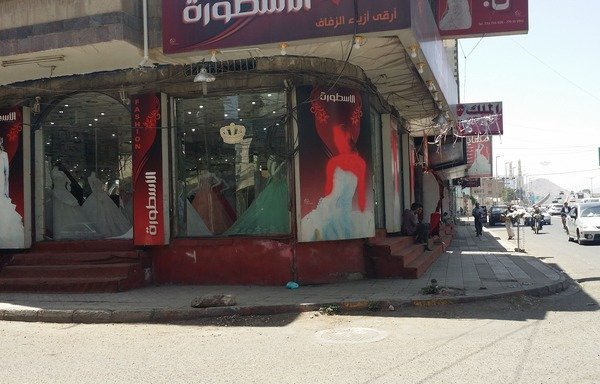 Sanaa shop owners object
A number of shop owners told Al-Mashareq they were angered by the move.
Ahla Arousa (Most Beautiful Bride) gallery sales manager Talal al-Taizi told Al-Mashareq the Houthis forced him to deface or blur the faces and bodies of women in advertisements.
"Failure to comply with the Houthis' demands would expose [shop owners] to blackmail and threats," he said. "The situation for merchants is not good in view of the imposed fines and tributes by the militias, and non-compliance would put us at risk of incurring losses."
Resentment has been the prevailing reaction among shop owners, wedding accessories shop owner Mohamed al-Wattari told Al-Mashareq.
"What the Houthis are doing is a farce, a mockery and an insult to people's intelligence," he said. "The Houthis have taken us back to the dark ages with their actions."
Women's activist Farida Ahmed expressed a similar opinion.
"We are in the 21st century, and the Houthis still surprise us every day with ideas from the dark ages," she told Al-Mashareq.
The Houthis are "emulating al-Qaeda and other terrorist groups with such actions", she said. "There is no difference between them."