The Iran-backed Houthis (Ansarallah) are collecting fees from businessmen and shop owners in areas under their control under the guise of funding events to mark the occasion of the Prophet Mohammed's birthday, known as "al-Mawlid al-Nabawi", to be celebrated Friday (November 8th).
The fees range from 5,000 Yemeni riyals ($20) to 10,000 riyals on shop owners, to hundreds of thousands of riyals on businessmen and importers, local residents told Al-Mashareq.
Shop owners suffer from taxes imposed by the Houthis on the one hand, while landlords are trying to raise rents on the other hand, said Hammoud Dhafir, a shop owner in Sanaa.
"We cannot say no to these taxes because we would be punished," he told Al-Mashareq.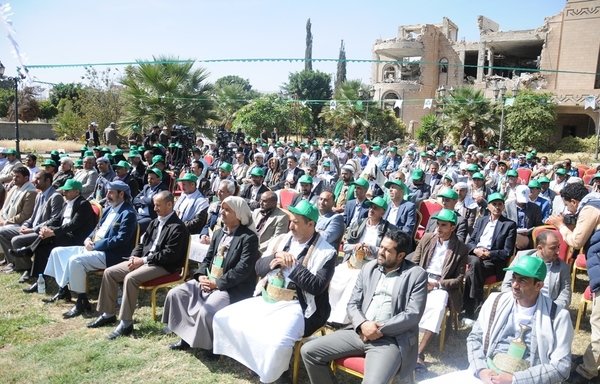 Ahmed Saleh, a minibus driver, said the Houthis have been asking people and bus passengers to make contributions to events marking the mawlid.
"Some acquiesce, but others simply refuse to pay," he told Al-Mashareq.
Growing resentment
Meanwhile, the Houthis have been forcing businesses and institutions around Sanaa to purchase green and white cloth to drape buildings with them.
Mustafa Ahmed, a staff member of a private hospital in Sanaa, said the militia forced the owners of the hospital to decorate the building and the street adjacent to it with white and green cloth.
The Houthis impose fines on whoever refuses to do so, he said.
There is general resentment among the population of provinces under Houthi control over the "extravagance and use of state budget to celebrate the birthday of Prophet Mohammed", economist Abdul Aziz Thabet told Al-Mashareq.
"Some sources say that about half a billion riyals ($2 million) have been spent to mark the occasion," he said.
The amounts that were collected from big and small traders, companies and banks are much more than the amount used from state budget, he added.
"Sanaa has turned green because of the huge number of green and white posters used to mark the occasion and the green lights that illuminate most mosques and streets in the city," said Thabet.
Anyone who refuses to pay the fees collected by the Houthis risks being accused of "opposing the Prophet's approach and deserves to be punished and imprisoned", political analyst Faisal Ahmed told Al-Mashareq.
"By celebrating these occasions, the Houthis can easily raise money and enrich themselves at the expense of the people," he said.