BEIRUT -- Trying to fend off the bitter cold and frigid temperatures, Gerges Sarkis had nothing on hand but firewood he had gathered himself with which to warm his home in Keserwan district's Beqaatet Achkout.
"I usually obtain a supply of two tonnes of mazout (heating oil), but with the insane increase in its price, I replaced the [mazout] stove with two wood-burning stoves, one in the kitchen and the other in the living room," he said.
During the snowy winters, when temperatures drop very low, Sarkis's family rations even firewood.
"My wife lights up the kitchen stove for a few hours during the day, and we light up the living room stove only at night," he said.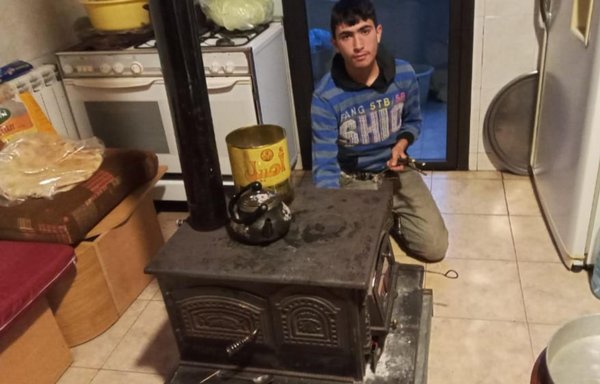 A 50kg bag of firewood from the sawmill costs 50,000 LBP, he said, "so we instead collect firewood from the forest adjacent to our house".
The residents of Mount Lebanon and the Lebanese interior are having rare difficulty obtaining mazout, due to the economic crisis and rise in fuel prices.
The mazout tanks in most homes are empty, while some families have no means of heating at all, and must bundle up in heavy woolen clothing and bedclothes to ward off the cold.
The price of mazout rose from 17,000 LBP on the eve of the outbreak of the popular protests in October 2019, to a high of 400,000 LBP today.
It is likely to rise further, as the government lifted the subsidy on mazout entirely in September, leaving its price vulnerable to fluctuations in the exchange rate of the dollar on the black market.
Hizbullah's smuggling
Many Lebanese hold Hizbullah responsible for the deterioration in their living conditions, pointing to the organised smuggling of large quantities of mazout to Syria that goes on via the unofficial crossings it controls, local experts said.
From the start of Lebanon's current economic and political crisis, and following the imposition of US sanctions on Syria, Hizbullah has smuggled fuel to Syria at the rate of about 100 tankers per day, they said.
A full 40% of Lebanon's oil imports are smuggled to Damascus, and more than two million litres of mazout are smuggled daily to Syria, according to The Independent Arabia and other media outlets.
"I work in the Chtoura area, and I saw with my own eyes the convoys of tankers heading towards Syria," Bekaa Valley resident Jamil Saad told Al-Mashareq.
Meanwhile, he said, "here we are, paying the price for this smuggling that has deprived us of heating and forced us to ration mazout in our homes".
Because of its high price, he said he no longer stores mazout but instead buys five litres per day for 175,000 LBP.
Firewood "has become the means of heating my house in Aley", Jamila al-Ashqar said. "Its embers warm us, but its price burns a hole in our pocket."
No demand for mazout
"Mazout sales have declined by 80% compared to the same period last year," said Mazraat Yachouh gas station owner Jean Massoud.
This loss of business largely stems from the steep rise in the price of a 20-litre container of mazout, he said, "bearing in mind that its price is tied to the exchange rate of the dollar on the black market".
"All my customers have 2,000-litre mazout tanks, and I used to supply them with the full amount every time I delivered [to them]," he said.
"But this winter, those who are financially well off are not buying more than 500 litres at a time," he added. "All are applying austerity measures by lighting up their [wood] stoves instead."
The Lebanese people "are experiencing tragic conditions in all aspects of life, and fuel is an essential part of that", economist Antoine Farah said.
During the winter months, he told Al-Mashareq, hundreds of thousands of families in the mountainous areas are facing cold weather, storms and snow.
"Unfortunately, these people are deprived of heating as the price of mazout has risen out of their reach because of the decline in their purchasing power," he said.
The Lebanese authorities are to some extent responsible for this situation, he said, "because they chose to pursue a policy of random fuel subsidy when the crisis began in late 2019 until recently [when they lifted the subsidy]", he said.
Rolling out random subsidies for fuel and mazout "opened the door for traders to reap profits and illegal gains by trading in mazout through smuggling it in huge quantities to Syria", he said.
With the door thus opened, Hizbullah "led a large-scale and organised campaign of smuggling fuel to Syria, depriving the Lebanese people of this vital commodity", he said.