To encourage Syrian refugee families to educate their children, UNICEF has launched a new cash aid programme, in co-operation with Caritas and the Lebanese Ministry of Education and Higher Learning.
The programme provides monthly cash aid of at least $20 for every child registered in the afternoon school session.
Launched in early January, the financial aid initiative replaces the school bus programme, which in past years transported thousands of Syrian children to afternoon school sessions at 360 public schools throughout Lebanon.
The new programme is designed to encourage vulnerable families to keep their children in school, UNICEF said in a January 5th statement.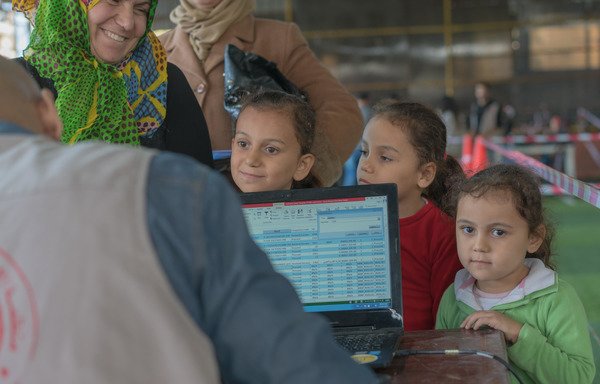 "Receiving $20 for each one of my children will help me keep them in school and buy what they need," said Fatima Mohammed Ibrahim of rural Homs, who now lives with her five children in al-Shaar in the Metn district of Mount Lebanon.
Supporting school enrollment
UNICEF and Caritas contracted with local companies to provide school buses to transport vulnerable children to schools during the 2016-2017 school year, said Katya Marino, who heads UNICEF's Education Division.
This programme was replaced in January with the cash assistance initiative, which is similarly designed to support school enrollment, she told Al-Mashareq.
"The money helps families pay for transportation to send their children to school, while leaving the parents free to choose the best means of transportation," she said.
They are no longer obligated to use the contracted buses, as in previous years.
"It is important to continue to help children reach their schools safely, especially [those attending] the afternoon session, because they return home in the dark in unlit streets and in cold weather in winter," she said.
Helping refugee children attend school "enables them to stay off the street and protects them from the possibility of being exploited or the danger of falling into crime or begging", she said.
In addition to helping refugees, the financial support also focuses on at-risk Lebanese children who are enrolled in the afternoon session, she said, including those who are very young, have a disability or live in unsafe areas.
Some of these students face daily challenges in getting to school, she said, especially those who live far away.
UNICEF's priority "is to help vulnerable families provide their children with an education and attend school on a regular basis", she said.
The transfer of cash aid to parents was instituted "to help them make better decisions in regard to their children and take a direct part in their education", she said, which includes transporting them to and from school.
"About half of the Syrian students registered in the afternoon session receive financial support funded by several international donors," Marino noted.
Ensuring regular education
Caritas Lebanon director Father Paul Karam said his organisation has been working in co-operation with UNICEF since the outbreak of the Syrian crisis in 2013 "to ensure regular education for refugee and most marginalised Lebanese children".
Caritas continues to encourage Syrian parents to send their children to school, and to distribute school supplies and stationery to all public schools for both the morning and afternoon sessions, he said.
"Caritas also transports afternoon session students to and from public schools in all areas of the south, Nabatiyeh and the Bekaa, including Baalbek and Hermel, as well as Beirut and Tripoli, benefitting 57,087 Syrian children," he said.
The cash aid programme also has been rolled out in Akkar and Mount Lebanon, where 48,686 children received cash aid of $20 per child (ages 6 to 9), and $65 (ages 10 to 14), during the 2016-2017 school year, he added.
Programme beneficiaries are identified using various criteria, Karam said, and include "the condition that the student must be enrolled in the afternoon session classes, or enrolled in pre-school or kindergarten".
The monthly cash aid programme also includes students with special needs, students living in unsafe areas, those who are unable to reach school safely and those who take a long time to reach school on foot, he said.
Cash transfers are made to qualified families via the "red card" used by all UN agencies, he explained.
Granting cash aid to the parents, who are responsible for educating their children, "will enable them to become more involved in their education", he said.
Karam said parents will have to decide how best to use the funds they receive, depending on what might present an obstacle to their children's school attendance.
This could include transportation or any other requirement such as stationery, clothing or snacks, he said.