As Lebanon works to reach a unified government policy on Syrian refugees that addresses both their current circumstances and their eventual return, it also seeks to quell tensions between the host and refugee communities.
Reports of crime and sporadic acts of violence committed by refugees have tarnished the reputation of the refugee community as a whole and have fueled resentment among the Lebanese population.
But the vast majority are law-abiding people, Lebanese officials tell Al-Mashareq.
To put an end to rumours and recriminations, Interior Minister Nohad al-Mashnouk on October 17th revealed that the "rate of crimes committed by Syrian refugees is lower than the rate of crimes committed by Lebanese".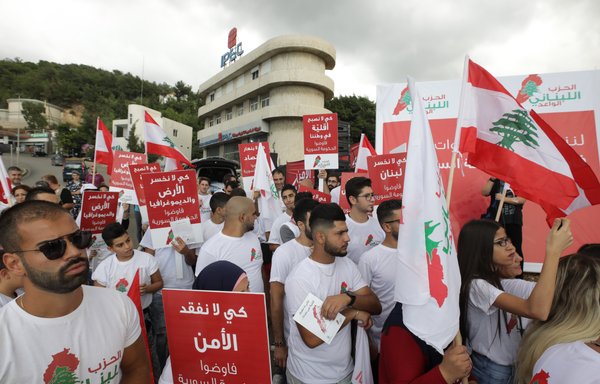 Speaking at the launch of the "Guide on the Classification of Crime and Related Punishments in Lebanese Legislation", he said statistics detailed in the guide will be used to analyse criminal trends and recommend measures to confront them.
"Lebanon is one of the safest countries, thanks to the efforts of security forces and co-ordination between them," he stressed.
Media play a role
A few days earlier, on October 11th, Information Minister Melhem Riachi highlighted the need to promote positive media coverage in order to reduce the level of animosity towards Syrian refugees.
"By positive media coverage we do not mean concealing facts or veering away from objectivity, but rather refraining from promoting notions that label an entire people as murderers just because one person among them is a murderer," he said.
At present, Riachi said, more than 1.5 million Syrian refugees are residing in Lebanon "who certainly want to return to their country".
"But it does not mean that we fight with them after seven years of residing in Lebanon so that they can return to their country safe and sound," he said.
The Syrian presence in Lebanon requires law enforcement, he said, "but also requires a lot of the courage of love".
Lebanese Minister of State for Refugee Affairs Mouin al-Merehbi addressed the issue of crimes committed by Syrian refugees in Lebanon.
"We condemn those acts and the perpetrators of crimes, but we do not hold all Syrians in Lebanon responsible for those crimes," he told Al-Mashareq.
"Based on the number of refugees living in Lebanon, the rate of crimes or misdemeanors committed by them is less than that [of crimes committed] by others," he said.
No collective punishment
Syrian refugees must not be blamed as a group for security breaches and crimes committed by individual refugees, UNHCR assistant public information officer Lisa Abu Khaled told Al-Mashareq.
In cases where abuses have occurred, she said, "we are for punishing the criminal".
However, she added, "the responsibility for the security situation should not be pinned on all the refugees, who at the end of the day are civilians and are here for a short period of time until they return".
"The rate of crimes committed by Syrians has not risen," Abu Khaled noted. "According to Ministry of the Interior data, there are 1,600 Syrian prisoners in Lebanese prisons, or 25.3% of the prison population in Lebanon."
"Directorate of Prisons data shows an identical ratio," she added.
Social researcher Rola Baydoun told Al-Mashareq she objects to the anti-Syrian sentiment which has spilled out onto social media.
She pointed to a statement issued in July by more than 250 Lebanese academics, artists and media professionals that condemned acts of hostility directed towards Syrian refugees, noting that these acts "harm not only innocent Syrians but also Lebanon's image".
Putting rumours to rest
Al-Merehbi denounced rumours that Syrian refugees do not wish to return to their homeland because they are comfortable in Lebanon and are receiving assistance, even as Lebanese struggle with unemployment.
"We are trying, along with the UN and organisations concerned with the issue of unemployment, to secure funding to help the Syrians as well as Lebanese host communities," he said.
"If we can reach an understanding on a unified government policy, we would accomplish something that would be very beneficial to both Lebanese and Syrians," he added.
"More than 70% of the refugees are living below the poverty line," Abu Khaled said, noting that "the amount of funding available from agencies and countries this year is low, given the refugees' growing expenses and needs".
"According to the International Labor Organisation, the Syrian labour force in Lebanon is 380,000 strong, but more than 36% of refugees are believed to be unemployed", she said, noting they are not permitted to work in certain sectors.
"The refugees' return to Syria is the best solution for all, but conditions are not yet conducive for their safe return," she added.
Returning to the homeland
"There is progress in the de-escalation zones, but the risks remain," Abu Khaled said.
"We are working with the international community, especially at the peace talks in Geneva, to ensure progress continues to be made through the political process to enhance the confidence of the people and the Syrians in returning."
"For the UNHCR, the first step of the return is the most important, because if it is done in a safe manner, it will encourage other refugees to return to their country," she said.
On October 16th, President Michel Aoun handed letters to the ambassadors of the five permanent members of the UN Security Council addressed to their heads of state, as well as to the heads of the UN, EU and Arab League.
"It has become incumbent on the international community and the UN to make all possible efforts and create conditions that are conducive for the safe return of the displaced to their country, especially to stable and low tension areas without attaching [the return] to reaching a political solution", the letter read, in part.
"International organisations that help the displaced should not discourage those who wish to return to their country, as long as the return occurs of their own volition," he said.
In Lebanon, about one million Syrian refugees are registered with the UNHCR, but the Lebanese government estimates the number of refugees at 1.5 million.