After five years without work, Syrian refugee Mohammed Ahmad was nervous but hopeful as he registered with as many firms as possible at a unique job fair in Jordan's sprawling Zaatari camp, where he lives.
Around 50 companies were represented at the one-day event Wednesday (October 4th) as they scouted for candidates to fill some 1,000 job opportunities, compiling lists of applicants by name, age and qualification.
The EU-funded job fair, a first at the desert camp that houses some 80,000 refugees, comes after the launch in August of the only employment office at Zaatari, following a decision by the Jordanian government to grant residents work permits and let them work in larger towns.
For Ahmad, 34, a father of four who fled from Daraa in southern Syria just across the border, the project could provide a vital lifeline.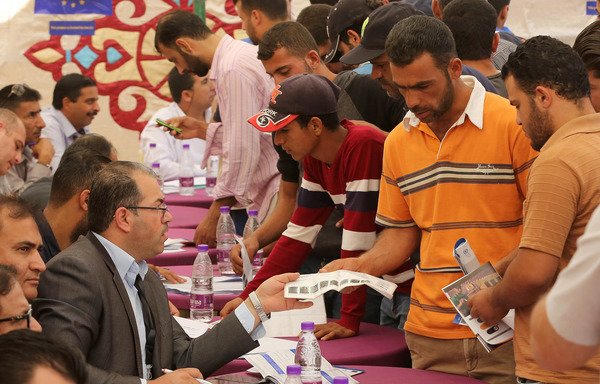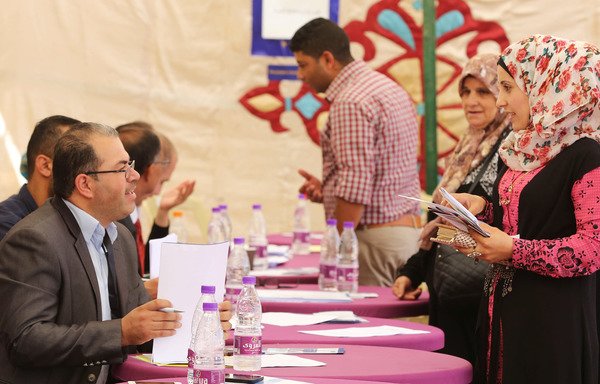 "I have been living in this camp for five years, and spend most of my time sitting around or sleeping," the former farmer said. "Living conditions are very hard here and I hope to get a job that will save us from this."
'In desperate need of money'
Ahmad admitted he was "in desperate need of money" as his family struggles to get by on the roughly $30 per person they get each month in credit to spend at the camp's two markets.
In comparison, the monthly salaries for the jobs offered at the fair, also supported by the UN High Commissioner for Refugees (UNHCR) and the Jordanian government, rise up to 210 dinars ($300).
Overall, since the launch of the employment office at Zaatari, some 3,000 Syrians have used the facilities to help secure work in the agricultural, industrial and food-processing sectors, organisers said.
The long-term aim is to provide 200,000 job opportunities for Syrian refugees spread across Jordan, said the EU ambassador to the kingdom, Andrea Fontana.
According to the UNHCR, more than 650,000 refugees have fled to Jordan since March 2011, while Amman says the actual figure is 1.3 million.
UNHCR representative to Jordan Stefano Severe said both sides stand to benefit.
"I am confident that having an increased number of Syrians entering the labour market will positively impact the local economy and bring stability to refugee families," he said in a statement.
'Everybody excited' in camp
Dressmaker Sheikha Fadlallah, 54, says the project has become a hot topic in Zaatari.
"Everybody here is excited about the idea of finding work," she said. "I need to get a job to pay to fix my teeth. They are completely messed up."
From the employer's point of view, the tens of thousands of residents in the camp offer a large pool of abilities from which to select candidates.
Yussef al-Khawalda, an agent with an agricultural firm, said he needed 16 employees for animal care.
"I hope they all find jobs because it is very sad to see so many people with potential who are just sitting around doing nothing," said Mahmud Jallal, looking for 30 recruits for his pastry factory.
But many face disappointment.
"I have not found a job. I have spoken to representatives of three companies, all of whom told me I am old and they are looking for young people," said Ihsan al-Masri, 46.
Masri, a father of seven and former van driver, said he had offered to do "any job, security guard or garbage collector, but in vain".
Fellow refugee Nassib Mohammed Saleh, at 76, is nostalgic for the pre-war days when he ran his own business back home and had three employees.
"Believe me, all I have left is this dinar," he said, pulling a coin out of his pocket.