Faced with ongoing war in their motherland, three Syrian women have been protecting their children and demonstrating their resilience in different ways.
Georgette Khoury carries a rifle and fights on the frontlines, Muntaha Abdel-Rahman supports women and youth through the non-governmental organisation she co-founded, and Sulaima Jabaleen works as a cook to support her children.
As a salute to their strength, Al-Mashareq spoke to these three women on the eve of Mother's Day, which is celebrated in the Middle East on March 21st.
Khoury, 42, of al-Hasakeh, joined an Assyrian women's regiment three years ago and is now preparing to take part in the offensive to liberate al-Raqa from the "Islamic State of Iraq and the Levant" (ISIL).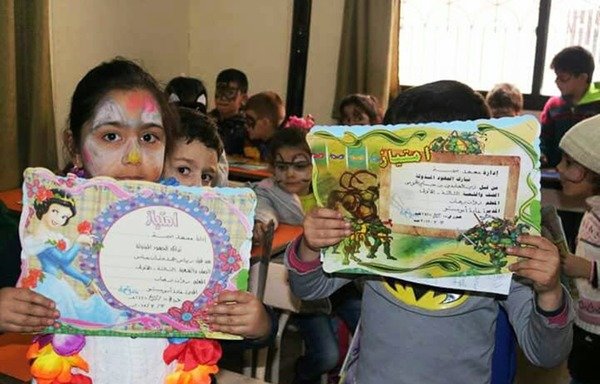 "When the war broke out, I had two choices: become a refugee or stay and live in fear," said Khoury, who is about to become a grandmother as her 19-year-old daughter is expecting her first child.
"I joined the Sutoro Forces after ISIL and al-Nusra Front (ANF) attacked the Khabur River villages in 2015 and displaced their people," she told Al-Mashareq.
"I was trained on the use of light and heavy weapons and participated in battles against ISIL," she said. "Today I am getting ready for the al-Raqa offensive."
Khoury, who fought in the February 2016 battles for al-Hawl and al-Shaddadi in north-east Syria, said bearing arms "is the only way to fight terrorism and stay on our land".
"I could have moved to another country but I refused," she said. "I insisted on staying steadfast."
During the battle for al-Hawl, she recalled, the women fighting with her endured 27 days of harsh weather and terrain, but refused to withdraw until the battle had been fought to the end.
"We fought ISIL from a kilometre away and inflicted heavy casualties on them," Khoury said. "I was able to capture some of them and handed them over to our commanders."
The victory she achieved that day gave meaning to her steadfastness, she said, adding that "we as women must stand fast and persevere".
"Since I put on my military uniform, I no longer think of myself as a woman, but as a fighter," she said. "My personality changed, and I was helped by the support given to me by my husband, who also is a fighter, and my daughter."
While Khoury said she sees Mother's Day "as an occasion to celebrate the sacrifices of mothers with their families and communities", she believes "it also must be a reminder for every mother to make additional sacrifices for her country and defend it, so her children may live in it with dignity".
Guiding children and adolescents
"In 2014, a group of friends and I founded the Damma group to alleviate the consequences of violence, empower women and educate children, to help them overcome the effects of the ongoing war," Abdel-Rahman, 39, told Al-Mashareq.
The mother of five said she and six other women founded the organisation to educate children, provide psychological support to women and help them earn money through the establishment of small development projects.
Damma, launched in Abdel-Rahman's hometown of al-Zabadani, now has branches in Wadi Barada, Madaya and in Lebanon's Bekaa Valley, she said.
"I made up my mind to stand fast in my country despite all the fear and the difficulties I face," she said, noting that she was displaced to Madaya some months ago but has continued her work for women and children.
"Since I moved to Madaya, my steadfastness has taken a different form that involves educating children and adolescents about the dangers of drugs," she said, which includes raising awareness about addiction and engaging youth in positive recreational, educational and vocational pursuits.
Abdel-Rahman and other pioneering women have opened a school for children, and provide support to women by establishing small enterprises that help them cope with and withstand the hardships brought on by the war.
"When I choose to stand fast I must spread my steadfastness to other women and help them, as well as children, and protect them from all forms of violence," she said. "To this end, we hold awareness-raising workshops about the dangers of violence."
Striving to secure a better future
Three years ago, Sulaima Jabaleen, 28, fled Atareb in western rural Aleppo for Lebanon with her three children, all of whom are under the age of 8.
Today, she earns a living by cooking in her home in Mazraat Yachouh in Mount Lebanon's Metn district, where she prepares pickles, jams and preserves.
After her husband was killed in Syria, she fled the country out of fear for the safety of her children, she told Al-Mashareq, adding that the burden of caring for them fell squarely on her shoulders.
"I had to cope with the new circumstances, my grief and many difficulties in a country in which I knew no one," she said.
Without waiting for help, Jabaleen began to knock on restaurant doors and offered to work in the kitchen, preparing dishes from her native Aleppo.
"All doors closed in my face," she said. "I returned to my room crying, but I did not give up because I had to feed my children. I had about $125 and went to a grocery store and bought vegetables and fruit, and also meat, with what I had left. As soon as I got home, I went into the kitchen and did not leave until the next day. I prepared a number of dishes, pickled products and apricot jam."
"I took what I prepared to a restaurant and insisted that its owner taste them."
He promptly asked her to work out of her house and prepare pickled products and some dishes to order, especially stuffed grape leaves and pastries, she said.
"Today I cook for the restaurant from my house and prepare dishes for households to order," she said, in addition to prepping the restaurant's vegetables.
The work helps her remain steadfast "for the sake of my children and to provide them with a decent living", Jabaleen said.
"I voluntarily chose displacement after my husband's death to avoid being subjected to violence and to spare my children from the woes of war and being drawn to the violence," she said.
"I am proud of what I do, despite the fatigue, because my steadfastness supports them and enables me to provide them with an education for a better future."