Iraqi Christians from the city of Mosul and the Ninawa plains who sought refuge in Lebanon when the "Islamic State of Iraq and the Levant" (ISIL) overran their areas are eagerly following the course of the ongoing battles in northern Iraq.
"My family and I, along with thousands of other families, left our villages in the Ninawa plains on October 23, 2014, when ISIL occupied our area and heaped abuse on us," said Dr. Amir Hermez Hamouda of Tel Asqof village.
The family fled through northern Iraq to Lebanon, he told Al-Mashareq.
Since the battle for Mosul began on October 17th, many Iraqi families in Lebanon have been following "all news of the battle on all TV channels, the media and social networking sites", he said.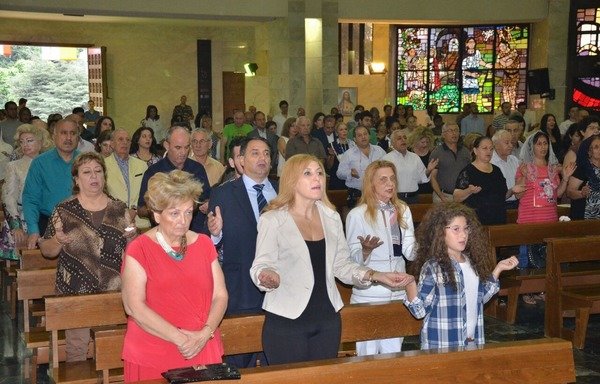 "What is happening concerns us, for we are the natives and people of the region, and we must stay abreast of all the developments," Hamouda said.
"We are happy to see the cross atop the domes of our churches in Batnaya once again," he said, adding that he is pleased the liberation operation has begun.
Tel Asqof "is the dividing line between ISIL and the liberation forces", Hamouda said, and the Iraqi army and Peshmerga are positioned there, using it as a base from which to proceed to Tel Keyf and Batnaya.
Life post-ISIL
"We are thinking ahead to what the region will be like post-ISIL, and what fate awaits our presence as Christians," Hamouda said.
Hamouda is not alone. Al-Qosh native Samir al-Qiss Younan, a geologist who currently lives in Lebanon's Jbeil with his family, told Al-Mashareq he follows the news of the battle minute by minute, and with overwhelming joy.
This joy is tempered by caution, however, "because there are many questions about the post-ISIL stage stemming from fear of the ideas and loyalty [to ISIL] ingrained in the residents who lived under its rule for a period of time", he said.
Iraq is home to Christians of various sects, but they are a minority group, he said, adding that relations between Muslims and Christians generally have been good.
"Our relationship with the people of Mosul, our Muslim brothers, was excellent and based on love and respect for others whatever their religion or beliefs," he said. "We shared our times of happiness and sadness and our Eids."
Younan said he believes the majority of his compatriots will eventually go back to their homes.
The displaced Christians have a number of positive examples to look to in Iraq in terms of cities and towns returning to normal life after ISIL has been pushed out.
In Fallujah and Ramadi, for instance, two previous ISIL strongholds largely damaged during the group's occupation, children are now going back to school, public services are coming back online, and markets are bustling with activity once again.
The Iraqi government is also strictly controlling who is allowed to return to liberated cities in an effort to prevent any ISIL elements from returning.
Looking forward
Chaldean Archbishop of Lebanon Michel Kasarji told Al-Mashareq he is happy to see the start of the operation to retake Mosul and the predominantly Christian Ninawa plains.
"Christians used to live in the land of benevolence with dignity," he said. "We as a Chaldean church, along with other Iraqi churches, look with joy at what is happening today, namely the retaking of towns and villages captured by ISIL, which displaced their populations and scattered their families."
"More than 250,000 Christians, including Chaldeans, Assyrians, Syriacs and Armenians, were displaced from Ninawa to Turkey, Syria and Lebanon," he said.
More than 5,000 families, most of whom are Chaldeans, are now living under "tragic conditions" in these countries, he said.
Iraqi churches look forward to the return of all of these families to their villages, homes and livelihoods, he said, noting that many churches and schools in these areas are still standing.